Huobi Global is expanding aggressively and on Wednesday 12th September closed a deal that would make it the largest shareholder in one of Japan's 16 fully licensed and regulated cryptocurrencies BitTrade.
This recent acquisition adds on to Huobi's global presence in several locations including having offices in Singapore, Korea, Hong Kong, Australia, the UAE, Luxembourg, along with other locations. Its recent expansion was the establishment of offices in London to facilitate expansion into the European market.
Huobi is one of the largest cryptocurrency exchanges by daily trade volume with recent figures putting it at 4th place with over $573.2 million in trades within a 24hr period. Huobi Global made the acquisition through its Japanese subsidiary Huobi Japan. Official figures on the deal were not released but it is believed that Huobi may have acquired 100% controlling shares of the BitTrade platform.
Huobi had a previous presence in Japan but exited the market in early July 2018 to avoid the stringent rules by Japan's Financial Services Agency (FSA). It has, however, sort to return to the market and capitalize on BitTrade's already established regulatory compliance and status as one of the leading cryptocurrency exchanges in Japan.
BitTrade is one of the only 16 approved exchanges in Japan and is also part of the group of exchanges that sort to establish an independent self-regulatory body to protect investor funds after the Coincheck hack that led to the theft of $530 Million worth of crypto.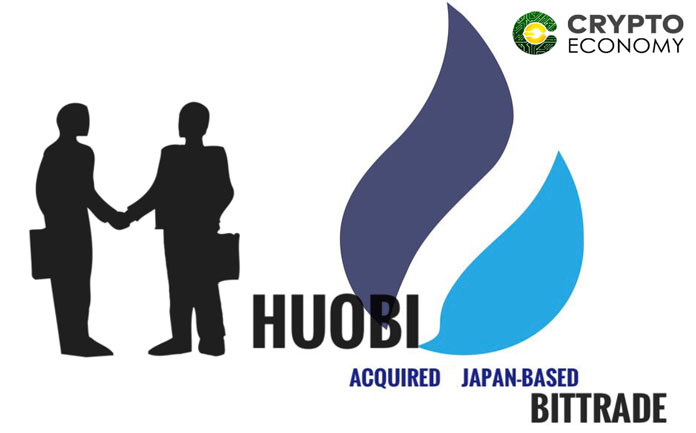 This acquisition allows Huobi to expand within the Japanese market, while also capitalizing on the input and expertise of Singaporean serial entrepreneur Eric Cheng who cofounded BitTrade in 2016 and is still a director on the BitTrade board.
Chris Lee, the Board Secretary and Chief Financial Officer for Huobi, had the following to say about the return of Huobi to Japan:
"We strongly believe in the synergies we can create through continued investment into R&D, and compliance, backed by our world-class security and local operations teams across the globe. Leveraging on BitTrade's leadership team and its Japanese government-approved license, this is just the beginning as we look to grow BitTrade into the most dominant player in the Japanese cryptocurrency market"
Huobi has achieved major milestones since its inception in 2013. It was founded in China and since then has crossed the $1 trillion accumulative trade volume. It moved its headquarters to Singapore after exiting the Japanese market. It now has a presence in several countries including Hong Kong, Korea, United Kingdom, Australia, Japan, and the United States.
BitTrade, as an acquired entity, will have Haiteng Chen, the acting president of Huobi Japan serving as its chairman and Chris Lee serving as its independent director. Also Huo Li, Huobi Capital Inc. CEO will serve as an outside director. A press release made mentions Huobi Japan's intention to aggressively expand the BitTrade platform to provide more professional and user-friendly services.