In the crypto market this week, there are worrying signs with continuous red days, and it is possible that the entire financial system may be affected. As investors worry about tightening monetary policy, bitcoin briefly plunged below $30,000 on Tuesday for the first time in 10 months. While the market value of the cryptocurrency has fallen by nearly $800 billion in the past month as investors are concerned about tightening monetary policy.
While the Federal Reserve is embarking on one of its tightening cycles, the crypto market grew exponentially from 2016 to 2017, raising concerns about its interconnectivity with the rest of the financial system.
Crypto's Share in Financial System
In terms of total market value, bitcoin accounts for nearly $600 billion, followed by ethereum, with a market capitalization of $285 billion. However, the cryptocurrency sector continues to grow rapidly, despite the fact that its size remains relatively small.
According to the Securities Industry and Financial Markets Association, the outstanding value of the U.S. equity markets is $49 trillion, while the outstanding value of the U.S. fixed income markets will be $52.9 trillion at the end of 2021, according to Reuters.
In the beginning, the concept of cryptocurrencies was more of a retail phenomenon, but now cryptocurrency is gaining institutional attention from exchanges, companies, banks, hedge funds, and mutual funds.
In spite of the fact that data is hard to come by on the proportion of retail investors in the cryptomarket and institutional investors, Coinbase reported both types of investors owned roughly half of the assets on its platform in the fourth quarter. Earlier this month, Coinbase announced that 11.4 trillion dollars ($120 billion) worth of crypto was traded by its institutional clients last year, a significant increase from 100,000 dollars in 2020.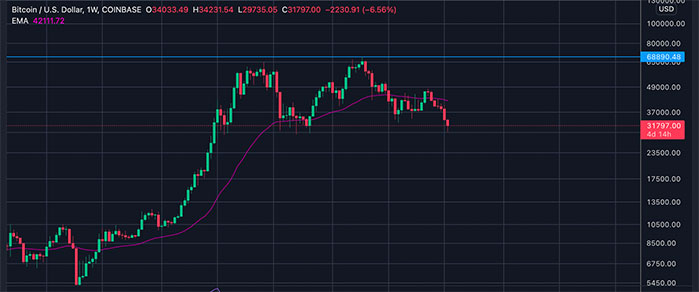 In spite of the relatively small size of the entire crypto market, a number of regulatory agencies, including the U.S. Federal Reserve and the Indian Treasury Department, have flagged stablecoins as a potential threat to financial stability.
Regulators say that this could lead to a loss of investor confidence, particularly during times of market stress, when stablecoins can be vulnerable. That is what happened on Monday when TerraUSD fell as low as $0.67 after its 1:1 peg with the dollar broke down. The tumble in bitcoin was in part caused by this move.
Despite the fact that TerraUSD maintains its dollar peg through an algorithm, investors have reported that running on stablecoins like TerraUSD could have a ripple effect on the traditional financial system, which could cause stress across those underlying asset classes, regulators report.
There are many other risks emerging in the crypto-asset market, say regulators, as more companies are now relying on the performance of crypto assets for their fortunes, and traditional financial institutions are investing in this asset class in increasing numbers.