As the broader cryptocurrency market took a breather, Cardano [ADA] went on to solidify its position as the third-largest cryptocurrency by market cap behind Bitcoin and Ethereum. Despite short-term bearish cues, ADA's rally isn't over yet. A breach above $2.5 remains very much in the cards.
Cardano is up by more than 152% since the July low. To put things into perspective, ADA has grown by 1300% this year alone. There is no stopping for the crypto-asset. The already extended stunning rally is now looking to rake in more gains as it continued to swell amid anticipation for a coming software upgrade that could help the token compete with Ethereum.
🥳 #Cardano just scraped within a single cent of its $2.46 #AllTimeHigh, seeing resistance as it reached the $2.45 just 15 minutes ago. Regardless, the +15% price pump is a welcome sight, & enough to propel it to being the top asset on Emerging Trends. 📈 https://t.co/1ZDg4QUI48 pic.twitter.com/WEqIKA4zBu

— Santiment (@santimentfeed) August 19, 2021
Mirroring investors' enthusiasm, over $8 billion worth of ADA tokens reportedly traded hands in 24 hours. This was evidently the highest one-day showing since a May price surge.
ADA stares at more upside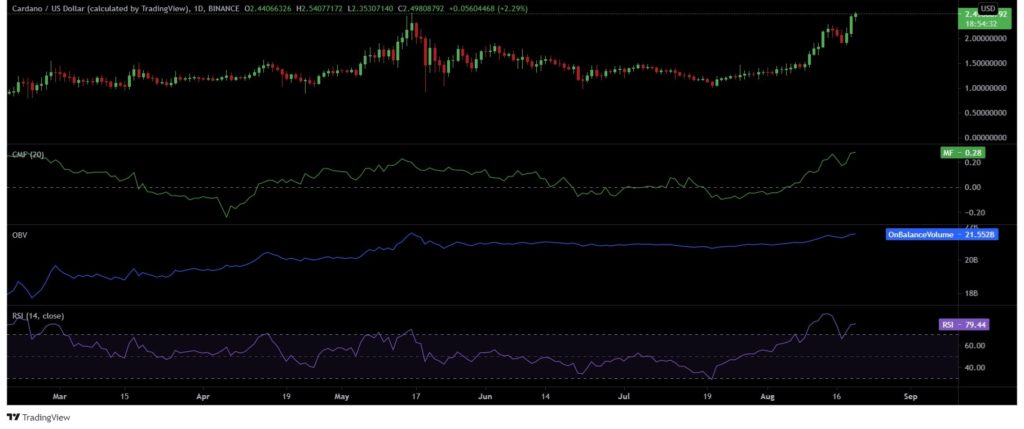 Despite minor setbacks along the way, Cardano managed to smash past the previous peak to register a new ATH. It rose all the way to $2.51 on the 20th of August. The rising volume and volatility in the market complemented the rising fervour among the ADA investors. As far as the moving averages are concerned, bullish signals are on the rise.
The 50 DMA [Pink] continued to move away from the 200 DMA [Yellow]. Additionally, it was now heading for a bullish crossover with the downward-sloping 100 DMA [Blue].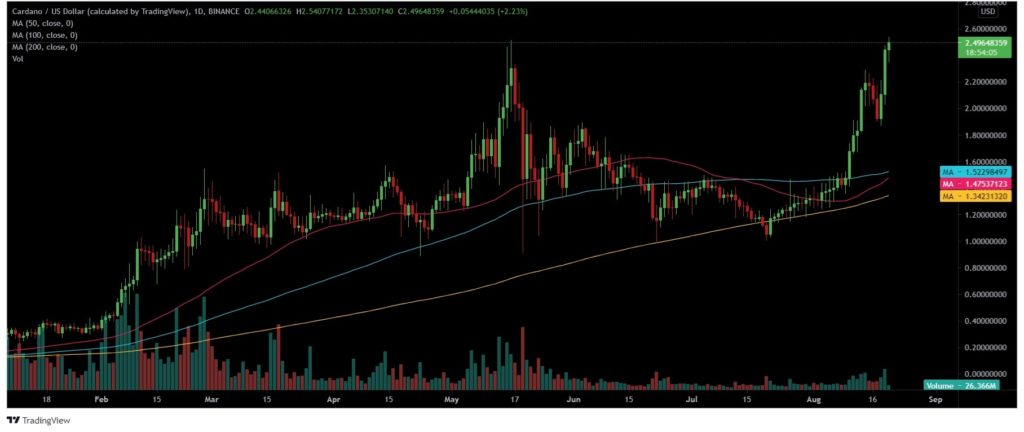 The Chaikin Money Flow [CMF] on the daily chart depicted an increasing inflow of capital into the coin market. The rising On-balance volume [OBV] also confirmed the strength of the ongoing bullish streak. In addition to that, the Relative Strength Index [RSI] recovered from a minor dip was still above the 70-region indicating an intense buying pressure in the market.
Despite delays and missed deadlines in upgrades, Cardano has enjoyed steady gains whole decoupling from top crypto-assets. It surged to new heights as investors flocked to more environmentally sustainable tokens.
Novogratz-Hoskinson Squabble
Cardano still trails in adoption, when compared to Ethereum. As a result, the ecosystem has attracted sceptics such as former billionaire hedge fund manager Mike Novogratz. He has earlier taken a jibe at the platform and said that ADA was still struggling to gain traction among software developers to build on top it to boost the network's adoption.
Many in the community were not pleased and called him out. IOHK CEO, Charles Hoskinson came in to rescue went on to declare August 15 "Mike check-in day," on which we revisit his original comment.
Here I can fix this statement for you Mike: "I've spoken to twenty of the smartest bankers I know in the space, and zero of them saw cryptocurrencies having any traction" 🙂 we all heard that one

Let's come back to his tweet every year. We'll call August 15th, Mike check-in day https://t.co/sax18Fe7XX

— Charles Hoskinson (@IOHK_Charles) August 15, 2021
---
If you found this article interesting, here you can find more Cardano News