Cardano [ADA] clawed back to the lost ground of $2 after splendid price action and a surge of 15.30% as the collective crypto market cap inched closer to the $2 trillion. This catapulted ADA's weekly gains to a whopping 50%.
It is now the world's fourth-largest cryptocurrency by market cap after dethroning the leading stablecoin Tether [USDT]. The bearish cues were invalidated as resistance towards ADA's all-time high has seemingly reduced. All eyes are on the smart contract update now.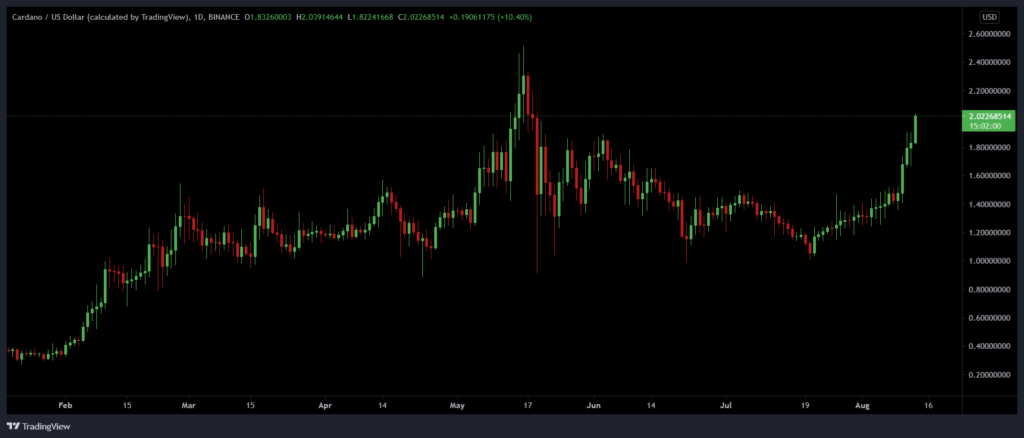 As earlier reported by Crypto Economy, ADA had a heavy resistance on its way near $1.88 which if broken, wins half the battle to reclaim its previous glory. Popular trader Lark Davis stated that the smart contract launch has been a "very bullish catalyst" for ADA's parabolic price action of late.
#cardano smart contracts are just around the corner, which is a long awaited and very bullish catalyst for the asset

thread

— Lark Davis (@TheCryptoLark) August 13, 2021
Alts and DeFi tokens buckle up
Other top crypto-assets are also on the verge of breaching crucial resistance levels. Top altcoin Ethereum [ETH], for instance, gained 5% and was now trading at $3,241. Since yesterday's brief dip, Bitcoin [BTC] has managed to recover more than 2k and was now valued at $46,353, at the time of writing.
With respect to altcoins, Stellar [XLM]  and XRP have also performed quite well. Even as several decentralized finance [DeFi] coins, appeared to be lagging in comparison to Bitcoin and Etheruem there is a new trend that has taken place. In fact, users are now swapping their BTC for DeFi coins. This has been a major driver for the recent surge in their price with many even outperforming the two of the world's top crypto-assets.
Where the next targets for Cardano at?
As the world witnessed the long-awaited transition to Ethereum 2.0, several members in the community pinpointed the number of delays, missed deadlines and unfulfilled promises by the IOHK developer team. However, the stats prove that the network has seen significant amount of work done and milestones achieved.
As traders continue to wait for the Alonzo update, popular crypto strategist Michaël van de Poppe is weighed in the path followed by Cardano. According to Poppe, the target price for Cardano, should the preserve after the fresh from a solid run, would be around $3-$5. His exact words were,
"What is the target zone if Cardano is going to continue moving? That is very simple. We are looking at a continuation with Fibonacci extension… The next target zones for Cardano in a new impulse wave is $3.35 and $5.00."
#Bitcoin and #Ethereum bounce!

What's next?

Check the update here:https://t.co/5kG8KCHGhY

Don't forget to subscribe and like the video!

— Michaël van de Poppe (@CryptoMichNL) August 13, 2021
---
If you found this article interesting, here you can find more Cardano News