Cryptocurrency exchange Gemini has announced the release of a USD-pegged coin that aims to overthrow Tether (USDT) as the stablecoin of choice among investors.
Dubbed as Gemini dollar (GUSD), the new asset by Cameron and Tyler Winklevoss poses as a "trusted and regulated digital representation" of the U.S. dollar that can be sent and received just like any other cryptocoin, without traditional currency limitations such as transactions only during "business hours".
"To date, there has been no trusted and regulated digital representation of the U.S. dollar that moves in an open, decentralized manner like cryptocurrencies," reads the post by Cameron. "The Gemini dollar combines the creditworthiness and price stability of the U.S. dollar with blockchain technology and the oversight of U.S. regulators, namely, the New York State Department of Financial Services (NYDFS)."
The GUSD was developed as an Ethereum ERC20 token – unlike Tether, which was built on the Bitcoin blockchain through the Omni Layer Protocol – and users can acquire it by depositing USD into their Gemini accounts, then converting them into tokens. If wanted, they can later withdraw those tokens to any Ethereum address, or exchange them for physical dollars.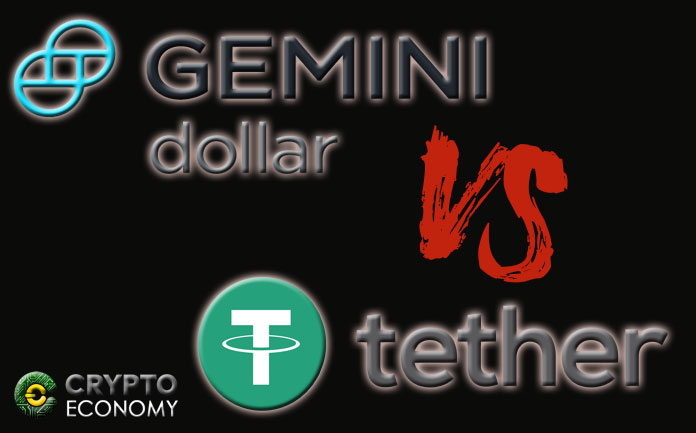 A fully regulated USD-pegged token
Marketed in its whitepaper as the world's first regulated stablecoin, the GUSD is being overseen by the New York State Department of Financial Services (NYDFS) – the governmental department in charge of regulating financial services and products within the New York State jurisdiction.
Furthermore, the exchange explains that all the USD backing the tokens are going to be held at a U.S. bank; will be eligible for "pass through" insurance from the Federal Deposit Insurance Corporation (FDIC); and monthly accountant's reports will be published by an independent registered public accounting firm.
With all these procedures, the Winklevoss twins expect to attract investors accustomed to Tether, which has been highly criticized for its opaque operations and a certain close association with Bitfinex – not to mention the wave of rumors about the USDT not being fully-backed by USD, that is, the coin's issuers have much less dollars to cover this coin than they claim.
The Gemini Dollar was made available for the exchange users on September 10, 2018 at 10 a.m. ET. And the opinions in the social networks did not wait, Changpeng Zhao, CEO of Binance, posted on his twitter:
"Stable coins are big bridges into crypto, good job! Let's see what happens to market cap in a few months/years."
Emin Gun Sirer, a professor at Cornell University and an influential Crypto scene, also spoke on the subject:
"I like this idea, but am worried that FDIC insurance is going to be $250K for the whole lot, instead of per-depositor. Can you clarify, @winklevoss?"
Surely there will be much expectation in the future regarding the evolution of the new stable coin.