It is the general belief that only institutional money will save the cryptocurrency space from the bear claws that it has fallen into over the past 12 months. Bitcoin ETFs have been rejected repeatedly while the highly anticipated futures platform Bakkt is still waiting for regulatory approval to launch. Gate.io is however not waiting around for any legal approval.
On the 18th, of January, the exchange, which over the past few days has been in the news for falling victim of the Ethereum Classic 51% attack and subsequently recovering some of the lost money, announced that it was introducing a Perpetual Contract Trading product for two more digital assets, namely Stellar (XLM) and Monero (XMR).
This comes only days after the exchange launched the same products for other large-cap cryptocurrencies including Bitcoin (BTC), Ethereum (ETH), EOS, Ripple (XRP), Bitcoin Cash (BCH), Bitcoin Satoshi's Vision (BSV), Litecoin (LTC), Cardano (ADA), and Tron (TRX). The announcement post also defines perpetual futures as contracts that "enable investors to make profits by selling digital assets short or long."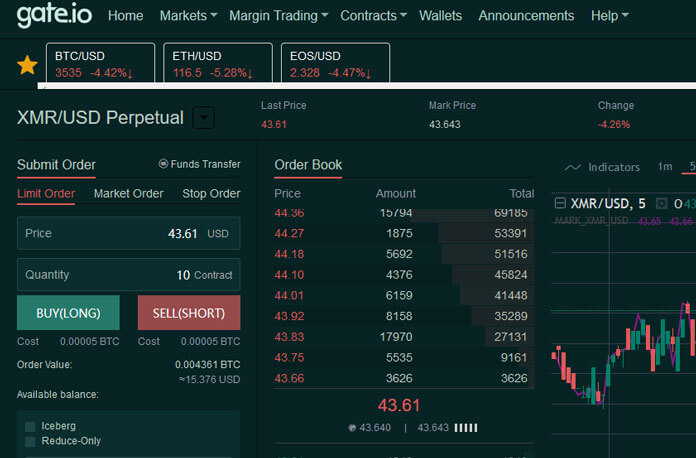 Further, these contracts differ from the traditional futures contracts in the simple sense that "have no expiration date." Basically, with the perpetual futures contracts, an investor can profit from both the rise and fall of the prices of digital assets.
The exchange also stated that it has set in place a maximum deposit limit amount which is 1BTC for each account. This amount is subject to change "according to the market risk and rank of the investor in the future."
Gate.io is not the first cryptocurrency exchange to launch a perpetual futures contract. Over the month of December last year, Maltese-based digital asset exchange OKEx launched a similar product with up to 8 indices of digital assets including BTC, LTC, ETH, ETC, BCH, XRP, EOS, and BTG assets supported.
Gate.io has suffered a blow to its reputation following the ETC attack that showed its security vulnerability to prospective investors. Launching these perpetual futures products could seem like a calculated move to purposefully drown out the negative news about the ETC attack on the exchange. Nevertheless, it is an innovative product that will attract more investors into the scene which is ultimately a positive thing for the overall cryptocurrency industry.