The crypto world is in a state of alert, as investors grapple with the Federal Reserve's latest rate decision.
Repeated Scenario
Bitcoin was slipping towards the $25,000 mark, as the Fed's quarter percentage point interest rate hike, has spooked the market. The central bank has expressed concern about the recent banking crisis, signaling that further rate hikes may be on the horizon.
This has caused a ripple effect across the market, with other cryptos such as XRP, Dogecoin, Cardano, and BNB trading lower on Thursday.
The global cryptocurrency market cap has taken a hit, falling 2.10% in the last 24 hours, to around $1.16 trillion. Ethereum's price has also been fluctuating between $1,733.89 and a high of $1,821.46, with ETH currently trading at $1,726, down 3.70% from its 24-hour high.
Despite these fluctuations, some tokens are still on an upward trajectory.
The Fed's decision to hike rates by 25 basis points was widely anticipated, making it the ninth consecutive interest rate hike and the second quarter-point increase in a row. However, comments by Fed Chair Jerome Powell in the press conference following the meeting were more hawkish than the market expected, causing concern among investors.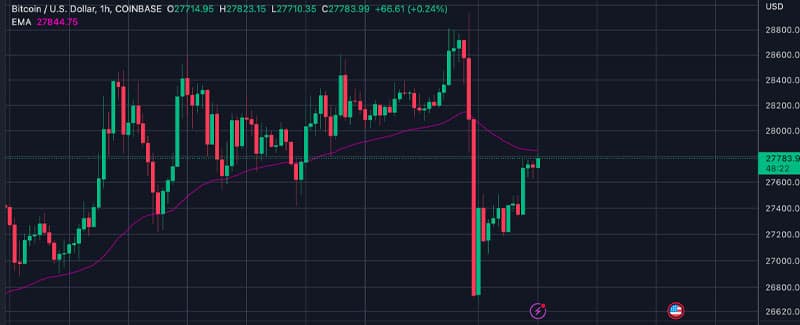 Michael Safai, of the crypto trading firm Dexterity Capital, commented,
"The hope was that the long-awaited dovish tone from the Fed would finally arrive in the midst of this banking crisis. Those hopes were dashed by Powell's comments that rate hikes could continue as long as things continued to stabilize, weakening some of the momenta that have been leading crypto's rise in recent days."
Despite these setbacks, macroeconomic factors are still the biggest drivers of bitcoin's price, with the ongoing weakness in the banking system and the potential for increases in central bank balance sheets. 
While bitcoin's retreat towards $25,000 may sap some of the momenta behind crypto prices in the short term, the banking sector's continued weakness could easily change that. As chart analysts observe $25,200 as a key level for bitcoin, traders are eagerly awaiting two consecutive weekly closes above that level to determine the strength of the recent rally.
In conclusion, the crypto market is still heavily influenced by government decisions, as seen with the recent impact of the Federal Reserve's rate hike on the market. 
However, it's important to remember that these effects are not permanent and the market will ultimately continue its own trend in the long term. While short-term fluctuations may occur, the crypto market's underlying strengths and weaknesses will ultimately dictate its trajectory.
As such, investors should keep a keen eye on macroeconomic factors while also maintaining a long-term perspective, knowing that the crypto market will continue to evolve and grow over time.