Ethereum prices are back above the $3k, helping push the cumulative crypto market capitalization above the $2 trillion level as price action swings to favor optimist bulls.
The revival is a shot in the arm for buyers who have had to contend with degrading lower lows as sellers step up for the last three months.
Although the correction was welcomed, it comes after a market whose valuation—analysts observed—was heating up at unsustainable levels. The ETH price is down roughly 40 percent at spot levels, subsequently shaking out weak hands.
Gas Fees Drop to Multi-month Lows
Fundamentally, Ethereum is a solid project backed by activity and high-intensive crypto projects.
The network has evolved to be a choice platform for deploying DeFi dApps and minting limited-edition NFTs.
Based on trends, the proliferation of NFTs remains one of the leading factors forcing Gas fees up.
As the block demand in Ethereum rise, value is spilled to ETH since it acts as a utility, fueling Ethereum's transaction and all on-chain activities.
Even so, in the recent few months, Gas fees have significantly shrunk, falling to multi-month lows. The increasing adoption of layer-2 solutions could be behind the drop.
Nonetheless, as NFTs find adoption and ETH prices begin to expand, Gas prices will likely increase in tandem.
OnlyFans Accepts Ethereum NFTs
The wave is already on, considering recent developments. According to a Reuters report, OnlyFans—a platform for content creators to monetize their work—has begun accepting NFTs on Ethereum.
Ethereum Price Analysis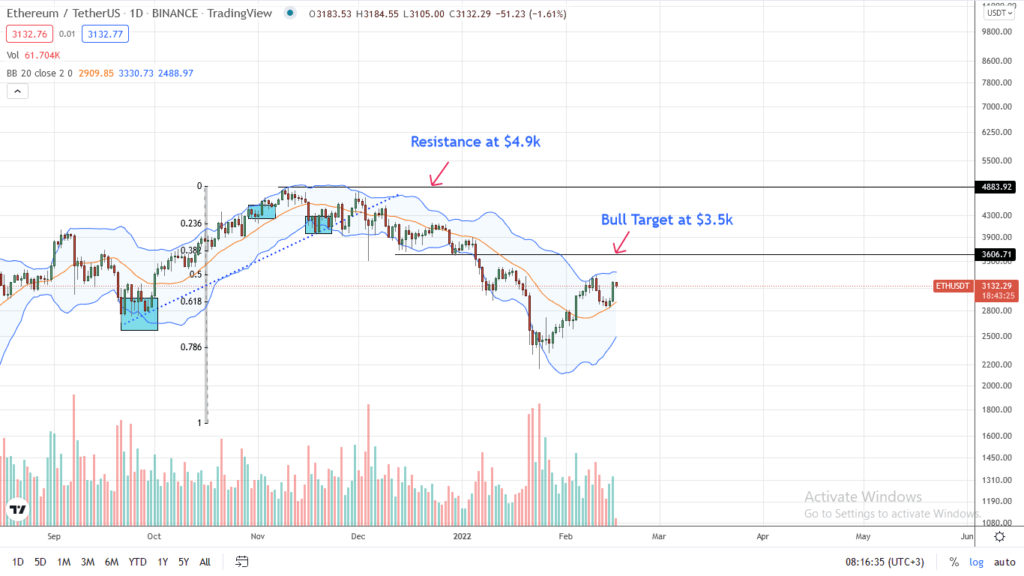 The ETHUSDT price is within a bullish breakout formation as per the development in the daily chart.
Currently, the latest bullish engulfing pattern signals strength as ETH prices bottom up above the $3k psychological level.
Based on the candlestick arrangement in the daily chart, aggressive traders may find loading opportunities on dips above $3k with immediate targets at $3.3k—the immediate resistance level—and later $3.5k.
There would be better entries for risk-averse traders if the close above $3.3k—February 2022 highs—has high trading volumes, subsequently confirming the February 4 bull trend defining bar.
Technical charts courtesy of Trading View
Disclaimer: Opinions expressed are not investment advice. Do your research.
---
If you found this article interesting, here you can find more Ethereum News