The BTC-ETH Comparison
There is apparently no competition between Bitcoin and Ethereum. Price-wise, Bitcoin is lightyears ahead of Ethereum, the second most valuable cryptocurrency. Even so, there are marked differences between the two networks. One is that Ethereum is powering a token economy while Bitcoin is predominantly a P2P payment system. On the other hand, Ethereum stands out because of their smart contracting capabilities.
The Scaling Problem and why Ethereum is Increasing Block Capacity
Even so, both have a scaling problem. If they are to be dominant, they ought to handle an influx of demand, and scale on a global level as the network operate seamless without cases of transaction clogs or transaction fees spiking as miners prioritize transactions from senders willing to pay higher. It is part of this that Ethereum has increased their block capacity by 25 percent.
The Benefits of Large Block Sizes
An increase in block size limits also means an increase in gas costs, and that means the network also increased gas limits. With an increase in block size, the network can now handle more transactions now that Ethereum is home to the world's leading stablecoin, Tether (USDT).
Tether Limited is generating the stablecoin on the Ethereum network causing transaction delays and high fees. That, it appears, has been exacerbated by Fair Win, a gambling game that runs on top of the network. Since the new gas limits have been imposed, it means some transactions will not be included by a miner in a block until the sender meets the bare minimum.
ETH/USD Price Analysis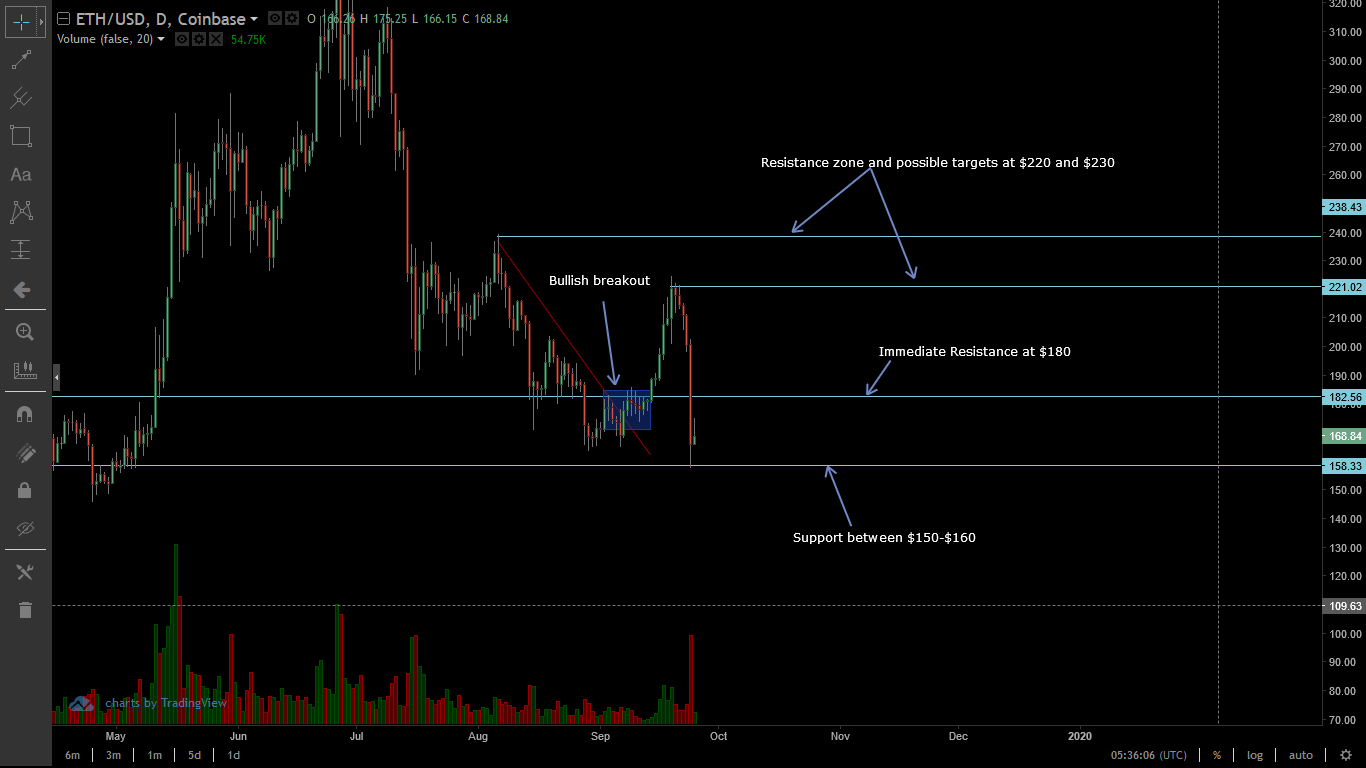 ETH is bleeding. It is being pummeled by the resurgent USD. In the last day alone, the coin is down 16% against the green back.
Worse, there is a distinctive gap down revealing how sharp the fall was. Now that gains made in early Sep have been reversed, it is likely that ETH will slip towards the $150 level in a retest of the bullish breakout pattern of Sep 17.
Despite the collapse, there is a chance for ETH bulls. In line with previous trade plan, the best course of action now that gains have been wiped clean is to wait for a pull back from the $150 zone once the main resistance-now support-trend line has been retested.
If that is with a sharp uptick of trading volumes, ETH may bounce back towards $180 in a buy trend reversal pattern, reinvigorating buyers.
Conversely, further losses forcing ETH below $130 could see ETH drop to $100 to $90, or even $70 in a major retest of Dec 2018 lows.
Chart courtesy of Coinalyze
Disclaimer: Views and opinions expressed are those of the author and is not investment advice. Trading of any form involves risk. Do your research.