Despite advances in the field of criticism, there are still many skeptical investors and brokers with respect to payments in cryptography, arguing in security reasons and the volatility of the prices of the various cryptocurrencies.
Dukascopy takes a step forward in terms of strengthening the sector and its offer, allowing its clients to deposit and withdraw funds in cryptocurrencies, as well as allow internal and free cryptographic transfers among users of mobile banking.
Financial systems with new slopes
From Geneva, the Retail FX agent announced plans to launch a dedicated cryptographic gateway, and tests for the functionality of cryptographic financing are currently underway.
This new measure represents a changing position on financing and retirement options, since from now on they will be offered more openly, however this has caused controversy because most of the financial institutions in Switzerland have not been so receptive to the moment of adopt cryptographic payments, expressing concern for the safety of customers and price volatility in terms of cryptocurrencies.
The Swiss bank has explained that it will allow customers to use their own blockchain wallets to send and receive cryptocurrencies to, and from, their "cryptographic fund accounts" with Dukascopy.
"This is the bridge between the client's account with Dukascopy Bank and a crypto-currency wallet of that client in blockchain, within the framework of that service, you can only make recharges and withdrawals from / to a blockchain wallet where the client is the only owner ", according to the forex bank.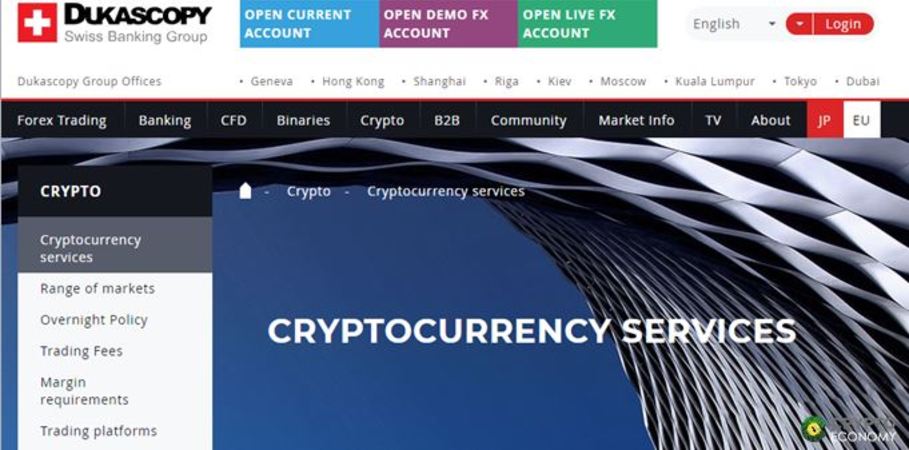 But not everything is said: cryptographic payments must be made through a single receipt address generated in the bank's blockchain portfolio. A curious requirement that is still unclear is how Dukascopy will validate the ownership of the wallet or determine the origin of the virtual tokens.
"All the addresses used for the client's recharge and withdrawal operations will be examined in relation to participation in illegal or suspicious activities," the financial entity added.
It is necessary to mention that both deposits and withdrawals from Bitcoin will eventually be converted to the base currency of the customers' account automatically. Likewise, the brokerage company established a maximum of cryptographic transactions at $ 50,000 per customer.
The retail industry and small businesses have been transformed and benefited in the last two years thanks to the use of cryptocurrencies. After being confined to alternative exchanges for years, these instruments finally managed to break into the commercial scene in the midst of broader support.
The Swiss currency bank and the brokerage firm also continue their friendly approach to encryption, as they recently applied to approve their ICO plans with the Financial Market Supervision Authority of Switzerland (FINMA).
Pending regulatory approvals, the initiative involves the creation of two cryptocurrencies: Dukascoins and Dukasnotes. The former will be used as a cryptographic payment medium that has a limited supply, while the latter will be issued in the form of stablecoin.