Dogecoin is down the market cap rankings to 10th at press time, down five percent in the previous trading week but stable on the last trading day.
Even though the broader market remains optimistic and there are hints of accumulation, DOGE is primarily within a bear formation, dropping in the last few weeks, as evident in the daily chart.
Presently, DOGE prices are down 34 percent from August 2022 highs and trending at around the 78.6 percent Fibonacci retracement level of the June to August 2022 trade range.
Bears remain in charge, and this preview is valid, provided prices are below $0.066—the September 2022 highs.
Dogecoin Building, Buy "Burnt Hair" using DOGE
Despite the slowdown, Dogecoin remains one of the most actively traded coins reading from liquidity levels and market cap. Amid sharp declines in market valuation over the past few months, DOGE is still in the top 10, and bulls have managed to slow down the liquidation of Q3.
The coin is above $0.056 and resilient, rejecting attempts of lower lows. This follows the announcement from Elon Musk's Boring Company that they accept DOGE for its "Burnt Hair" perfume.
It is described as "The Essence of Repugnant Desire", retailing for $100 or roughly 1,666 DOGE at press time. Although the product is still in "pre-sale", over 20k bottles have been ordered ahead of the official delivery in Q1 2023.
Besides adoption, the Dogecoin Core development team plans to release two upgrades–core updates 1.14.7 and 1.21. Analysts say these two updates will be subsequential for the meme coin.
Dogecoin Price Analysis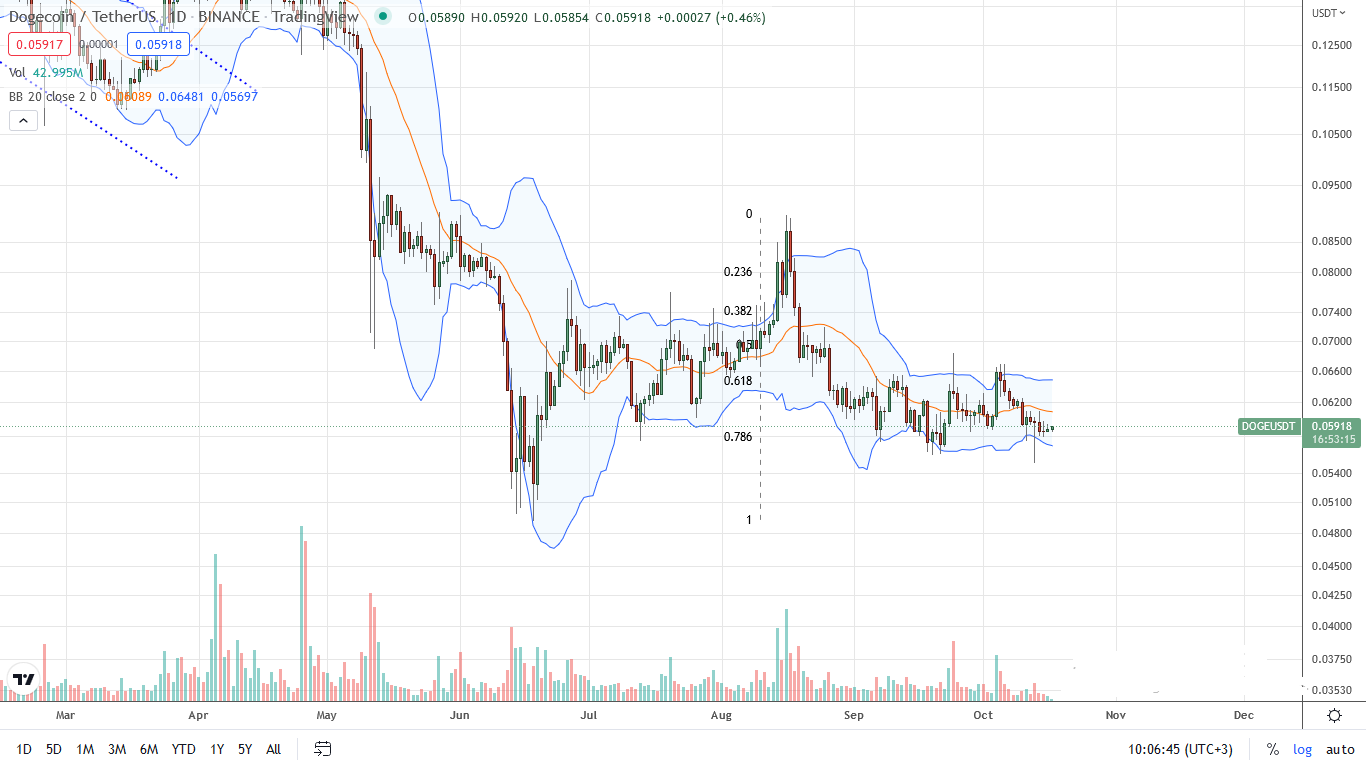 DOGE remains under pressure and within a bear breakout formation at spot rates. The immediate cap is at $0.066, marking September 2022 highs. On the lower end, DOGE has support at $0.056, flashing with the 78.6 percent Fibonacci retracement line and marking Q3 2022 lows.
Based on the candlestick arrangement in the daily chart, traders can wait for a decisive breakout below last week's lows in a continuation pattern that may see DOGE dump to Q2 2022 lows at $0.050. In that case, they may continue unloading the coin on pullbacks, riding the emerging trend.
Conversely, considering the current sideways movement, any surge above September and October 2022 highs at $0.066 may initiate the next leg up toward August highs.
Ideally, the break above as DOGE bottoms up should be with rising trading volumes. This may be the lift, drawing demand, for the coin to edge higher towards H2 highs at $0.088.
Technical charts courtesy of Trading View.
Disclaimer: Opinions expressed are not investment advice. Do your research.
---
If you found this article interesting, here you can find more Dogecoin news.