The blockchain environment has been exponentially bombarded with initial offers of coins – ICO's – from a myriad of projects of the most diverse nature whose proposals based in principle on blockchain technology and tokenization sometimes leave us more that perplexed.
In this dynamic it is essential for the common investor and cryptocurrencies enthusiasts to know a little more about the viability of so many projects with potential possibilities of being a good investment. The risk exists, and facing that to be able to have purified information is a plus. This reality generates an opportunity that the people of Cryptonomos have known to observe and take advantage of for the good of investors and blockchain entrepreneurs.
Cryptonomos defines itself as a platform for the realization of tokens launches and to buy tokens of the best ICO's in one place.
Aware of the need explained above, Cryptonomos advises startups throughout the ICO process, providing technology and book building services, which include technical white paper preparation, landing page development, token strategy, smart contract development, public relations and web traffic management, in a kind of turnkey. Cryptonomos clients are start ups previously analyzed by them whose chances of success are high, in addition to not seeking saturation of projects, allowing in their selectivity a guarantee of viability to the investor who will acquire tokens of those start ups through the platform.
Through its advisory service, Cryptonomos has been able to successfully guide a number of projects known from conception to the crowdsale.
In practical terms, the Cryptonomos platform works like this: when entering, any user who wants to buy tokens on the platform must register, which gives users access to an easy-to-use digital wallet that allows them to participate in a list of ICO's which the platform puts at their disposal. To buy tokens, buyers log into their wallets and send ETH or BTC to Cryptonomos Company Wallet. Cryptonomos then sends the received cryptocoins, along with customer names, emails, individual purchase quantities and time stamps, to its customer start up in exchange for tokens, and distributes those tokens to its buying customers of those tokens.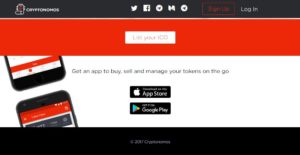 As for ICO clients, before their acceptance into the platform, they undergo their projects to a rigorous selection process managed by each member of the Cryptonomos management committee. By carefully analyzing each potential customer, and by limiting the number of projects listed to three at a given time, Cryptonomos seeks to maintain the full trust of its customers and protect themselves from customer fatigue. Once accepted a particular client, this and Cryptonomos sign an agreement that describes the relationship of the two parties. The client's project and their home page are listed on the platform, and tokens buyers are notified about the new list via email and through Cryptonomos social networking channels.
The Cryptonomos platform is an important option to consider ICO's with excellent profiles and excellent value growth opportunities.