Cryptocurrency market volatility continues to pummel the prices of digital tokens with Bitcoin (BTC) remaining below the $40k mark for the majority of the week, falling about 1.50 per cent in the last 7 days. Ethereum (ETH) along with other major cryptocurrencies also traded in the red.
The global crypto market seems to be sailing on turbulent seas for quite sometime now. The total cryptocurrency market cap dropped by 3.25 per cent in the last 24 hours and is currently at $1.79 trillion. However, the total crypto market volume over the last 24 hours is $71.84 billion, which makes a 37.20 percent increase.
The total volume in decentralized finance (DeFi) is currently $7.63 billion, 11.73 percent of the total crypto market 24-hour volume. The volume of all stable coins is now $50.68 billion, which is 77.91 percent of the total crypto market 24-hour volume.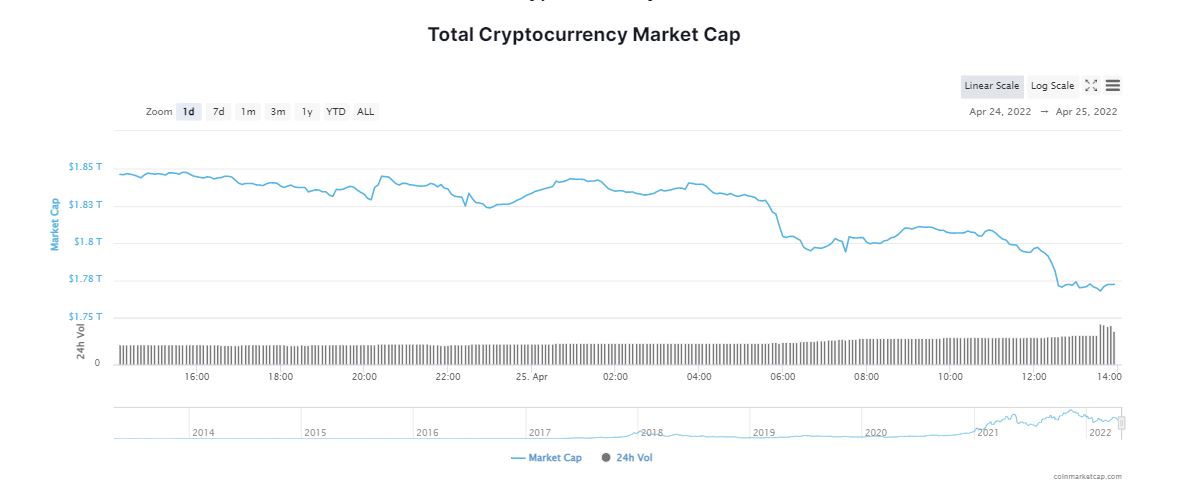 Is BTC Toppling To Hit $30K?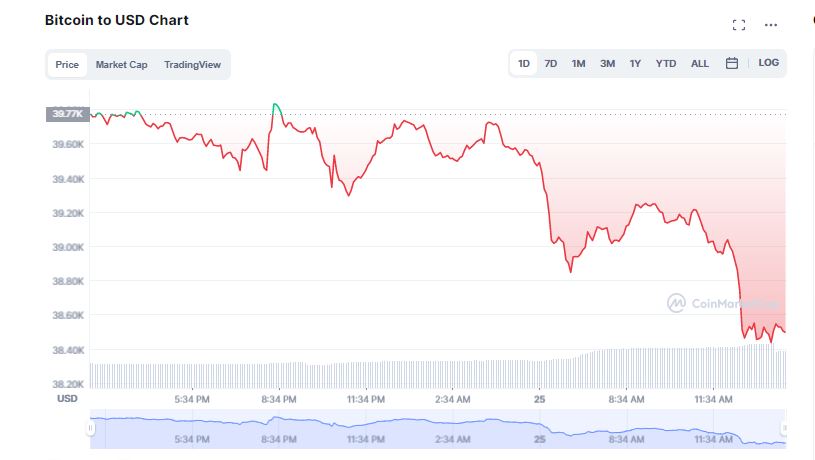 According to CoinMarketCap, the world's largest cryptocurrency by market cap, Bitcoin (BTC) is struggling at $38,497, dropping almost 3.20 per cent in the last 24 hours. The flagship token failed to stand its ground after peaking at $40,524.76 last week. Bitcoin's high point remained in the early days of January, when it hit almost $48,000 on January 2. So far, Bitcoin has stayed above its late January low point below $34,000.
Last week, even when, the 50-day and 100-day moving average lines went through a bullish crossover, Bitcoin failed to continue the bullish momentum and experienced a price meltdown. The next major support for BTC lies in the $36K-$37K region, if this level fails to hold, the price will likely drop to the $30K demand zone.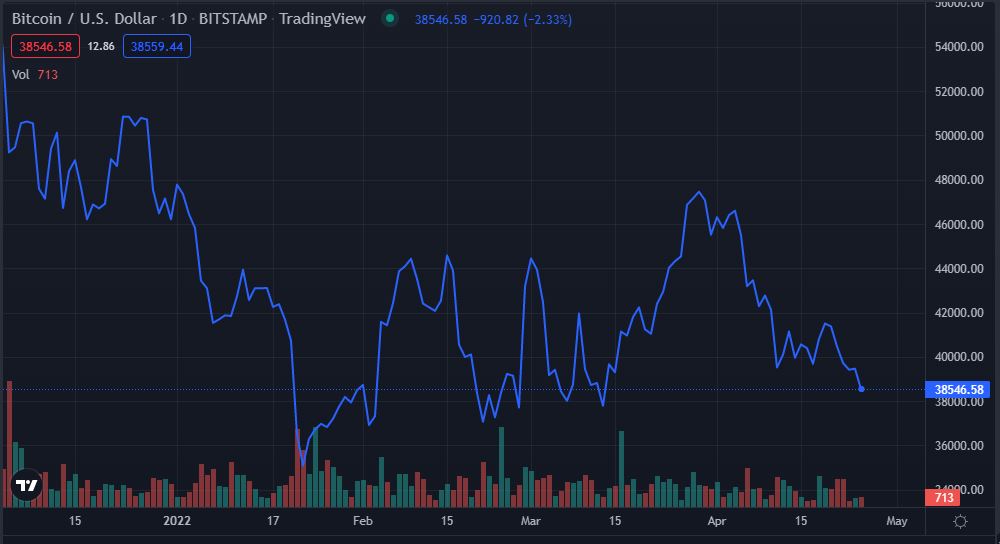 Major Cryptocurrencies Seem To Be Under The Weather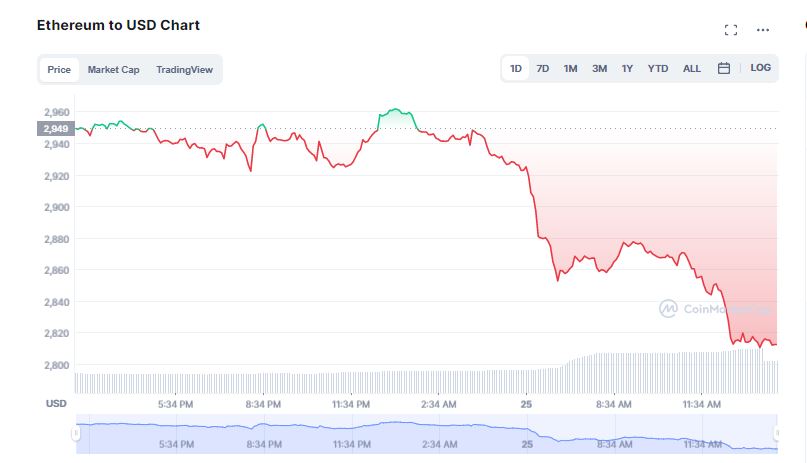 Ethereum (ETH), price has also dipped in last 24 hours. ETH is currently quoting $2,814 logging more than 4 per cent slide in last 24 hour. Memecoins, Dogecoin (DOGE) price today is $0.1245, which signals that the cryptocurrency has dipped around 7.40 per cent in last 24 hours. Shiba Inu (SHIB) is currently priced at $0.0002267, clocking 6.69 per cent loss in last 24 hours.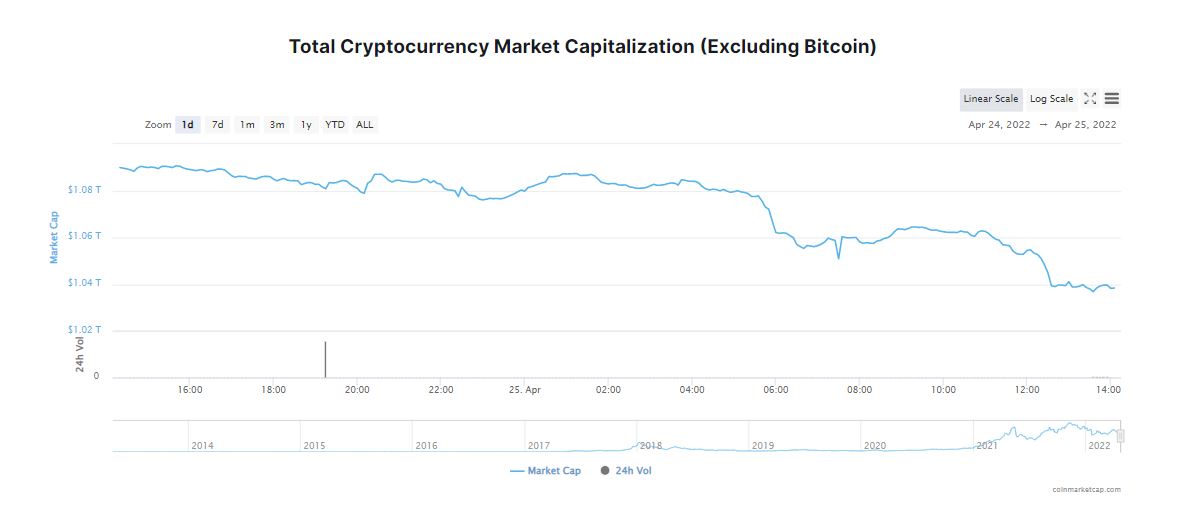 Over the past 24 hours, major altcoins such as Solana (SOL) and Avalanche (AVAX) have decreased around 6 per cent to currently levitate at $95.50 and $68.23 respectively. Polkadot (DOT) XRP and Cardano (ADA) have recorded a dip in the range of 6-8 percent. At present Terra (LUNA) is trading at $89.38, 2.25 percent decrease in the last 24 hours.