The crypto market rallied over the past 24 hours as the United States President Joe Biden administration brought in several emergency measures in order to prevent the fallout of Silicon Valley Bank from triggering a financial crisis at regional banks across the country.
Last week, the cryptocurrency market witnessed a massive sell-off that wiped out billions of dollars of value in a matter of hours with crypto heavyweights including Bitcoin (BTC) and Ethereum (ETH) falling to unexpected lows.
Several factors triggered the brutal meltdown including hawkish comments from Federal Reserve Chair Jerome Powell, Biden's new budget proposal that planned to introduce a 30% tax on crypto mining electricity usage. Despite the wider market rout, cryptocurrencies started the week on a high note signaling a positive momentum.
Bitcoin Recovers After Dropping Below $20K
As per the latest development, Bitcoin (BTC) and other top digital assets moved sharply higher during the early Asian hours on Monday as the Biden administration, together with Federal regulators decided to restore all deposits at failed Silicon Valley Bank (SVB) in full and an announcement by Fintech Circle to cover any of its stablecoin USDC reserves.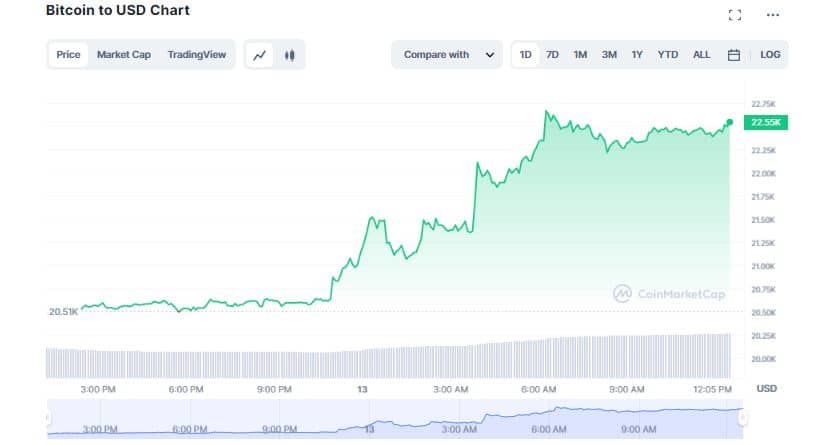 According to CoinMarketCap, BTC surged more than 9% in the last 24 hours to trade at $22,467. The flagship token is on a recovery rally, climbing marginally at 0.76% over the past seven days. Bitccoin's dominance also increased 0.50% in the past 24 hours to 42.27%.
Meanwhile, Ethereum (ETH) pumped nearly 9% over the last 24 hours to trade at $1,607. Following a drawdown, Ether has rebounded again to continue its upward trajectory. Over the past one week, the world's second largest cryptocurrency rose more then 2% just ahead of its highly anticipated "Shanghai Upgrade".
Altcoins Rebounce Double Digits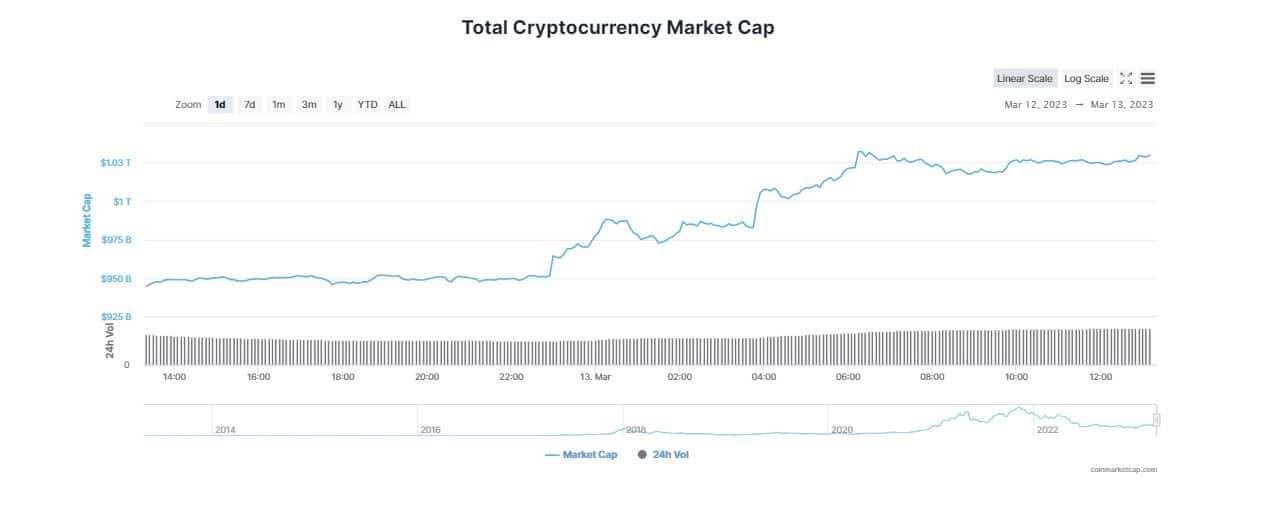 In tandem with Bitcoin and Ethereum, the global crypto market cap soared 7.55% in the last 24 hours to 1.03 trillion. The total crypto market volume over the last 24 hour increased 6.57% to $75.91 billion. Major crypto tokens also experienced a sunlit start to the week with significant gains. Cardano (ADA) boomed more than 11% in the past 24 hours to $0.34.
At the same time, Polygon (MATIC) and Polkadot (DOT) jumped nearly 7% with Solana (SOL) gaining more than 9%. Litecoin (LTC) and Avalanche (AVAX) soared 11.94% and 11.74%, respectively. Popular memecoins including Dogecoin (DOGE) and Shiba Inu (SHIB) also witnessed an upward trend, thanks to reports of the US government's intention to safeguard all Silicon Valley Bank (SVB) depositors. 
Moreover, USD Coin (USDC), also recovered following a crash after Circle, the company behind the stablecoin, revealed it has $3 billion of its $40 billion in reserves at Silicon Valley Bank. The company announced it will use its own resources and internal capital to cover the shortfalls.
Circle's USDC operations will open for business on Monday morning, including with new automated settlement via our new partnership with Cross River Bank. https://t.co/ybkSEedzrC

— Jeremy Allaire (@jerallaire) March 13, 2023
What are the Reasons for the Crypto Uptick?
The Biden administration announced Sunday night that all depositors at the failed Silicon Valley Bank would have access to all their money on Monday morning, averting a major crisis in the financial system. In addition, the Federal Reserve also announced that it was creating a lending facility for the nation's banks, which have been curated to protect them against financial risks caused by the collapse of Silicon Valley Bank. A joint statement from the Treasury Department, the Fed and the Federal Deposit Insurance Corporation read,
"Today we are taking decisive actions to protect the U.S. economy by strengthening public confidence in our banking system. Today we are taking decisive actions to protect the U.S. economy by strengthening public confidence in our banking system."
The moves sent waves of relief through Silicon Valley making stock futures and the crypto market rally. Furthermore, Biden would also address the financial predicament today on additional plans to keep the economy on track.