The crypto market moved higher on Tuesday as investors weighed the latest developments in the US debt ceiling stalemate. Bitcoin (BTC), and Ethereum (ETH) along with other top crypto tokens experienced a sudden uptick over the past 24 hours.
The digital asset market has been volatile amid macroeconomic uncertainties, which is guiding the sentiments in the near term. However, despite unstable market conditions, cryptocurrencies have increased significantly in the past 24 hours.
According to CoinMarketCap, the global crypto market gained nearly 2% to stand at $1.14 trillion following US President Joe Biden's discussion on the country's debt ceiling on Monda. Meanwhile, the total crypto market volume over the last 24 hours jumped 35.69% in the last 24 hours to $30.40 billion.
The meeting between President Biden and House Speaker Kevin McCarthy on Monday afternoon to discuss a path forward to avert a debt limit breach failed to yield a deal, but both sides agreed that talks were "productive."
It seems urgency is mounting for Biden and McCarthy to find a path to raising the government's borrowing limit before the June 1 deadline when the Treasury Department may be unable to pay the nation's bills.
Bitcoin (BTC) May Experience Price Surge Shortly
Bitcoin (BTC) was back in green on Tuesday as the largest crypto token jumped about 1.53% in the last 24 hours to regain the $27,000 mark. At the time of writing, the largest digital asset is hovering at $27,252. Over the past seven days, BTC bounced 0.12% signalling a bullish momentum. Bitcoin's dominance also rose 0.02% over the day to 46.43%. In the wake of the recent price rally, market experts anticipate a price surge on the horizon.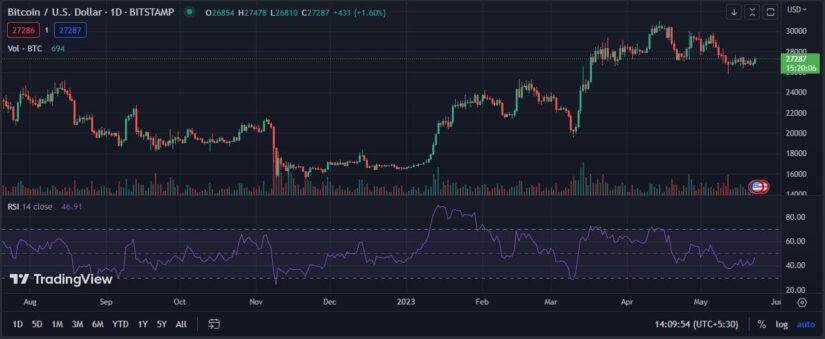 On May 23, Glassnode co-founder Yann Allemann took to Twitter to reveal the flagship token might be ready to rally, highlighting that Bitcoin's shorts have been exhausted after failing multiple attempts to break below the 200-day simple moving average (SMA), a trendline considered a significant support level.
Furthermore, it seems things are heating up for the Bitcoin (BTC) blockchain. As per data from Glassnode, daily transactions on the BTC network have rocketed to an all-time high of 682,000 this month. It is almost 40% higher than the previous peak in 2017.
#Bitcoin bottom is in

Shorts getting exhausted after failing numerous attempts to break below 200SMA, which is a solid support.

50SMA bullish crossover over 200SMA, it's a matter of when #BTC goes off https://t.co/pfyjsmCGyE pic.twitter.com/ZmKVQiQwYz

— 𝗡𝗲𝗴𝗲𝗻𝘁𝗿𝗼𝗽𝗶𝗰 (@Negentropic_) May 22, 2023
It is likely the spike in activity is due to the new breed of tokens to be built on the Bitcoin blockchain "BRC-20". According to Blockchain.com data, the average daily transactions over seven days stand at more than 531,000, nearly twice as high as a month ago, primarily due to the creation of these tokens. In a statement, Gordon Grant, co-head of trading at Genesis Trading said,
"BRC-20 tokens are a phenomenon we haven't seen before."
Demand For Ethereum (ETH) Staking Booms
On the other hand, Ethereum (ETH) was also surging higher, rising about 1.97% to race past $1,850 levels. The second largest digital asset is up 1.37% over the past week to currently trade at $1,851.
Experts predicted the rally might be due to a dramatic increase in demand for staking. As per Glassnode, more than 4.4 million coins have been deposited into the staking contract since April 12, taking the tally to a whopping 22.58 million.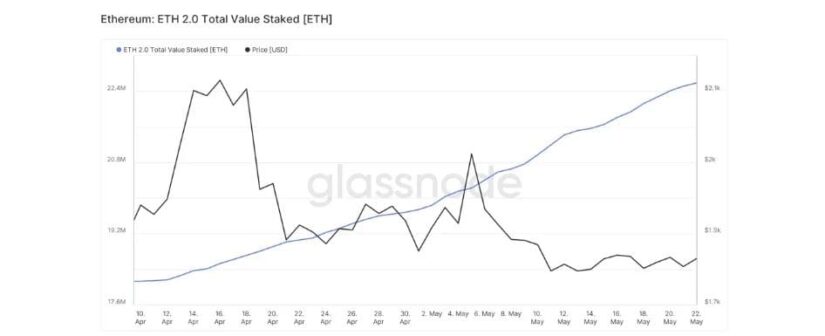 Altcoin Market Witness Gains
Similarly, all major altcoins witnessed a substantial upswing. XRP and Solana (SOL) saw a slight increase of 0.02% in the past 24 hours to trade at $0.46 and $19.79, respectively. Meanwhile, Cardano (ADA) and Polygon (MATIC) soared nearly 3% each, over the past 24 hours.
Other digital tokens including Dogecoin (DOGE), Litecoin (LTC), Polkadot (DOT), and Shiba Inu (SHIB) traded with gains in the last 24 hours. Parth Chaturvedi, Investments Lead at CoinSwitch Ventures noted,
"Crypto markets are trading slightly higher in the last 24 hours. The crypto fear and greed index remains in the neutral zone with 50 points, up 1 point. Investor sentiment continues to be cautious in the backdrop of the US debt ceiling discussions."