After a challenging first half of 2022, the crypto market is turning green lately. The start of this week has been positive for the crypto industry as investors and traders are enjoying minor gains. The sentiment is led by the leading cryptocurrency token, Bitcoin. Moreover, a significant increase is recorded in the capital inflow towards the market.
The global crypto market cap is lingering around the $998 Billion mark. A move over the psychological mark of $1 Trillion will prove critical for the stability of the gains. The crypto market cap has recorded a rise for consecutive days now. It indicates that investors are putting weight behind the market in anticipation of a rise.
However, the concern of a crash still looms over the industry. Many experts predict another downturn for the market, as they believe the market has not bottomed out yet. Moreover, many renowned crypto organizations are restructuring their business model to deal with the crashing market. Some of them have filed for bankruptcy while some have suspended their services to deal with the issue. Many firms are also laying off employees to deal with financially stressing circumstances.
Bitcoin Stays Over $20,000 – What is next for the Crypto Market?
The most valuable crypto token, Bitcoin, has managed to rise in the past few days. The coin has crossed the $22K mark after gaining over 3.40% in the last 24 hours. BTC has gained around 9% during the last seven days. The coin's market cap is over $423 Billion, and its 24-hour trading volume has crossed $29 Billion.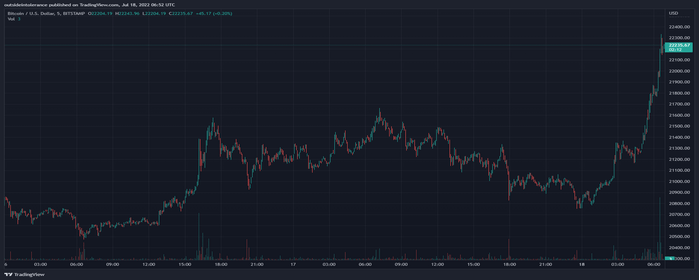 On the other hand, Ethereum has gone past $1,450 after gaining 27.50% in the last week. Most of the coins from the altcoin market gained double-figure percentages. However, MATIC was the most prominent performer in the market, rising around 63% in weekly gains. AVAX and UNI have also made respective gains.
Many investors are anticipating Bitcoin at $30K in the coming months. However, the bullish sentiment is quite uncertain due to the high inflationary environment in the US market. The inflation peaked at 9.1% in the month of June. Also, the global regulation, recession, and increase in interest rates can also have an impact on the overall market.
Therefore, the market is expected to stay within a tight range in the coming weeks. Nonetheless, many investors were relieved due to the recent rise of the market. They expect further gains but the market is reliant on several factors for now.