The crypto market is down nearly 2% in the last 24 hours as Bitcoin (BTC) dropped marginally despite spot Bitcoin ETF filings with the US market regulator by three financial giants. Ethereum (ETH) was also trading lower, falling 1% to slip below the $1,900 level. Meanwhile, top altcoins traded mixed with the majority of the digital tokens cascading after a brief rally.
The cryptocurrency market continues to move with a fair share of ebbs and flows. Bitcoin (BTC) hit its highest level since April on June 21, as traders got excited about the prospects of a spot bitcoin exchange-traded fund (ETF) following a series of recent applications from companies including BlackRock.
However, it seems the US SEC lawsuits filed against exchange powerhouses such as Binance and Coinbase, including a mass crackdown on crypto-focused companies along with other macroeconomic factors are still affecting the digital assets industry adversely. 
Bitcoin Slides Following a crypto market Rally
According to CoinMarketCap, Bitcoin (BTC) slipped 0.98% in the last 24 hours to trade at $30,513. However, in the past seven days, the largest digital asset is still up more than a staggering 15%. It is likely that the BTC price is beginning to stall after the BTC ETF excitement within the market although it is expected the flagship token to hold firmly around the current levels. Despite the downturn, several experts anticipating a price boom in the crypto market in the coming days.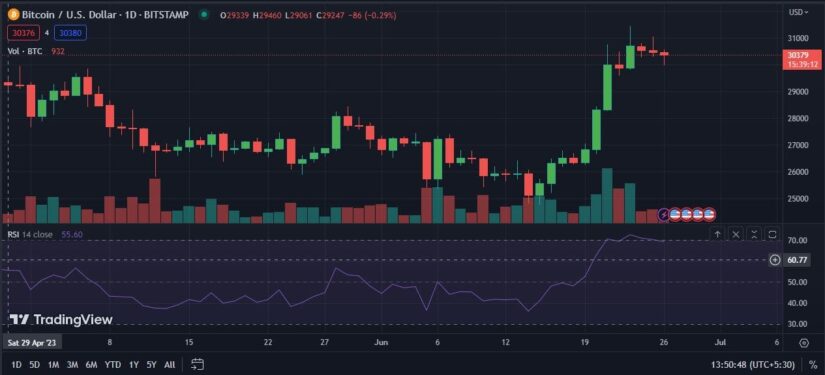 On June 25, seasoned market analyst Aksel Kibar predicted that BTC could be on the verge of a significant price surge. He emphasized that Bitcoin has to surpass the short-term resistance at $31,000 before meeting its price target of $34,000. On the other hand, John Deaton, who is representing about 75,000 XRP holders as amicus curiae in the ongoing legal battle between the Ripple firm and the SEC, has posed an interesting question to his over 276,300 Twitter followers on the Bitcoin price.
$BTCUSD 31K short-term resistance before the price target is met. H&S bottom price target stands at 34K and the latest breakout from the channel was strong.

More with today's special #cryptocurrency report

>> https://t.co/3PXD6BGq77 pic.twitter.com/6GyPt8Sl74

— Aksel Kibar, CMT (@TechCharts) June 25, 2023
Deaton asked whether they believed Bitcoin's market cap might someday reach half that of Gold. Deaton noted that if this occurs, the price of Bitcoin may increase to $300,000, which would be almost 10 times higher than its present value. The XRP attorney further added that Bitcoin might attain half of Gold's market cap due to his belief that the current price is an attractive entry point for long-term investors. In a statement, Edul Patel, CEO at Mudrex, said,
"Bitcoin soared to a one-year high, surpassing the US$31,000 mark on Friday. However, it has since entered a consolidation phase, stabilizing around the US$30,000 level within the past 24 hours."
Do you believe #Bitcoin will reach 1/2 the market cap of #Gold one day?

If it does, the price would reach 300K. That's 10X from today's price.

— John E Deaton (@JohnEDeaton1) June 24, 2023
Major Altcoins Reverse Gains
On the other hand, Ethereum (ETH) price stood at $1,898, marking a 24-hour loss of 1.04% at the time of writing as investors continue to keep a close watch on macroeconomic indicators for a sense of movement in the crypto market.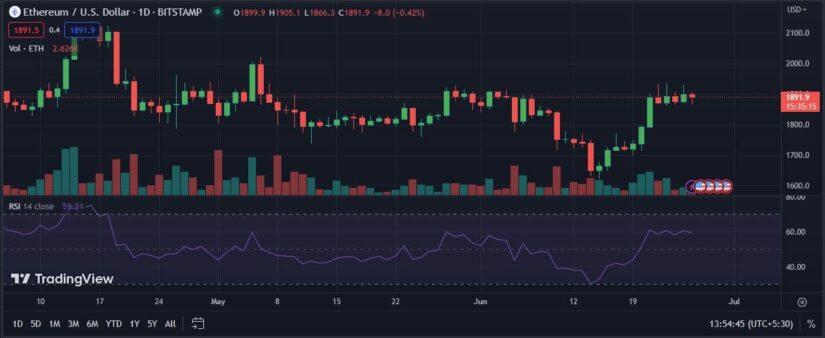 Furthermore, as per data from CoinMarketCap, the global crypto market cap decreased 1.84% over the past 24 hours to $1.18 trillion, at the time of writing. Meanwhile, the total crypto market volume over the last 24 hours plunged more than 5% to $31.29 billion. In tandem with the broader crypto market, other top crypto tokens were also trading in the red, mostly as a reaction to the general economic trend.
Cardano (ADA), Litecoin (LTC), and Polygon (MATIC) declined nearly 3%, 1.24%, and 0.95%, respectively. Over the past 24 hours, XRP and Dogecoin (DOGE) also tanked, by almost 2% each. Solana (SOL) dropped 1.79% in the last 24 hours to trade at $16.88. On the flip side, digital tokens such as Tron (TRX), Polkadot (DOT), and Arbitrum (ARB) among others shot up.