The crypto market dropped on Monday, trading flat over the weekend, ahead of a speech by Federal Reserve Chairman Jerome Powell before the Economic Club of Washington.
Following a spirited start at the onset of the New Year, the cryptocurrency market took a dive with major digital assets slipping to trade in red. According to CoinMarketCap, the global crypto market cap tanked 1.80% in the last 24 hours to $1.06 trillion. However, the total crypto market volume over the last 24 hours witnessed a sharp increase of more than 26% to $46.64 billion.
The big guns of crypto, Bitcoin (BTC) and Ethereum (ETH) trade with losses as market volatility grips digital tokens. In a nutshell, the cryptocurrency sector has been on a roller coaster ride in the past few weeks with whales moving an estimated $743 million in just three transactions, last week.
As Bitcoin floats above $23,000, three huge Bitcoin and Ethereum whales are turning heads among crypto traders.
In total, the whales moved a staggering $743 million in crypto in just three trhttps://t.co/M6TISEvfFf#cryptonews #cryptocurrency

— GEM HODLERS News & Marketing Co.® 💎 (@TheGemHodlers) February 5, 2023
Bitcoin Sinks Amid Market Uncertainity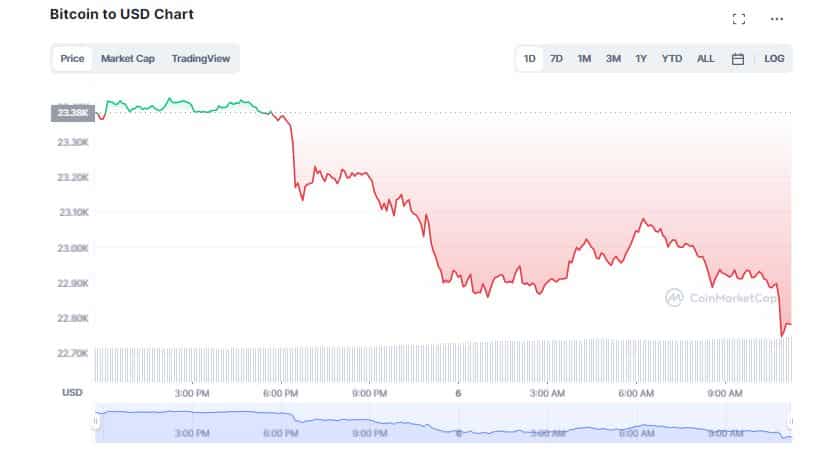 On February 6, major digital assets shrank as it seems investors are now looking ahead to Federal Reserve Chairman Jerome Powell's speech, scheduled for Tuesday afternoon, before making any big moves. After a winning streak, Bitcoin (BTC) cascaded below the $23K mark amid a rise in speculation regarding Powell's utterance.
At the time of writing, the flagship token tumbled nearly 2.68% in the last 24 hours to trade at $22,734. BTC fell more than 3.98% over the past seven days with Bitcoin's dominance slipping down 0.03% over the day to 41.53%.
The slump in crypto mirrored as U.S. stock futures started the week on a dull note as investors awaited more earnings and an important speech from Federal Reserve Chairman Jerome Powell. In a statement, Karl Chalupa, CEO of Gamma Investment Consulting explained markets will likely be on edge ahead of the speech by Jerome Powell as it could signal a potential rate hike that would influence both crypto and traditional finance. Chalupa added,
"While interest rates may be near their peak, it would take an actual sharp drop in rates combined with resurgent earnings growth for valuation to improve substantially without a further drop in stock prices."
Altcoins Along With Metaverse Tokens Plummet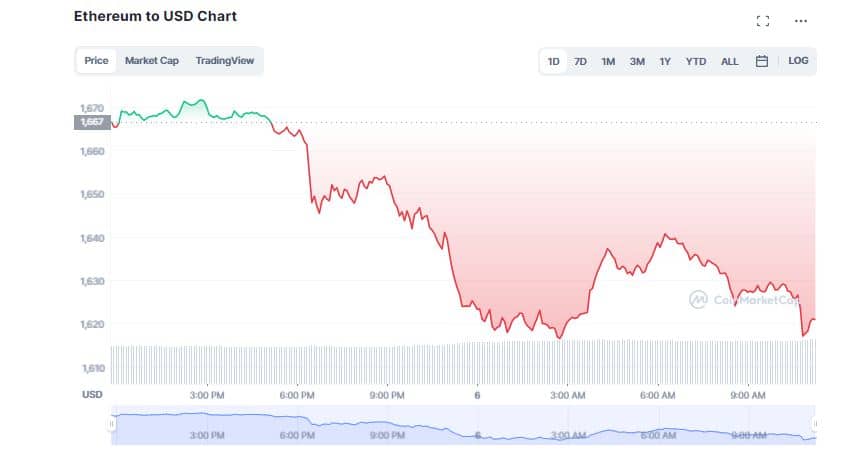 Meanwhile, Ethereum (ETH) toppled 2.88% in the past 24 hours to hover at $1,618. Ether declined 1.06% over the past one week even after a large sum of ETH worth a whopping $309 million was moved by a whale from one unknown wallet to another. The amount transferred was approximately 186,009 ETH. Despite a marginal fall in ETH prices, crypto experts believe Ether to bounce back soon as the highly anticipated "Shanghai Fork" approaches closer.
On the other hand, major altcoins traded with losses over the last 24 hours with Solana (SOL) and Cardano (ADA)  spiralling downwards 5.38% and 2.06%, respectively. Polygon (MATIC), Polkadot (DOT) and Litecoin (LTC) plummeted significantly in the range between 2.88% and 4.91%. At the same time, Shiba Inu (SHIB) declined by 4.16% to $0.000014, while Dogecoin (DOGE) slipped in value more than 3% to $0.0916.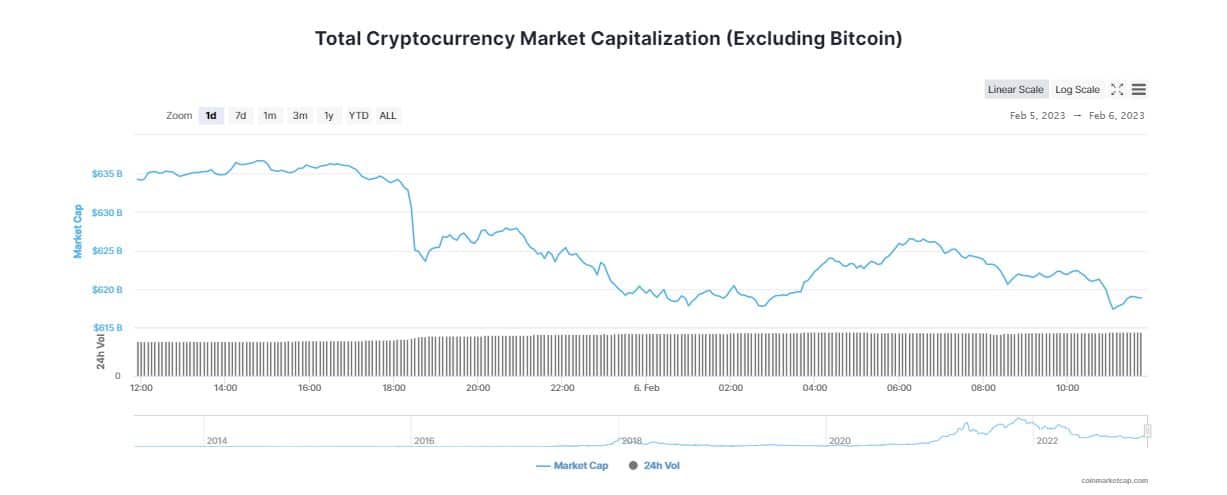 With the increase in market uncertainties, the prices of top metaverse tokens were impacted negatively. Decentraland (MANA) and Axie Infinity (AXS) registered a fall of 6.98% to $0.7217 and 5.96% to $10.85, respectively. The Sandbox also witnessed a plunge in its value by 6.86% to $0.7187 in the last 24 hours.