The cryptocurrencies were trading higher on Wednesday ahead of key United States inflation data slated to be released on August 10.
another Possible Fed rate hike Incoming
With investors keenly awaiting inflation data due on Thursday, US stocks gained with the S&P 500 rising 0.90%, the Nasdaq Composite adding 0.61% and the Dow Jones Industrial Average surging 1.16%.
The Consumer Price Index (CPI) data for the month of July will be released tomorrow, revealing the latest U.S. inflation trends. As per reports, July and August core CPI will rise at a 0.4% monthly rate supporting the Fed's ongoing concerns that the inflation battle is not over.
This means the Federal Reserve might be considering another interest rate hike in 2023. Although the prior reading for the month of June was encouraging, it seems, the Fed's main concerns are related to services inflation that continues to remain high, fueled by rising wages.
Hence, the Fed would need to see evidence of disinflation in services in the CPI reports for the reported months of July and August to have confidence that inflation is beaten. Despite the looming macro headwinds, digital assets witnessed a substantial uptrend in tandem with US stocks.
Bitcoin Breaches $29,500K Mark
According to CoinMarketCap, Bitcoin (BTC) seems to be back in action on Wednesday as the largest crypto token gained more than 2 percent to regain the $29,500 mark.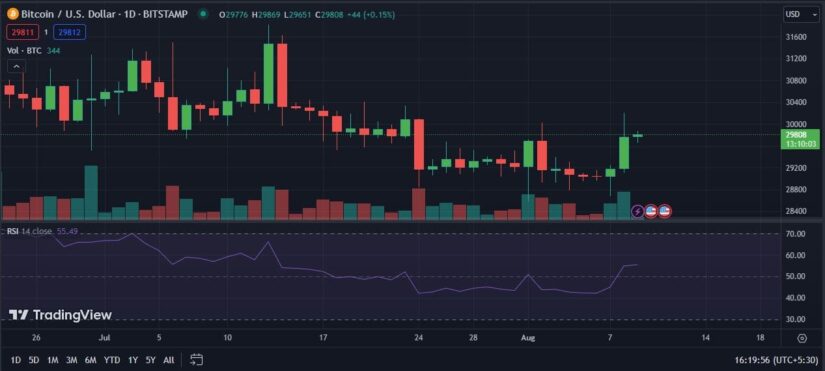 At the time of writing, the flagship token is hovering at $29,750. On the other hand, the digital token jumped 1.28% over the past seven days. In the early hours of August 9, BTC managed to breach the $30,000 mark but consolidated to trading above the $29,700 level.
This movement could likely be because of the fall in Chinese trade numbers for July and the U.S. 10-year Treasury yield descending lower by 11 basis points to 3.98%. Over the past 24 hours, Bitcoin's dominance also increased by 0.13% to 48.92%.
In the wake of this dramatic uptick, several market experts continue to remain optimistic about a potential bull run. On August 9, popular trader Jelle said in part of an X post about the sub-$28,000 run, "That indeed was the higher low, Bitcoin continues to maintain a bullish market structure."
That indeed was the higher low, #Bitcoin continues to maintain a bullish market structure.

Needs to break $32,000 from here, let's see if this bounce has any legs.

What are we thinking boys? https://t.co/dDi723NBhY pic.twitter.com/zEDOCTJhW6

— Jelle (@CryptoJelleNL) August 9, 2023
Furthermore, on August 8, Michael van de Poppe, a well-known crypto trader and analyst stressed the significance of $29,700, adding, "Bitcoin party starts when we break $29,700. Until then it's just consolidation."
#Bitcoin party starts when we break $29,700.

Until then it's just consolidation.

More background:https://t.co/nMeISWLMLZ pic.twitter.com/Ekd9P6kg7B

— Michaël van de Poppe (@CryptoMichNL) August 8, 2023
Is Ethereum Gearing Up for a Rally?
Bitcoin's largest peer, Ethereum (ETH) was trading higher, rising more than 1% in the last 24 hours to trade at $1,860. Over the past week, Ether gained 0,28% as the Ethereum blockchain contested as a potential money layer for the internet after payments giant PayPal announced the launch of PYUSD stablecoin will run on the Ethereum blockchain as an ERC-20 token.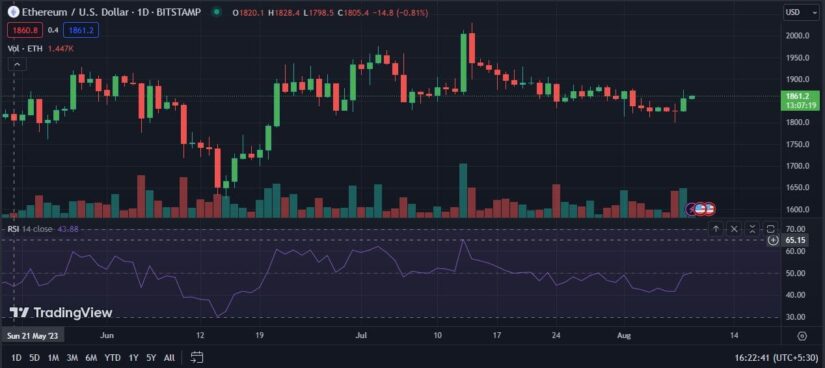 Additionally, blockchain data and intelligence provider Glassnode revealed that the number of Ethereum (ETH) addresses holding even the smallest fraction of ETH (wei) had reached an all-time high of 104,076,868.
📈 #Ethereum $ETH Amount of Supply Last Active 7y-10y just reached an ATH of 4,312,341.108 ETH

View metric:https://t.co/U7Oi4wJFLB pic.twitter.com/270gspPj9I

— glassnode alerts (@glassnodealerts) August 8, 2023
These factors seem to be a major boost for the second-largest digital asset. Recently, renowned analyst Josh Olszewicz suggested that ETH might be gearing up for a significant rally in the coming months.
1/ $ETH

asc tri 450 million years in the making w/fib extensions to $3k

descending volume

bias remains bullish until price breaks below diag support

$2k psycho res is also a yearly pivot & would be extremely obvious signal that it's go time, which should help the breakout pic.twitter.com/DNPMRexQlO

— Josh Olszewicz (@CarpeNoctom) August 9, 2023
The Altcoin Market Claws Back
Along with the two crypto OGs, all other top crypto tokens were trading higher on Wednesday barring a few exceptions. XRP manages to soar more than 4% over the past 24 hours despite a weekly downturn of 7.39%.
Cardano (ADA), Polygon (MATIC), Polkadot (DOT), and Litecoin (LTC) are trading with gains ranging between 1% and 4%. Solana (SOL) soars more than 6% in the last 24 hours to trade at $24.64.
Among the losers, Optimism (OP) and MakerDAO (MKR) were down less than a percent each. Owing to the rising trend, the global cryptocurrency market cap was trading significantly higher, rising 1.92% in the last 24 hours to $1.18 trillion. Meanwhile, the total trading volumes surged 25% cent to $40.57 billion.