According to CoinShares' latest "Digital Asset Fund Flows" report, CoinShares head of research James Butterfill pointed out that institutional sentiment toward cryptocurrency investments has been standoffish for weeks now, with "minor inflows" seen for the third consecutive week, according to the report.
Market Sentiment Isn't Normal Yet
There was a total inflow of US$10.3m into digital asset investment products last week, the third consecutive week of inflows, as highlighted in the report. There are still a low number of flows in the market, implying that investors are still hesitating to invest.
Furthermore, Bitcoin has seen the third week of minor inflows totaling US$7.7m, while shorting bitcoin has seen a third week of minor inflows totaling US$2.1m. In the meantime, Ethereum has seen the second week of inflows totaling US$5.6m, while shorting Ethereum has seen minor outflows totaling US$0.9m.
There were minor outflows at the regional level in most of Europe over the past week, with the exception of Sweden, where inflows totaled US$16 million last week. A total of US$7.7 million was also inflowed into the US, whilst a total of US$9.1 million was outflowed from Germany.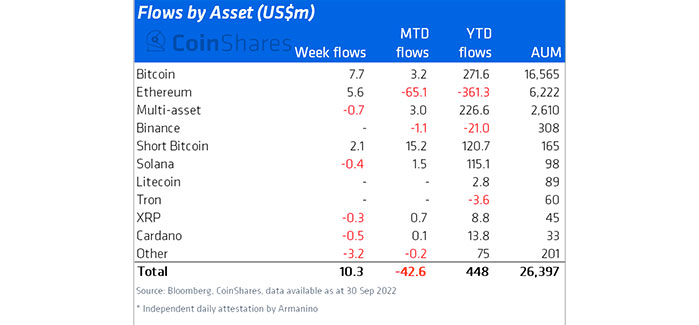 Last week, Bitcoin saw a third consecutive week of minor inflows totaling US$7.7m, while short bitcoin saw a return of US$2.1m in inflows last week, as we mentioned in our previous post.
As of the end of the second week, Ethereum saw a total of US$5.6 million inflows. The sentiment was not good during the Merge, with outflows in September totaling US$65 million.
There are likely to have been several factors involved in the successful execution of the change from Proof of Stake to Proof of Stake, including increased regulatory scrutiny and a strong US Dollar. There have been a few minor outflows of US$0.9m from short Ethereum investment products.
Last week saw broad negative sentiment for altcoins (ex-Ethereum), with outflows totaling US$3.5m. Most affected were Polygon, Avalanche, and Cardano, with outflows of US$0.9m, US$0.8m, and US$0.5m, respectively.
There has been a recent report released by one of the more famous exchanges that indicate the market still needs some time to be able to return to a more healthy state. In spite of the current state of affairs, people and institutional investors are still pondering the situation and are unsure whether or not to invest more in cryptocurrencies.
In spite of the fact that the report is based on only one exchange, we can assume that the overall sentiment isn't that positive. In order to attract investors again to Bitcoin and other cryptocurrencies, they'll need to have big pumps.