Major cryptocurrency exchange platform Coinbase is considering expanding its list of supported digital assets with the aim of providing more access to its users. An announcement on Monday shows that the US-regulated exchange is considering the addition of Algorand, Cosmos, Dash, Decred, Ontology, Waves, Matic Network, and Harmony to its retail investor platform.
Dash and Cosmos are two coins listed on the top 20 most valuable assets on Coinmarketcap. Dash is 15th while Cosmos is ranked 20th. Both Harmony and Matic Network launched this year through IEO events on popular project launch platform Binance Launchpad while Algorand launched in June through an independent token sale.
According to the blog post, Coinbase shares that its goal is to increase its list of supported assets to include at least all the assets constituting the 90% of current market capitalization. In addition, all listed assets will need to conform to the exchange's Digital Asset Framework that got a revision in September last year. Coinbase "evaluate[s] prospective assets against [its] Digital Asset Framework to assess factors like security, compliance, and the project's alignment with [Coinbase's] mission of creating an open financial system for the world."
In a previous blog post announcement detailing its listing process, Coinbase stated that,
"Because listing announcements will become more frequent, we expect to publicly announce the addition of new assets only at or near the time of public launch across one or more Coinbase products."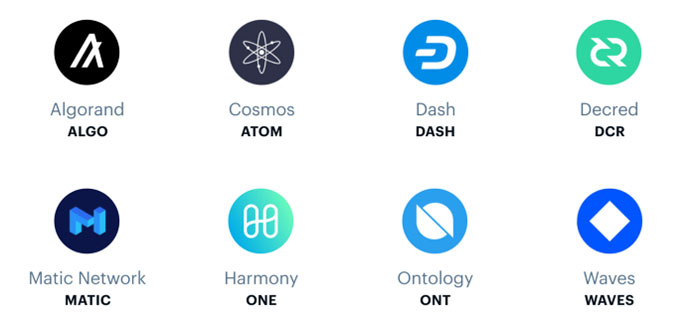 Essentially what this means is that Coinbase is still reviewing the above assets but all eight stand a good chance of being listed. Another caveat to consider is that depending on jurisdictional discrepancies, these assets may be available to some Coinbase users while lacking for others. This is highly expected as the cryptocurrency industry keeps changing frequently.
"We will add new assets on a jurisdiction-by-jurisdiction basis, subject to applicable review and authorizations," the Monday blog post stated.
It is worth noting that all eight assets under consideration for possible listing on Coinbase are already listed for trading on Binance, the leading cryptocurrency exchange by market capitalization. The listing process for Binance is little more open which has allowed the exchange to list a myriad of projects. However, the exchange has also delisted several projects over the years due to a fall in either developer support or a mismatch with Binance's global vision. Either way, it seems that Coinbase is looking to offer more support of assets in order to effectively compete with its rivals.