A DeFi Platform like Coin98 provides users with all the tools they need to swap, stake, borrow, lend, invest, and earn with cryptocurrency with ease. With the goal of becoming the gateway that connects TradFi users to any DeFi service on multiple blockchains, Coin98 aims to make a full range of DeFi products that are more readily available to users, such as Coin98 Exchange, Coin98 Wallet, Coin98 Portfolio, among many others, more accessible.
There are several uses for C98 tokens within the platform. They are native utility tokens that can be used to pay transaction fees, develop products, provide staking incentives, facilitate governance, and grant rights to members.
What is Coin98?
There is a mobile app called Coin98 that allows you to store and trade crypto. There have been more than one million downloads of the Coin98 app, as well as over three million transactions and 500,000 active users.
In addition to being a wallet app, it can also be used as a trading application to store your coins. There is one place where a DeFi trader will find all the essential tools he or she needs in order to trade effectively.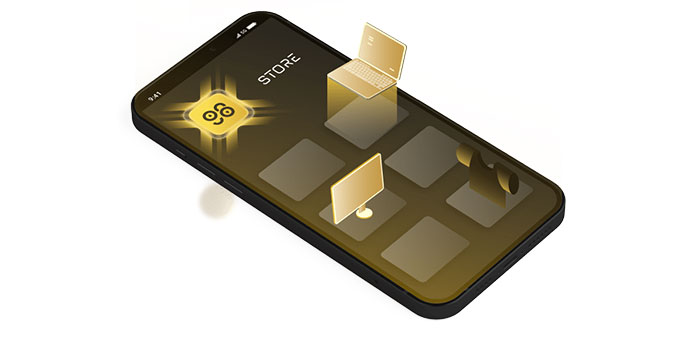 It all began in early 2020 when DeFi began reaching new heights of value and attention, and the idea of Coin98 began to take shape. It was a perfect time to build a new project because there was a surge in value added by users at the time. A financial infrastructure that is open and accessible to the crypto market was needed, and Coin98 was created to provide this infrastructure.
Coin98 Products
It is important to note that the Coin98 network is made up of many different components. The ecosystem brings together a number of the biggest names in the decentralized finance (DeFi) industry with a number of partnerships and integrations.
In spite of this, the project is primarily comprised of three main components. It includes Coin98 Ventures, Coin98 Labs, as well as Coin98 Media. Aside from this, each arm of the project is responsible for continuing to develop and grow the project in a sustainable manner. You can also read about many of the products in the following sections if you are interested in learning more.
Coin98 Staking
In order to provide customers with a full suite of products as well as to reward our C98 holders, Coin98 Staking is the latest release from Coin98 Labs. Additionally, it will also provide users with the ability to earn passive income as a result of their participation in the Coin98 Ecosystem in a simple and secure way.
Depending on the staking plan you have decided upon, Coin98 Staking offers fixed interest rates. Depending on the level of staking and the number of tokens that users wish to stake, there are three different packages available.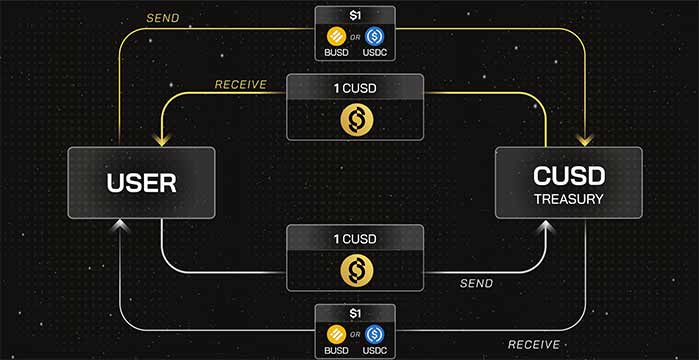 As soon as staking has ended, users have the opportunity to unstake and harvest their earnings directly into their wallets. During the first 15 days after staking, stakers won't be able to unstake their stakes. You will only earn a fixed floating interest rate of 2.0% if you unstake before the expiration date, no matter what type of staking plan you choose, as long as you unstake before the expiration date.
Coin98 Wallet
In the Coin98 Super App, you have the option of using the Coin98 Wallet, which is one of its most impressive features. With it, you will be able to store, send, and receive multichain digital assets that can be stored in a non-custodial wallet.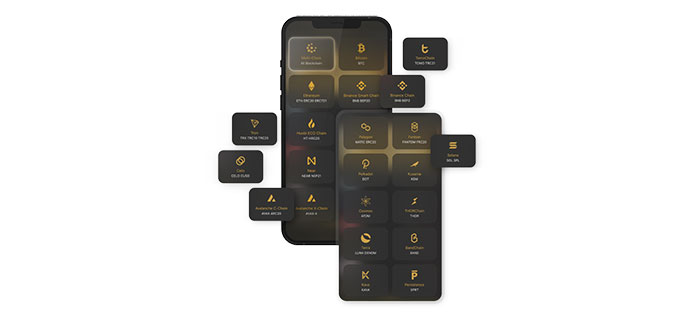 In order to become a complete dApp, Coin98 Wallet aims to be able to offer Crypto users a wide variety of products and services and, at the same time, deliver superior smart experiences.
Moreover, Coin98 Wallet is currently on a mission to become the best DeFi gateway, providing users with both a user-friendly and flawless experience, regardless of their skill level.
It is possible to use Coin98 Wallet on more than 50+ blockchain platforms at the moment, including Bitcoin, Ethereum, TOMO, Tron, Binance Smart Chain, Solana, Polkadot, and Kusama.
Coin98 Portfolio
It is no longer challenging for users to know where coins are stored, how they perform, and their real-time status in terms of security and performance, even for those who are new to DeFi.
A pure cryptocurrency portfolio tracking application developed by Coin98 Labs is called Coin98 Portfolio, which allows users to track and monitor their portfolios and price changes at any time of the day, as well as manage and track the growth of their assets using multichain wallet addresses at any given moment.

It has been possible to track your portfolio, monitor price changes, and monitor your asset's growth on 10+ top-tier blockchain addresses through Coin98 Portfolio easily and conveniently.
These blockchains include Solana, Ethereum, Binance Smart Chain, HECO Chain, Avalanche C-Chain, Tron, TomoChain, Near, Polkadot, Kusama, and Celo. The team at Coin98 Portfolio is constantly looking for new integrations to keep the platform at the forefront of DeFi technology.
Coin98 Exchange
A one-stop DeFi platform, Coin98 Exchange offers a wide variety of DeFi services to users, including trading, staking, lending, lending, borrowers, earning crypto, and accessing a wide range of DeFi services on multiple blockchains with ease. This is also one of the latest innovations of Coin98 to help us make the future of the multichain a reality.
By including these dynamic integrations with the platform, users can now swap a wide range of popular tokens on just one interface while staying up to date with all the latest crypto trends at the same time.
The Coin98 Exchange not only aggregates fragmented liquidity from different AMMs for active traders but also offers users the possibility to skin-in-the-game via their multichain functionality. In order to be trusted by users, the platform integrates more chains and offers access to more DeFi services.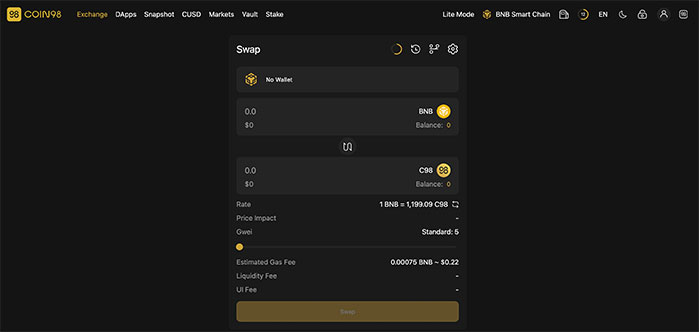 Coin98 Tokens
As far as the Coin98 platform is concerned, there are two tokens to choose from. It is important to note that each one of them has its own set of uses.
C98 The native utility token of Coin98
The C98 token is the native utility token of the Coin98 platform that powers the entire system. A small fee has to be paid every time a transaction is successfully carried out when using Coin98 Exchange. In order to pay for this service, the token C98 is used.
The success of Coin98 Exchange depends largely on the ability of users to play the role of liquidity providers and stake their digital assets in the decentralized market-making pools.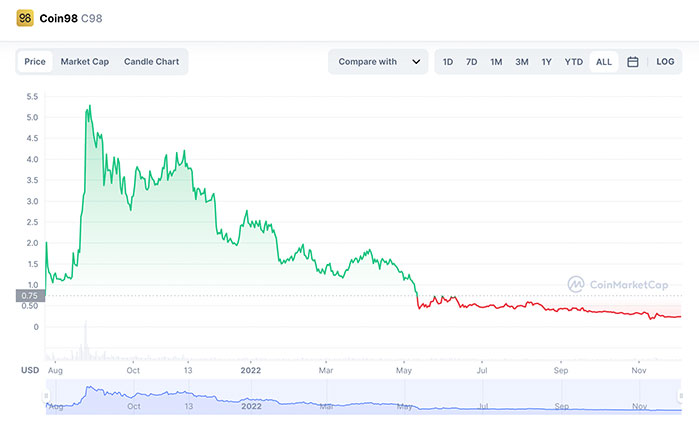 Through the use of the various Coin98 staking options and platforms, the user can earn a passive income by locking up funds and receiving C98 tokens in return, compensating for the opportunity costs of providing liquidity or participating in liquidity mining across the various platforms and options available.
How Can I buy C98?
C98 coins can be found on many exchanges with famous pairs like BTC, USDT, BUSD, etc. There are some of the most famous ones include Binance, Kucoin, Coinbase, Kraken, and Bithumb.
If you are interested in acquiring C98, you simply have to register with a cryptocurrency exchange that supports the coin, pass the verification steps, and deposit some coins such as USDT, BTC, or others. The Pancakeswap DEX is one of the most famous DEXs that supports this coin, and there are some other DEXs as well.
Is C98 a good investment?
With Coin98, DeFi infrastructure and interoperability are being improved in order to improve the user experience.
Although the price of the C98 coin isn't stable yet, Coin98's platform already offers users a user-friendly wallet that offers them the opportunity to stake or add assets to liquidity pools and receive C98. There is no doubt that the token will be successful in the long run as a result of the development of these features and the launch of new products in the ecosystem.

If you are looking for a virtual currency that has high potential, then C98 would be a great option to consider if you are looking for a solid long-term investment.
Coin98 Dollar
It is a stablecoin that is fully backed by the USDT, which is a cryptocurrency that is aiming to become a cross-chain unit of account (UoA) that can help DeFi meet its demand for cross-chain liquidity. Undoubtedly, CUSD is a long-term.
This is why they are creating a strong set of use cases within the Coin98 Ecosystem that will allow theto achieve this goal, and our first step is to establish CUSD as the default medium of exchange across all products that Coin98 Finance has created. Ultimately, CUSD will be able to benefit from the growth of DeFi ecosystems in the multichain world in the long run.

For the collateralized assets to be converted into 1 CUSD, a total of $1 of collateralized assets must be transferred into the CUSD Reserve smart contract for the purpose of conversion. The collateral ratio for conversion of 1 CUSD to a fiat-backed stablecoin – BUSD and USDC – will be $1 at the outset of the conversion process.
Conclusion
The Coin98 ecosystem can be summarized as a DeFi hub that connects the top decentralized exchange protocols (DEXs) to provide a gateway to deep cross-chain liquidity.
Moreover, as a platform that offers a comprehensive suite of lending, borrowing, and liquidity protocols, it also offers a wide range of DeFi tools and services.