Earlier this week, Bitcoin showed signs of bottoming out. However, the overall crypto market showed positive signs of recovery in the last 24 hours. After nine consecutive weeks of losses, Bitcoin has managed to regain its $31,000 mark. It is also worth mentioning that Cardano (ADA) was amongst the top gaining coins of the market over the last day. Cardano experienced an upsurge of over 18% within this time.
The issuance of native assets on the Cardano Network was a major contributor to its price rise. The retrieved data clearly shows that roughly 5 million assets were minted on Cardano. In addition to this, the upcoming Vasil Hard fork is also anticipated to increase scaling capabilities considerably.
Cardano (ADA) Grows in the Crypto Market
Previously, Cardano's ADA received support at the 45 cents mark. ADA was struggling in the last week. However, the coin recovered and regained its lost value. The chart below shows that the coin broke out after bottoming a few days back. Furthermore, if ADA manages to achieve the 80 cents mark, the token might get to see a stronger resistance.
Cardano is ranked #6 in the list of top cryptocurrencies by market cap. ADA has amassed over 24% over the last week or so. Its market cap has crossed the $21 billion mark amid the recent positive trend. At the time of writing, ADA is priced around the 62 cents mark.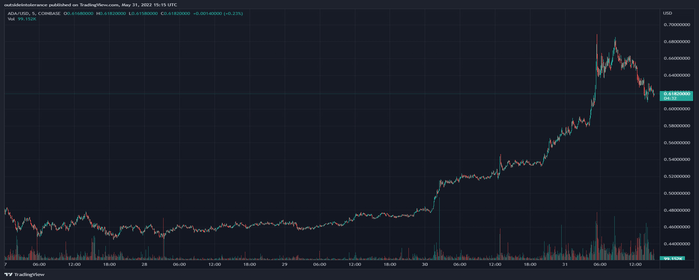 The Vasil Hard fork upgrade will provide more stability and connectivity to the Cardano blockchain. It will increase the usability of the blockchain, and ADA is expected to be positively influenced by this development.
Moreover, Ether (ETH) saw an increase of 5%, even when the gas fees managed to fall at their lowest point. XRP saw an increase of over 4%. On the other hand, meme coins such as Dogecoin as well as Shiba Inu experienced limited gains. They increased by roughly 2.47% and 1.16% respectively. Also, metaverse tokens had also seen a considerable increase in their prices.
AXS rose by a considerable 24% over the last 24 hours. However, an increase in AXS's value was seen weeks after the game's 'Origin' version was launched. That played a major role in boosting the demand for the token. Furthermore, SAND managed to see an increase of roughly 5.46%. It is to be noted that the optimism from Asian Markets has made relief possible within the cryptocurrency market.