The crypto market heaved a sigh of relief as major tokens began the week on a balmy note. Bitcoin (BTC) traded above the $30K mark after a choppy ride the past couple of weeks. Ethereum (ETH) along with other prominent altcoins surged significantly, docking in the green zone.
After witnessing a storm-tossed sail, cryptocurrency prices surged today with the global crypto market cap jumping over 5.70 per cent in the last 24 hours to $1.27 trillion. The total crypto market volume increased nearly 33.92 per cent in the last 24 hours to $64.98 billion. 

Is Bitcoin On The Path To Recovery?

According to CoinMarketCap, Bitcoin (BTC) leaped 5.77 per cent in the last 24 hours to currently hover at $30,628. The world's most popular token has managed to break the $30K mark after struggling between $28K-$29K for quite sometime. Although, Bitcoin (BTC) started the week on a good note, experts believe BTC's volatility could rise, if another price breakdown occurs.
Joe DiPasquale, CEO of crypto fund manager BitBull Capital, explained that from a mid-term point of view, Bitcoin's situation still looks bearish. If sellers' pressure continues, traders can expect a sharp fall below the $27,757 mark. Such a scenario is relevant until the end of June. He said,
"If it's able to break through $30K, it may make a run. But, if it continues to be pressured down by bearish sentiment, it could fall to its next support line around $25K."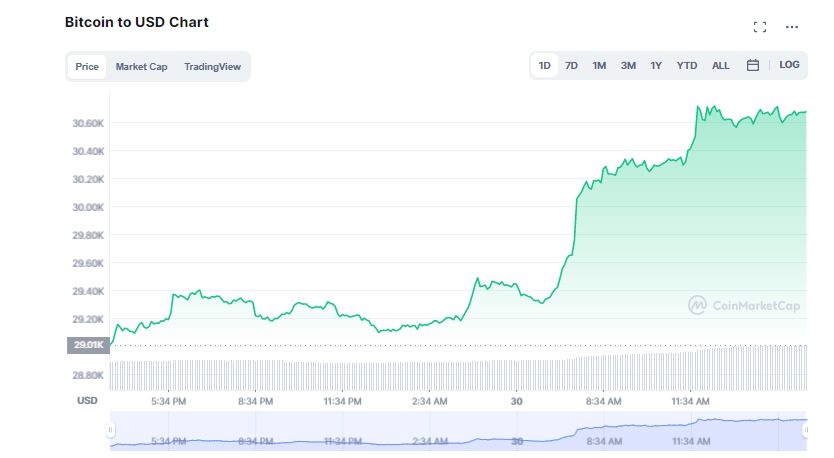 The Ascending Altcoins Market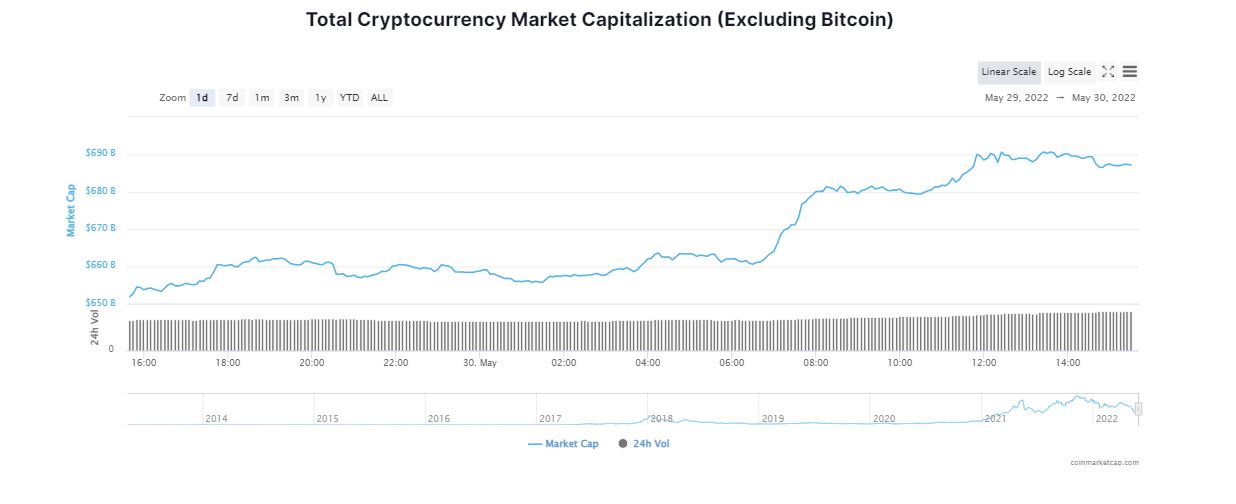 Ethereum (ETH) rose by 7.01 per cent in the last 24 hours to trade at $1,906. Ether prices seem to be oscillating to scaling worries post the transition to proof-of-stake titled "The Merge". Last week, OANDA senior market analyst, Edward Moya, had expressed that Ethereum (ETH) has been selling off as many crypto traders doubted if Ethereum 2 will be successful. He added,
"Ethereum 2 merge was delayed until August, but it won't truly let Ethereum be scaled up, they will use a multi-chain system and will connect to a wrath of Layer 2 scaling solutions."
Along with Bitcoin and Ethereum, several top crypto prices accelerated with Cardano, Solana, Polkadot and Avalanche (AVAX) recovering the most. Cardano (ADA) soared more than 12 per cent in the last 24 hours to hover at $0.52. Within the same timespan, Solana (SOL), Polkadot (DOT) and Avalanche (AVAX) increased in the range of 9 – 11 per cent.
Meanwhile, popular memecoins, Dogecoin (DOGE) and Shiba Inu (SHIB) price increased by 5.97 per cent and 14.98 per cent respectively in the last 24 hours.