The prices of Cardano (ADA) are close to 2023 lows and looks weak, looking at the candlestick arrangement in the daily chart. Even though buyers are optimistic, expecting the coin to turn around and shake off sellers of 2023, there must be a shift in momentum. 
In the immediate term, for ADA to gain traction, a close above the $0.30 psychological resistance level is necessary. Currently, the primary support is around August 2023 lows at $0.24. Whether the coin will recover or not mostly depends on price action and fundamental factors. 
As it is, any breakout above $0.26 could be buoyed by a broader market recovery or advancement in the current Basho stage.
Hoskinson Is Bullish
Charles Hoskinson, the leader of Input Output Global (IOG), the developer of Cardano, is optimistic about the proof-of-stake blockchain prospects. 
Recently, he said Cardano will grow to outperform Bitcoin and Cardano. However, whether this will materialize will depend on whether Cardano offers better prospects.
Bitcoin relies on the first-mover advantage as a transactional network that's widely adopted. On the other hand, Ethereum is the first smart contract platform and is the most popular. 
Cardano aims to use the Bitcoin base to introduce smart contracts with better security while concurrently enhancing scalability on-chain and via layer-2 options, just like Ethereum. 
Still, Ethereum remains the most vibrant, considering the number of protocols deployed by decentralized finance (DeFi) and non-fungible token (NFT) platforms. After Basho, Cardano plans to release Voltaire before completely decentralizing governance.
Cardano Price Analysis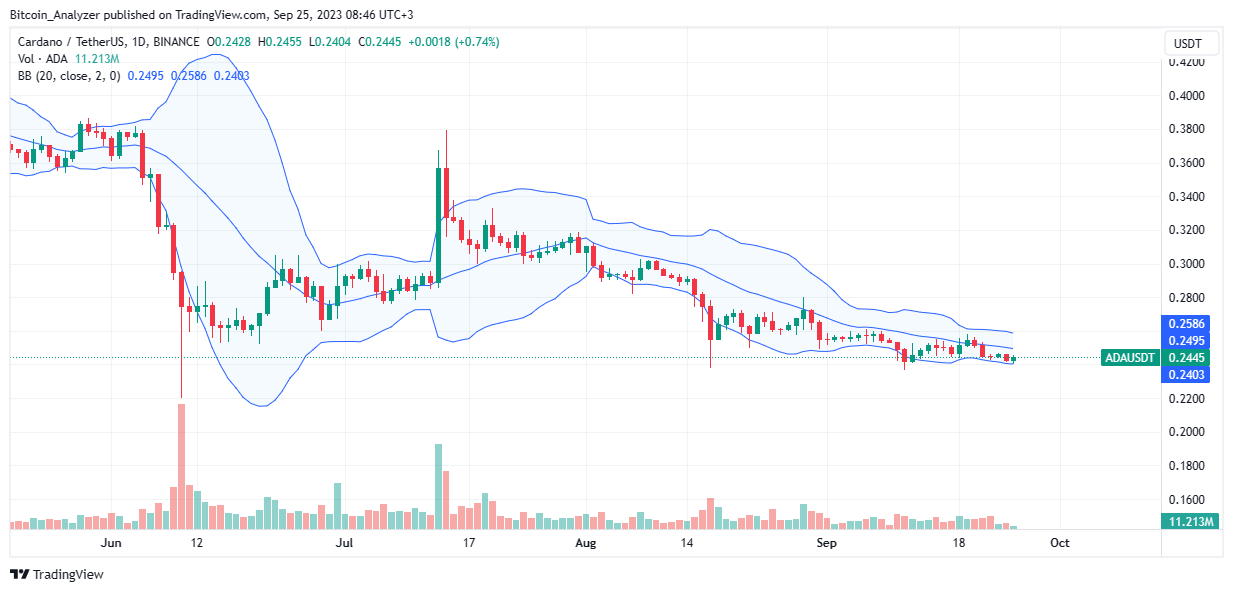 At spot rates, ADA is down 35% from July 2023 peaks, and the path of least resistance is southwards. Even though buyers are bullish, price action suggests weakness.
The primary support is at $0.24, flashing with 2023 lows. Conversely, resistance is at $0.26, the local resistance level.
For the uptrend to take shape, there must be a conclusive close above $0.26, ideally with rising volumes. If sellers take over, any dip below $0.24 with a spike in participation may see ADA drop to $0.20 in a bear trend continuation formation.
Since ADA is mostly consolidating, traders can wait for trend definition, either above or below the above-mentioned reaction levels.
Technical charts courtesy of Trading View.
Disclaimer: The opinions expressed do not constitute investment advice. If you wish to make a purchase or investment we recommend that you always conduct your research.
---
If you found this article interesting, here you can find more Cardano News.