Cardano (ADA) has emerged as a prominent force in the cryptocurrency market, highlighting its recent price rise and significant influence on the blockchain ecosystem.
Currently, ADA is trading at $0.39, experiencing a notable 5.3% increase in the last 24 hours and an impressive 57.5% growth in the last month.
This rally in Cardano price has sparked further analysis, with experts pointing out parallels between ADA's current bullish trend and previous historical periods, specifically those between 2018 and 2020.
Analysis suggests that if Cardano's current trend follows the course set by previous periods, ADA could encounter significant resistance around the $0.45 level in early December.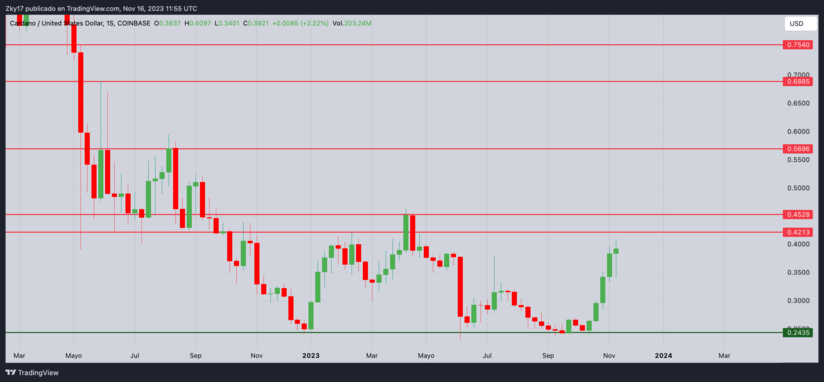 However, in the event that Bitcoin produces a rally in the market, the targets on the bullish leg can be very promising.
These observations have led to optimistic projections, raising the possibilities of Cardano reaching a price of up to $0.75 by the end of that same month, a level that has not been observed for a long time, to be precise since May 2022, when the entire crypto market collapsed. and broke most of the upward trends for good.
It is essential to remember that, in the volatile cryptocurrency market, there are always multiple possible scenarios.
Although the bullish projections for Cardano (ADA) are promising, it is essential to remain cautious and be prepared for alternative scenarios.
In the event that the price experiences corrections or pullbacks, it is prudent to keep an eye out for possible relationships and look for consolidations in the asset's price.
Identifying consolidation patterns can provide valuable information about possible support and resistance levels.
BEYOND PRICE ANALYSIS Of Cardano
Cardano is currently ranked 8th in terms of market capitalization according to CoinMarketCap, with a valuation of $13.97 billion.
This positioning in the market capitalization ranking underlines ADA's strength in the cryptocurrency market. Its 7% growth in capitalization over the last month reinforces its status and reveals a growing interest around this particular cryptocurrency.
Market capitalization is a crucial indicator in evaluating the impact and relevance of a cryptocurrency compared to others in the market.
Cardano's solid performance over the past year, accumulating a growth of 51.48%, is indicative of the confidence it generates among investors and enthusiasts. The latest developments and projects in its ecosystem have contributed to its consolidation in the Top 10 of the most prominent cryptocurrencies.
---
Technical charts courtesy of Trading View.
Disclaimer: The opinions expressed do not constitute investment advice.If you are looking to make a purchase or investment, we recommend that you always do your research.
If you found this article interesting, here you can find more Cardano News.