Cardano foundation published a report about actions and performance results in 2021, calling it a year of incredible growth. The last months were very productive and effective in Cardano's growth with numerous launches and roadmap milestones. This blockchain is moving well toward new goals by offering more diverse services and aiming at new markets.
According to the new report by Cardano Foundations, the most important achievement for 2021 was the deployment of the first three phases of the roadmap: Byron, Shelly, and Goguen. The biggest development achievement was about full decentralization of block production. Besides, the full scope of applications, including data storage, asset creation, and smart contract capabilities, are now decentralized on Cardano.
The yearly report from Cardano Foundation also focused on plans for the next year. Basho and Voltaire are the biggest milestones for 2022. The former is about scaling the blockchain and supporting more enterprise-grade transactions, and the latter focuses on decentralized governance on the network.
Frederik Gregaard, chief executive officer of Cardano Foundation, calls the past year a year of sustained growth, technical innovation, and partnerships. Two of the most crucial innovations and new features introduced in the blockchain in the past months were the support for native tokens and smart contracts. It started a new era for Cardano that can now compete with the older smart contract-supporting blockchains. Currently, there are more than 2.5 million native assets on Cardano, and 2 million of them are NFTs.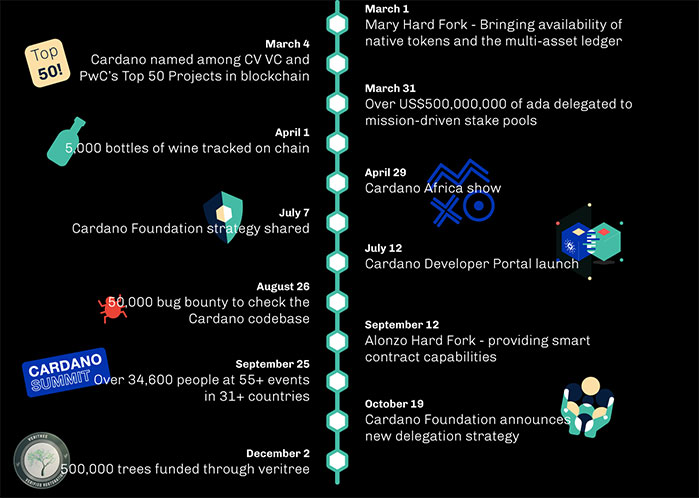 As mentioned above, partnerships were vital for the Cardano blockchain in the past year. The Foundation entered partnerships with various organizations and governments to expand its ecosystem and offer services to more users. Veritree, Rival, UBX, Save the Children, and HackerOne were some of the most famous new partners.
Supporting the community has always been a very important goal for Cardano Foundation. There were many plans in the past year to foster this movement, and CIP was one of the successful ones. According to the report:
"Operating since Q2 2020 and facilitated by the Cardano Foundation as a public good service, the CIP (Cardano Improvement Proposal) process is one of the core aspects of the Foundation's support to the community. CIPs enable community members to participate in the development of the protocol, without having to participate in on-chain governance or voting."
Cardano blockchain surely had a great year in 2021, achieving many milestones in the path toward expansion and growth. But there are still many goals ahead that should be achieved. With more support from the community and partners, the next year can come with more good news for Cardano.