There are several ways to acquire cryptocurrencies. This article will focus on one of the main – buy bitcoin with credit card. In particular, it will present six of the best sites to buy bitcoins with credit card.
Initially, in the early years when bitcoin [BTC] was created, if you wanted to get some coins, the only option was to mine them.
Later people started exchanging them over the counter and in person and this brought about the need for formal ways to get hands on this digital gold. The easiest and fastest way to get bitcoin and other cryptocurrencies are through purchasing them either using a debit card or credit card.
The major problem with this means of purchase is that the exchange selling you the bitcoins runs a risk of a chargeback while bitcoin does not offer such luxury. This situation introduces a tough choice that most exchanges have to make in order to serve their customers in a better way.
Accepting credit cards is a complex process especially for non-technical customers who are joining cryptocurrency for the first time. These individuals coming into this technical field quickly realize that purchasing bitcoin using their credit card is not as easy as shopping on the internet. The whole process is highly complicated and unnecessarily slow.
As time goes by, some exchanges have resorted to making this process much gentler and faster. The exchanges below are some of these companies that are leading the way in terms of innovation in bitcoin purchasing and orienting new investors to the blockchain industry. The list is not present dint any particular order. However, a word of caution, 'Always do your own research' and find an exchange that will be appropriate for your circumstances.
These are the best sites to buy bitcoin with credit card according to market consensus. They may not fit your particular situation. It is also worth remembering that you are not limited to one account. You can have an account in each of these sites to take advantage of price differences and avoid inconveniences in services delivery that most cryptocurrency exchanges suffer.
The Best Sites to Buy Bitcoin with Credit Card
Buy bitcoin with credit card in Coinbase
About Coinbase

Coinbase is one of the oldest and largest cryptocurrency exchange platforms available. Established in 2012, Coinbase was recently valued at $8 billion and for good reason. Coinbase supports trading of six major cryptocurrencies including Bitcoin [BTC], Ethereum [ETH] and Litecoin [LTC]. It serves customers in 33 countries across the globe. Coinbase boasts of having over 20 million users and has facilitated the trade of more than $150 billion worth of cryptocurrency. It is one of the most trusted exchange.
Based in San Francisco, California, Coinbase has made it a point to become one of the most highly regulated cryptocurrency exchanges which are not a common thing in the blockchain industry. Working with regulators has its benefits and disadvantages. It does appeal to newcomers to the scene but not so much to advanced users who are trying to get privacy and avoid being tracked by the authorities.
Coinbase Fees and Limits
Coinbase offers several methods to acquire bitcoin. The most popular is to purchase bitcoin using credit and debit card and purchasing through bank or wire transfer. Its fees are among some of the lowest in the industry. Coinbase charges a fee of 3.99% when purchasing bitcoin using credit cards. That is significantly cheap compared to other sites that charge as high as 8% or even more.
Coinbase places limits on the trade volumes, especially for new users. The minimum amount anyone can purchase is $150. The daily purchase limit is capped according to verification level tiers up to a maximum of $50,000 per day for the top tier.
It is easy to sign-up for an account with Coinbase and start buying bitcoin and other cryptocurrencies using your credit and debit card. However, for US residents, the option to purchase bitcoins using a credit card has been scrapped.
Buy bitcoin with credit card in Coinmama
About Coinmama
Coinmama is a bitcoin broker that has specialized in the purchase of bitcoin using a credit card and debit card. It offers a simple user interface that lets you focus on the purchase of cryptocurrency. Its fees a little bit higher than Coinbase's fees but it also offers higher purchase limits as compared to Coinbase. As opposed to Coinbase, Coinmama does not offer a cryptocurrency wallet. Therefore when purchasing bitcoin, you will have to provide a personal wallet. Purchasing bitcoin with Coinmama is extremely fast and a smooth process.
The best feature about Coinmama is that it supports customers from almost all countries across the globe including most US states. It has a great reputation across the cryptocurrency space and offers great customer support.
Coinmama Fees and Limits
Coinmama has some of the highest fees amongst bitcoin brokers that offer credit and debit card facilities. Its fees oscillate about 5-6%. Its purchase limits, however, make up for these high fees. For new users, they have the option to purchase as high as $5,000 worth of bitcoin. Monthly limits rise up to $20,000.
Buy bitcoin with credit card in LocalBitcoins
About LocalBitcoins

LocalBitcoins is not an exchange in the strictest sense but rather a peer to peer network of buyers and sellers of bitcoins. It is more of an over the counter selling and purchasing platform that offers escrow services for its users as a means of protection. LocalBitcoins is available across 248 countries in the world.
The unique feature about LocalBitcoins is that prices quoted on the platform do not necessarily reflect the market price of bitcoin at any instance in time. More often than not the price includes a premium. The prices on this site represent what the buyers and sellers are willing to pay and receive for their bitcoins respectively. Buyers and sellers have pages that show their previous sell and purchase history with their reviews from past trades. This feature is necessary to allow future traders decide upon who to trade with to reduce their risk of losing their money.
LocalBitcoins Fees and Limits
LocalBitcoins does not charge a transaction, deposit or withdrawal fee for any amount of bitcoins exchanged, deposited or withdrawn from the platform respectively. Instead, it charges a 1% fee for any advertisement on the platform that leads to a successful trade. LocalBitcoins, however, offers low volume traders a platform that is private means to buy and sell bitcoin. (High volume traders are required to verify their identity).
Buy bitcoin with credit card in CEX.io
About CEX.io
CEX.io provides another great option to buy bitcoin using a credit card. The exchange based in London UK provides services to almost all countries across the globe with exceptions in some Middle Eastern and African countries. The exceptions are available because some countries have restricted credit and debit card activities. It's also worth noting that some states within the United States are not supported as well. Only about 24 states are supported.
CEX.io has a strong reputation within the cryptocurrency industry for security and ease of use.
CEX.io Fees and Limits
CEX.io has competitive fees almost matching Coinbase's fees. CEX.io charges about 3.9% on the dollar equivalent of the purchased coins through credit and debit cards. One advantage of CEX.io is that it offers its users the option to sell bitcoins back into fiat money and deposit that amount into the credit card. For this service t charges a fee of 2.9%. Most exchanges do not have this feature.
Bitstamp: Buy bitcoin with credit card in Bitstamp
About Bitstamp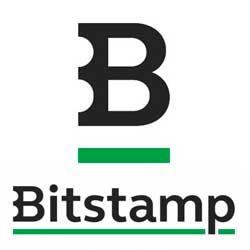 Bitstamp is one of the oldest cryptocurrency exchanges in existence at the moment. Established in 2011, Bitstamp claims to be the first fully licensed cryptocurrency exchange in the world. This means that it is highly regulated and therefore can offer more financial products than most exchanges. In this case, users of the platform can purchase bitcoin using credit and debit cards, they can purchase the same through bank transfers, SEPA transfers for European uses among several other services. Another feature that the platform offers its users is the option to cash out to physical gold.
The exchange has over 3 million users but its interface is a little dated and an unfriendly user interface especially for newcomers to the cryptocurrency scene.
Bitstamp Fees and Limits
Bitstamp has a tiered fee schedule according to the purchase amounts. The fees, however, can be pretty steep in comparison to other exchanges depending on the amount purchased. Here's the credit card purchase schedule:
For up to $500/500 Euro purchases the fee is 8%.
For up to $1000/1000 Euro purchases the fee is 7%.
For up to $2500/2500 Euro purchases the fee is 6%.
For up to $5000/5000 Euro purchases the fee is 5%.
Changelly: Buy bitcoin with credit card in Changelly
About Changelly
Changelly has been in existence for close to two years now which makes it rather young in the cryptocurrency scene. Originally created to offer a platform for exchanging cryptocurrency assets it has expanded to offer purchase of those assets through means such as credit cards and debit cards. It is extremely simple and easy to use which appeals to most users. It also offers a wide selection of cryptocurrencies to purchase and exchange. Their purchase options include buying bitcoin using Visa and MasterCard globally. Changelly does not offer wallet facilities so in order to receive your purchased bitcoins you will have to input your receiving address.
Changelly has very positive reviews on the review site Trustpilot which shows that the website provides quality services to its users. Creating an account is as simple as signing up and verifying an email. When purchasing cryptocurrency, Changelly provides the option to use USD or EUR denominations and a user can purchase up to 35 different cryptocurrencies.
Changelly Fees and Limits
Changelly is not the cheapest option there is and its fees can be steep when purchasing small amounts of bitcoin. The platform charges about 5% fees for processing a bitcoin purchase while other partner services also get a cut from each transaction.
Once a new user has created an account, they are able to purchase $50 worth of bitcoins. Four days later they have access to $100 and a week after the first purchase they can purchase up to $500. In EU countries, the first purchase can be up to $100, while the second one can be $200.
Conclusion about the best sites to buy bitcoin with credit card

In the dawn of the cryptocurrency economy purchasing bitcoin through credit cards was a strenuous activity and often expensive. However, with time most brokers have found easier ways to smoothen the process. The costs have fallen but still compared to other methods it is still pretty steep.
For instance, Coinbase charges as high as 3.9% for purchases made through credit card while it charges about 1.49% for bank transfers. This demonstrated that it is better to always consider other methods of purchasing bitcoin, especially when time is not a consideration.