Dapper Labs Inc., maker of the widely popular blockchain-based virtual trading card game, NBA Top Shots, is laying off nearly 22% of its staff amid company resturcturing.
Due to various headwinds such as stubbornly high inflation, rising interest rates and geopolitical tensions, the cryptocurrency market has been selling off since the start of 2002. The market turbulence was exacerbated with the collapse of Terra/Luna. The financial predicament has snowballed many crypto companies in a state of despair. Several companies annouced mass lay-offs. Yesterday, Galaxy Digital announced that it might reduce headcount to the tune of nearly 20%.
A 'Difficult Day' for Dapper Labs
Today is a difficult day at @dapperlabs as we said goodbye to some incredibly talented, thoughtful and selfless teammates. (1/2)

— dave feldman (@dbfeld) November 2, 2022
Dapper Labs has joined the list of companies that are axing a significant percentage of staff members. On November3, Senior Vice President of Marketing, Dave Feldman took to Twitter to confirm the news calling it as a "difficult day". Dapper Labs, one of the biggest names in the NFT industry, is cutting off almost one-quarter of its employees. Technically, 22% of its workforce comprises almost 134 out of a total staff of 613.
Late Wednesday, Roham Gharegozlou, Founder and CEO of Dapper Labs sent a letter to team members explaining the lay off. He addressed the move as part of a larger reorganization strategy. Gharegozlou wrote the company grew too fast from just 100 employees to near about 600 in less than two years.
This rapid growth opened up organizational challenges preventing the company from being aligned and community driven. The CEO blamed the current macro economic conditions for the unwarranted step. Ghregozlou noted,
"These reductions are the last thing we want to do, but they are necessary for the long-term health of our business and communities. But today's macroeconomic environment means we aren't in full control of the timing."
Shrinking NFT Market
Gharegozlou claimed resposibility for the job cut quoting it as an unpleasant option. He further specified of pulling back on everything that doesn't fit the company's focus. Dapper Labs has also curated a package for the departing employees including compensation, health and other benefits.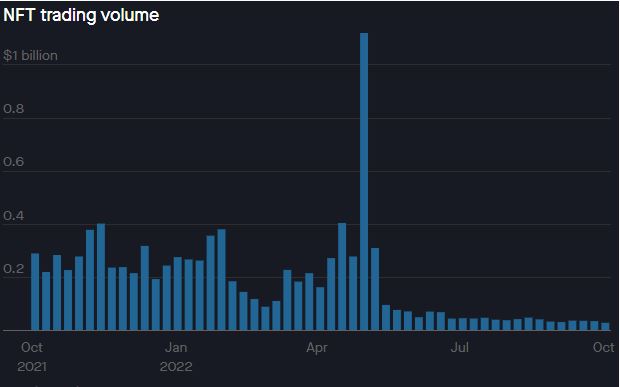 As per DappRadar, overall trading volume and total NFT sales shrank in October. In the NFT gaming industry, known for online game titles such as Axie Infinity and Gods Unchained, sales are down 93% year-over-year. In the art and collectibles category, including popular NFT collections such as CryptoPunks and Bored Ape Yacht Club, trading volumes are down more than 80% compared to one year ago.