Bitcoin (BTC) prices are steady when writing; moving sideways in what would otherwise be a bullish formation.
Despite the contraction from April highs, BTC bulls have stood firm, rejecting any attempts of liquidation. As it is, the coin has primary support at $27k. Meanwhile, the April 26 Doji peak marks the immediate resistance line.
In the session ahead, the upper end of this consolidation, $30k and $31k, are critical reaction lines that must be broken for the uptrend of Q1 2023 to resume.
Transaction Count explodes
Amid this sideways movement, Bitcoin's transaction count has drastically increased. On-chain data shows there are now more transactions than at any other time in the network's history.
The expansion is mainly attributed to the Bitcoin Ordinals craze. The platform provides an opportunity for users to store files in Bitcoin (BTC).
These files, mostly texts, are stuffed into Bitcoin blocks. The deluge of ordinals, made possible after the Taproot Upgrade, has indirectly forced transaction fees higher. Taproot was meant to increase the privacy of on-chain BTC transactions but created a loophole allowing storage at the Satoshi level.
At the same time, the mean transaction size is at a three-year low. This can be attributed to the sharp increase in the number of texts inscribed in Bitcoin blocks.
Compared to images inscribed via Ordinals, texts are smaller, in some cases even smaller than BTC transactions that can be between 300 and 400 bytes.
 Bitcoin (BTC) Price Analysis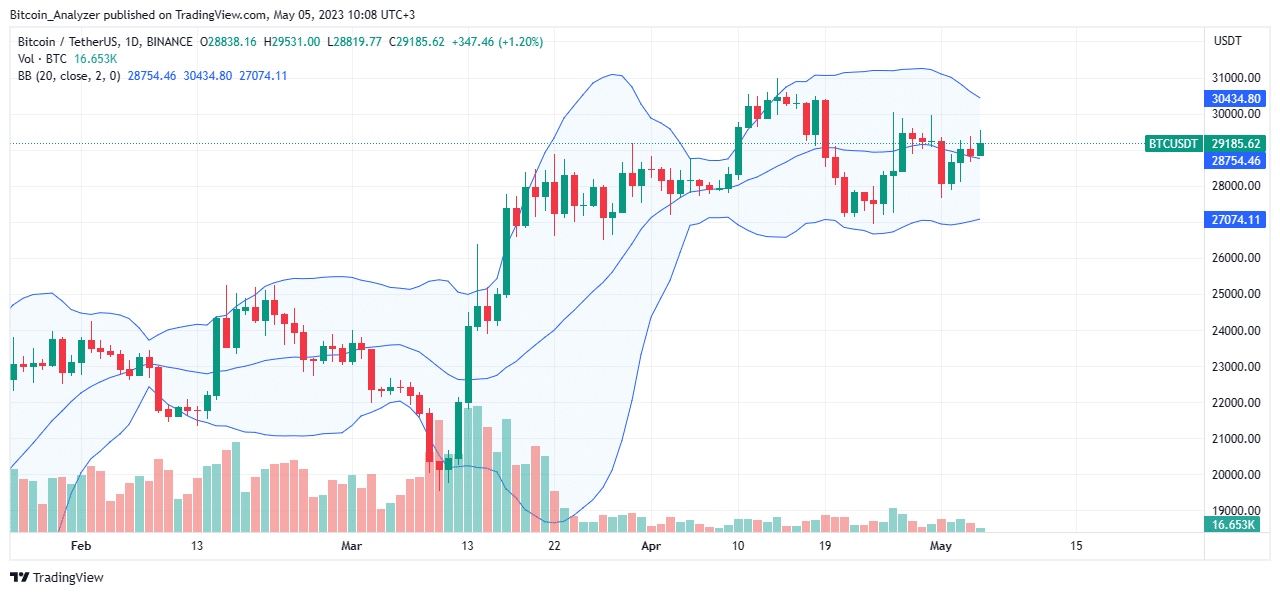 BTC prices are steady and inside a wedge; a bear flag. Formation is bullish despite stellar performance in the first four months of 2023.
Presently, primary support lies at $27k, while resistance is at $30k and $31k, marking April 26 and April 2023 highs, respectively.
Still, there could be an opportunity to trade with the bears of April 21 if there is a sharp expansion below the support trend line of the current wedge and $28.3k.
Conservative traders can wait for more losses below $27k before engaging, looking to ride the bear breakout.
Conversely, if bulls of April 25 to 27 reject lower lows, forcing BTC above $30k, the coin may rise to $31k, canceling the present preview.
Technical charts courtesy of Trading View.
Disclaimer: The opinions expressed do not constitute investment advice. If you wish to make a purchase or investment we recommend that you always conduct your research.
---
If you found this article interesting, here you can find more Bitcoin News.