Bitcoin Satoshi Vision (Bitcoin SV), a hard fork of the Bitcoin Cash (BCH) blockchain, witnessed a dramatic upsurge as investors flocked to Bitcoin (BTC) alternatives amid the rising congestion along with a sharp increase in transaction fees.
Amid a mixed trading session in the cryptocurrency market, Bitcoin SV (BSV) skyrocketed moving out of the bearish channel. The recent BSV rally is due to the rising transaction fees and chain bloat from Ordinals transactions on the Bitcoin (BTC) network. On May 8, a major congestion happened in Bitcoin (BTC), causing transaction delays and costs to surge.
This major congestion pushed crypto exchange, Binance to suspend BTC transactions for a while. As a matter of fact, Binance temporarily suspended withdrawals twice in less than 12 hours, citing a high volume of pending transactions and congestion in the network. The delays and elevated costs pushed more people to alternatives to Bitcoin.
Bitcoin SV Rises From The Ashes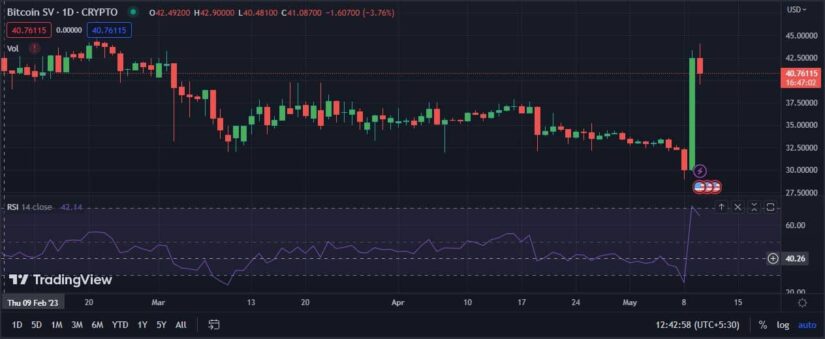 According to CoinMarketCap, BSV is up more than 15% in the last 24 hours to hover around $40.24. The digital token gained 21.22% over the past seven days after trading inside a downward parallel channel for the past eight months, with the bears pushing the price to a new all-time low of $29.46 on May 09. Several experts have explained that despite the new all-time low, the BSV token price has moved out of the bearish channel, implying bulls still have a chance to rebound the cryptocurrency.
Meanwhile, Bitcoin Cash (BCH) has jumped nearly 2% in the past 24 hours to trade at $119. Over the past week, the digital coin increased 0.61% as Bitcoin (BTC) traded flat following network congestion that sent transaction fees over the weekend skyward as demand for Bitcoin Ordinals surged. The total number of Ordinals Inscriptions on the Bitcoin network has doubled from 2.5 million to almost 4.8 million, in the past eight days.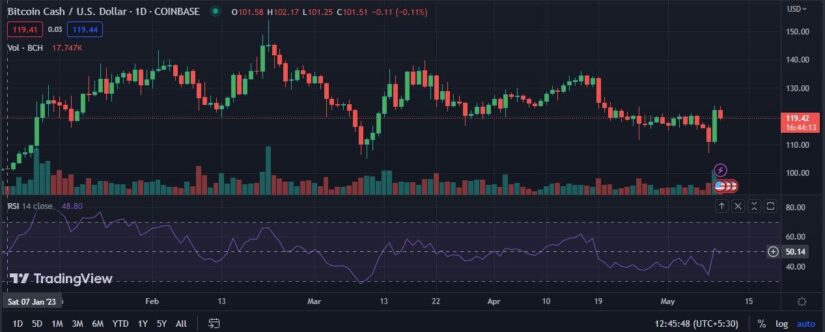 The Ordinals protocol was initially launched to mint images as non-fungible tokens (NFT). However, as users began to realize they could use text-based inscriptions, classified as BRC-20 tokens, to create these NFTs, a massive surge in Ordinals Inscriptions on the Bitcoin network followed.
This, in turn, caused heavy congestion triggering an exodus of investors to Bitcoin alternatives. As per an NFT expert, "frankdegods", in the wake of this congestion and network bloat, Bitcoin devs are looking at incorporating spam filters on Ordinals transactions.
Bitcoin devs are trying to cancel ordinals pic.twitter.com/FOYCIKTcIS

— Frank (@frankdegods) May 9, 2023
What Is BSV?
Although Bitcoin (BTC) continues to be the largest digital asset, several offshoots of the Bitcoin blockchain have proliferated over the years. This is because users have put forth several improvement proposals to optimize the blockchain and keep it at par with external developments. Two of the main offshoots are Bitcoin Cash (BCH) and Bitcoin Satoshi Vision (BSV).
BCH was created to implement a larger block size and improve the blockchain's scalability. However, over time, the developers behind Bitcoin Cash continued to implement structural changes to their protocol, resulting in a hard fork that created BSV. In a nutshell, Bitcoin SV (BSV) is a fork of Bitcoin Cash (BCH) which in turn was a fork of Bitcoin (BTC). 
As per a group of individuals led by Craig Wright, the creators of BSV, the primary focus of the digital token is to become an enterprise-grade blockchain for business applications. Nonetheless, since BSV is an offshoot of the original network, it bears several similarities with Bitcoin (BTC) such as a consensus mechanism, a circulation hard-cap of 21 million coins, and a 4-year halving cycle.