The largest cryptocurrency exchange in the world, Binance resumed Bitcoin (BTC) withdrawals on Monday after halting it for the second time in a day, citing congestion in the network due to large volumes.
On May 7, Binance halted Bitcoin (BTC) withdrawals for about 90 minutes, blaming congestion on the token's blockchain. Data from CryptoQuant showed the platform saw its highest ever net daily outflow — a net 175,646 tokens, almost a whopping $187 million— on the same day.  Shortly after, in less than 12 hours, the crypto exchange again temporarily closed BTC withdrawals on Monday, claiming a high volume of pending transactions. Binance tweeted,
"There is a large volume of withdrawal transactions from Binance still pending as our set fees did not anticipate the recent surge in BTC network gas fees."
We've temporarily closed #BTC withdrawals due to the large volume of pending transactions.

Our team is currently working on a fix and will reopen $BTC withdrawals as soon as possible.

Rest assured, funds are SAFU.

— Binance (@binance) May 8, 2023
What Is The Reson Behind Congestion?
According to data, the Bitcoin (BTC) mempool was clogged with over 400,000 transactions. The mempool is known as the "waiting area" for incoming transactions before they are verified independently by each node on the network. These periods of network congestion can cause a lot of discomfort for traders as deposits and withdrawal requests typically take a considerable amount of time before it goes through. Binance wrote,
"We're replacing the pending BTC withdrawal transactions with a higher fee so that they get picked up by mining pools. We aim to reopen BTC withdrawals in the next hour."
Several market analysts believe a dramatic surge in BRC-20 transactions in the last few days due to memecoins like Pepe (PEPE) was behind the congestion. BRC-20 is an experimental token standard recently introduced that allows users to create and transfer fungible tokens on the Bitcoin blockchain. In addition, hours before Binance initiated the halt in withdrawals, a Twitter user "@proofofjogi" who claims to be a major node operator took to Twitter to suggest that Bitcoin (BTC) was under a DoS attack. He wrote,
"High transaction fees are the chosen pain point by the attacker, probably to make Bitcoin (BTC) unusable for smaller players."
Bitcoin is under DoS attack. High transaction fees are the chosen pain point by the attacker, probably to makes bitcoin unusable for smaller players. pic.twitter.com/0J56liNSGf

— iris.to/jogi (@proofofjogi) May 7, 2023
Bitcoin (BTC) Price Takes A Hit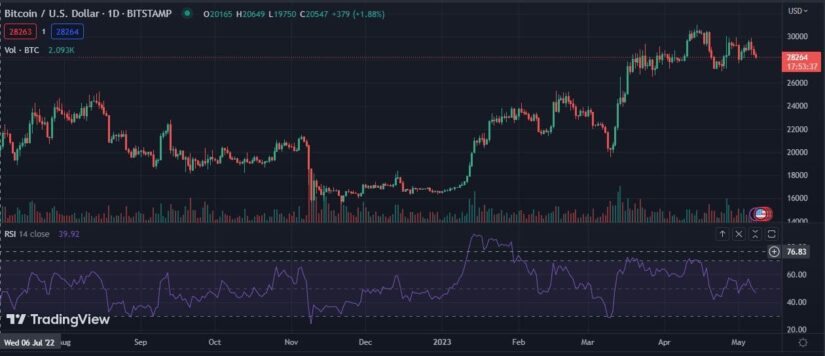 The halt in withdrawals weighed heavily on Bitcoin (BTC) price, causing the digital token to slip more than 2% in the last 24 hours, according to CoinMarketCap. At the time of writing, the largest digital asset is hovering around $28,274, down 0.61% over the past seven days. This is not the first time Binance has experienced technical issues on its platform. In March, it suspended deposits and withdrawals due to similar tech issues.