Bitcoin prices are still within a bullish breakout formation when writing despite the contraction on July 21. At spot rates, BTC is up 12 percent in the past trading week and stable on the last trading day.
Notably, even amid the sell-off and correction of overvaluation posted on July 20, the path of least resistance is upwards in a bullish breakout above the previous $3.2k trade range. Depending on how BTC prices react at $23k, the coin would continue inching higher towards the $30k zone or recoil, dropping to the $3.2k trade range in confirmation of sellers of early June 2022.
Retailers Loading Bitcoin
Still, despite the sell-off and correction from this week's highs, there is encouraging data. On-chain data reveals that retailers, those purchasing 1 BTC or less, have been accumulating at the fastest pace in Bitcoin's history. According to price trackers, the rate of recent BTC buying is above the early 2018 level, when prices peaked at $20k.
Unlike then, however, Bitcoin prices appear to be recovering after dropping to as low as $17.8k in June 2022. This development is even after it was revealed that Tesla sold 75 percent of their BTC holding in Q2 2022, posting a loss. It is nonetheless expected that as prices increase, reversing H1 2022 losses, more retailers will flow in, further pumping the number of addresses with 1 BTC or less.
Bitcoin Price Analysis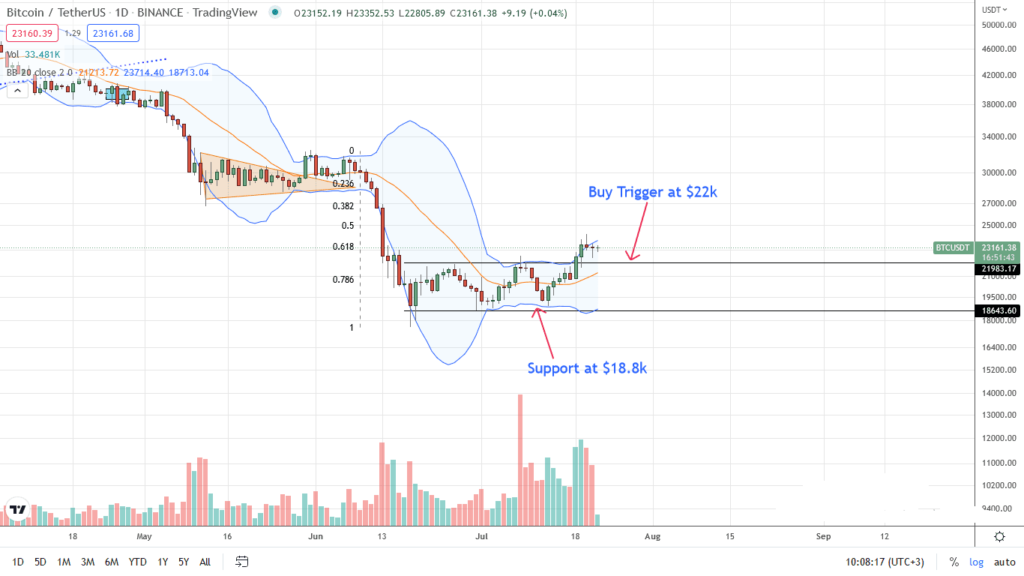 The Bitcoin price is in green in the previous trading week. Despite the correction of July 21, correcting the overvaluation of July 20, buyers are in control in the short term. As mentioned earlier, the coin is within a bullish breakout formation above the previous $3.2k trade range.
Any attempt above the $22k and $23k support—previous resistance—presents an opportunity for buyers to double down, targeting the next target at $28k, marking May 2022 lows.
As evidenced from the chart, the July 19 bar is wide-ranging and has high trading volumes pointing to confidence and bulls' conviction. Therefore, since prices are within this candlestick, buyers are in control from an effort-versus-result perspective. Any push below $22k will pour cold water on bulls' advancement. Subsequently, this will nullify bullish forecasts as bears will likely force BTC back to $18.8k.
Technical charts courtesy of Trading View.
Disclaimer: Opinions expressed are not investment advice. Do your research.
---
If you found this article interesting, here you can find more  Bitcoin news.