Bitcoin prices are steady when writing, adding three percent on the last trading day. Technically, the candlestick arrangement in the daily chart favors buyers in the short term following impressive gains on July 13.
Although prices are in a narrow trade range with clear caps at $22k on the upper end and around $19k on the lower end, gains of July 13 could signal strength.
Thus far, prices remain in range inside a bullish engulfing pattern that was wide-ranging with rising trading volumes. Until there is a clear close above immediate resistance or support levels, traders can align themselves with the emerging trend.
Rising Inflation may Force the FED to Tighten Rapidly
Considering Bitcoin's design as deflationary and an asset for preserving value, the coin could benefit in the medium term. The latest news indicates that U.S. inflation rose to the highest level in 40 years after rising to 9.1 percent on a yearly basis.
This development means that the U.S. FED would continue raising rates, tightening to control increasing inflation. However, their intervention will likely heap more pressure on cryptocurrencies, forcing a sell-off, as happened in H1 2022 when the central bank continued rising interest rates.
Analysts are nonetheless raising concerns that by the FED raising interest rates, their impact would be futile and only hurt the financial markets and the economy that's reeling from the impact of COVID-19. Meanwhile, the high inflation is already forcing miners to shut down gear amid rising operation costs and dwindling revenue on suppressed crypto prices. In reflection of their move, the Bitcoin network hash rate is already down.
Bitcoin Price Analysis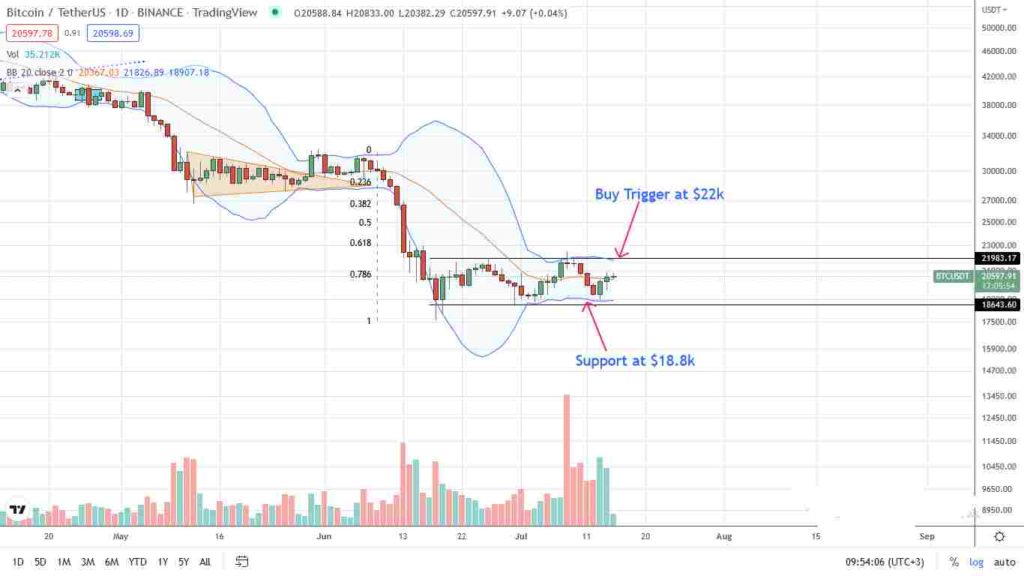 The Bitcoin price is steady within a broader trade range with a clear resistance level at $22k. Even though bulls have been successful in rebuffing bear attempts, prices need to break out above the current trade range with rising trading volumes.
At spot rates, BTC is bullish, provided prices hold above $18.8k primary support. Besides, since prices are within the July 13 bullish engulfing bar, traders can load the dips, targeting $22k in the short term. If the expansion is with rising trading volumes, BTC may likely rally to retest $23k.
Conversely, a close below the trading range and $18.8k may lead to further liquidation towards $15k in a bear continuation pattern confirming losses registered in the first half of June 2022.
Technical charts courtesy of Trading View.
Disclaimer: Opinions expressed are not investment advice. Do your research.
---
If you found this article interesting, here you can find more  Bitcoin news.