After a worrying week, Bitcoin is back in green territory in the past trading week. After sharp losses rocked the coin, forcing it down 20 percent in less than two months, BTC is rising, reversing mid-week losses.
Traders are confident as of now. However, participants are still cautious primarily because of technical factors and how BTCUSDT price action is in the daily chart.
Even though there are gains, for example, there needs to be a follow-through of yesterday's rally. That means a solid break above $20k, ideally with rising trading volumes propping the coin above critical liquidation lines.
The FED Hawkish Stance and Russia's Bitcoin Decision
The reversal comes amid FED's hawkish stance. On Wednesday, Jerome Powell, the chair of the FED, said they would keep on raising rates to tame high inflation.
Like the rest of the globe, the U.S. has been ravaged by rising commodity prices, rocking the economy and savings and forcing the central bank to intervene. The good news is that most policy members, who are part of the FOMC, expect inflation to drop to within the 4.5 percent to five percent level by December 2023.
Rising prices can be pinned to the Russia-Ukraine conflict. In a twist of events, Russia has approved using Bitcoin and cryptocurrencies for cross-border payment. Bitcoin is borderless and de-coupled from the state.
While it is bullish for adoption, it has been interpreted by some as a technique by the Kremlin to bypass U.S. sanctions.
Bitcoin Price Analysis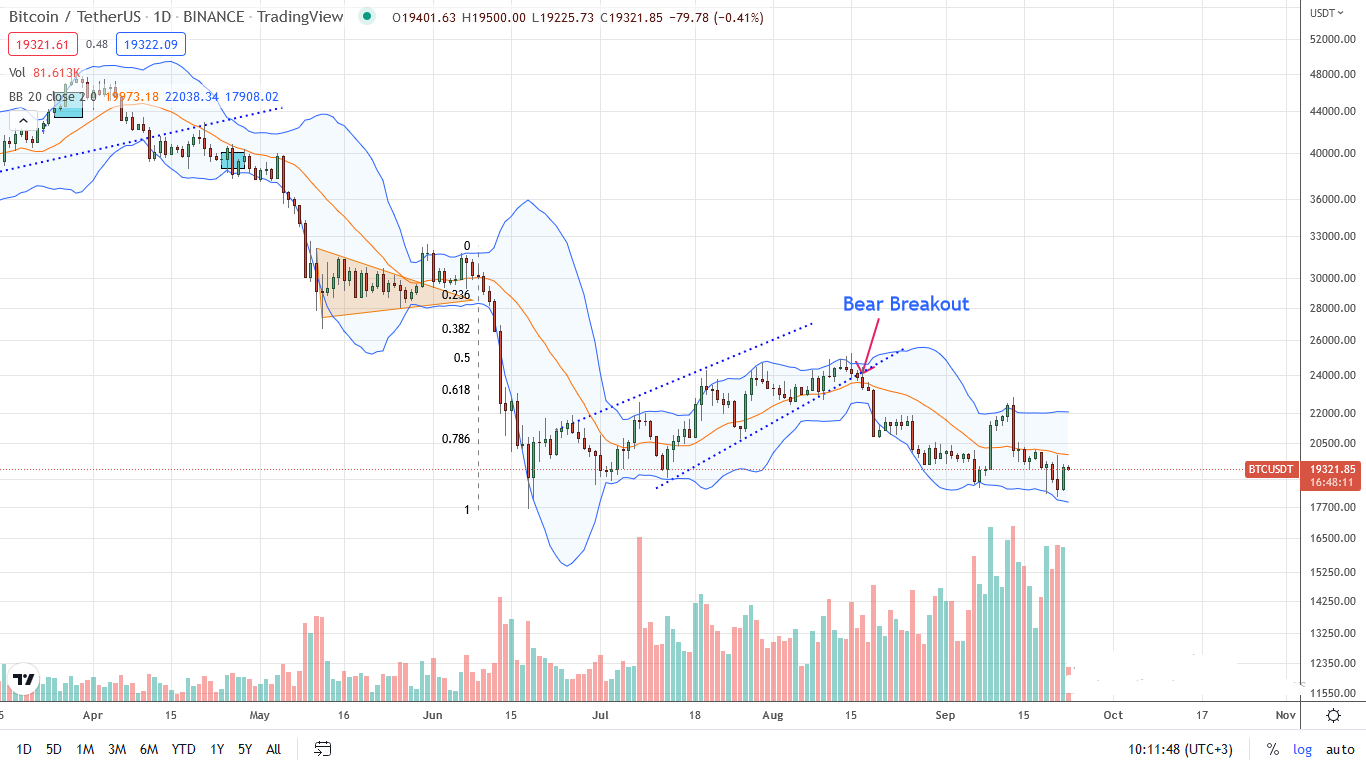 Presently, Bitcoin is up three percent on the last trading day. There are attempts by buyers to reverse losses. Even so, the path of least resistance is southwards. Also, BTC remains in a bear breakout formation, aligning with the bear bar of September 13. Technically, bulls need to confirm gains of September 22.
Any gains above $20k may draw buyers trading in sync with the minor rally of early September. In that case, BTC prices may find footing, an anchor for the next leg up towards September highs at around $22.5k. If prices float above $20k, aggressive traders can initiate longs, aligning with September 9 candlestick, and target $22.5k in the short term. This preview will be valid only if BTC is above $18k or this week's lows.
Technical charts courtesy of Trading View.
Disclaimer: Opinions expressed are not investment advice. Do your research.
---
If you found this article interesting, here you can find more  Bitcoin news.