The Bitcoin price continues to swing as the BTC bulls flow back to close 2021 on a stronger foot. At the time of writing, there is a double-bar reversal pattern evident in the daily chart. Although trading volumes are low, confirmation of yesterday's gains could see BTC recover.
There is a shining light of hope for buyers, considering prices are rebounding from around the $45.5k level. The multi-week support level could anchor the leg up above $53k in a buy trend continuation pattern. At present, there are still hints of weakness since December 4 bear candlestick defines the current price action.
Profit Taking Blamed for Bitcoin Downturn, FED Bond Tapering
Charting forward, whether crypto prices would remain windy will remain to be seen. Already, the U.S. Federal Reserve is set to hike interest two times and continue slowing down purchasing of bonds. As the tapering program commences and a hawkish environment replaces a loose monetary policy of the better part of 2020 and 2021. It is the complete opposite of the economic state Bitcoin, and crypto traders have been accustomed to.
Recent selling pressure, another analyst speculates, could be because of profit-taking. Talking to Bloomberg, Sergio Silva of Fireblocks said this could cascade to more liquidation in early January:
"Many traders have made life-changing money in 2021 and have been waiting to take profits until after the turn of the year to delay tax payments until 2023. That's another source of selling pressure that could cascade into additional weakness in January."
Bitcoin Price Analysis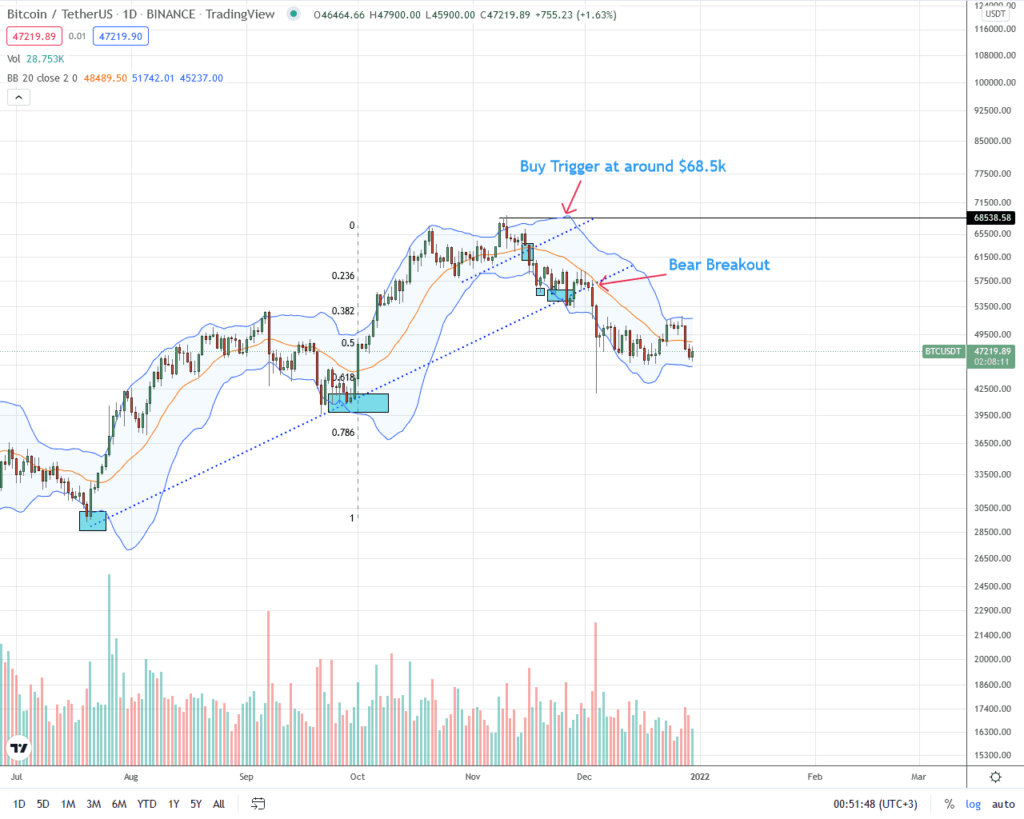 When writing, the Bitcoin price is stable, bouncing off from $45.5k, a key support line in December. Although BTC bulls could flow back to steady prices at spot rates, the primary trend remains bearish when writing. For example, BTCUSDT is within the bear bar of December 4. At the same time, BTC prices are trending lower following the three-bar reversal pattern marking the end of the bullish attempt on December 23 through to 28.
Therefore, a close below $45.5k could confirm selling pressure in a continuation of early December 2021 losses. In turn, this could provide entries for hopeful traders targeting $40k. Meanwhile, price gains above $53k may be building blocks for $68k—or better, in the months ahead.
Technical charts courtesy of Trading View
Disclaimer: Opinions expressed are not investment advice. Do your research.
---
If you found this article interesting, here you can find more  Bitcoin news