Bitcoin [BTC] along with the host of cryptocurrencies have turned green as the Federal Reserve announced that it will ramp up the decrease of its monthly asset purchases from January 2022. 
The financial markets echoed a fearful sentiment ahead of the highly-anticipated FOMC meeting on monetary policy. Many worried that the policymakers would resort to a more hawkish approach than expected. This was enough to drive several assets to trade down this week. However, Fed Chair Jerome Powell asserted that the "economy is so much stronger now" adding that "Inflation is well above target and growth is well above potential."
This was a sigh of relief that flipped the markets green. As a result, the king coin climbed by more than 3% over the past 24-hours and was currently trading at $48,434 after recovering from the weekly losses. But there's more.
Bitcoin may see yet another classic 2021-style bull run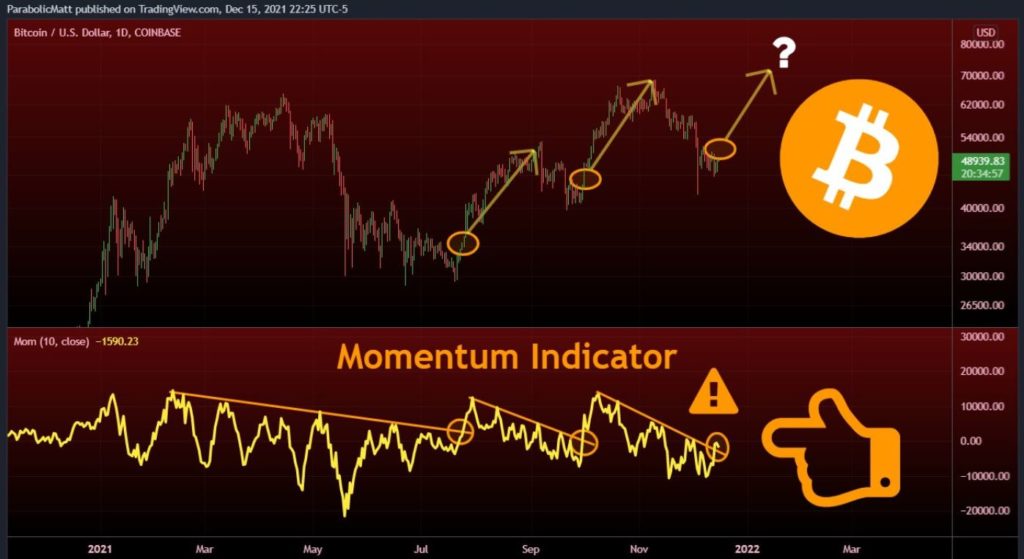 According to the prominent on-chain data analyst, Matthew Hyland, even though the flagship cryptocurrency was still below the psychological barrier of $50k, it has broken out of the multi-month downtrend on the Momentum Indicator, on a daily time frame. Historically, a breakout from this multi-month downtrend has resulted in a massive bullish move. Not once, but twice. His tweet regarding the same read,
"Bitcoin has broken out of the multi-month downtrend on the Momentum Indicator (One Day Time Frame)!!! The previous two times it broke out of a multi-month downtrend this year, a massive bullish move followed."
Bitcoin's network growth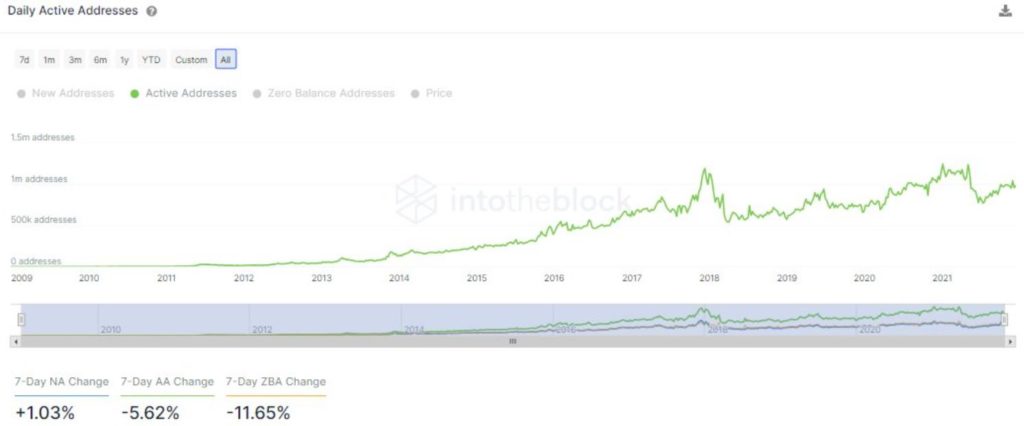 Another factor to consider was Bitcoin's network growth despite tepid market conditions. The crypto-analytic platform, IntoTheBlock revealed that the asset's network activity has remained unfazed by the subsequent market corrections. As a matter of fact, year-to-date [YTD] the number of active addresses in the Bitcoin network has been averaging 998k on a daily basis. This included the June lows. the figures show an increase of 10% when compared to the previous year.
Collective bounce back
Kraken CEO Jesse Powell's recent interview with Bloomberg TV did manage to drag back the chatter around a potential Crypto Winter, but such a damaging turn of events is highly unlikely. The premier cryptocurrency has been over 100 days in the 40k range. Signs of large traders and whales accumulating the coin during the dip continue. Hence, the suggests institutional interest is still very much prevalent. As Crypto Economy had earlier reported, the wider crypto market tends to bounce off after the first two weeks of bumpy price action. This trend has been established in the last four years.