Latest Bitcoin [BTC] News
Mark Karpeles (Mt Gox CEO) got lucky. He escaped with a suspended 2.5-year jail sentence is apologetic, maintaining is innocence and if he remains clean in the next four years while residing in Japan, he will avoid a four-year mandatory jail term all because he was charged with "tampering financial records" and not embezzlement of user funds.
But what the Bitcoin community should know is that the case wasn't really about lost Bitcoins–which ran into millions of dollars but was more of whether the exchange had enough measures in place to protect customers' interests.
What is vivid from this investigation—which started back in Jul 10, 2017, is that Mark at some point mixed his finances with those of the exchange, a malpractice which has been straighten by latest FSA stipulations. In the midst of all this, he maintains his innocent, spent 11 months in prison and during that time he alleges that he was pressured into signing a confession—of which if he would have had, consequences would have been dire.
Perhaps it is investigation that sanctified Mt Gox owner but what remains—around 200k in BTCs and whatever remains in their fiat reserves will be distributed to rightful owners by Nobuaki Kobayashi, the government assigned Civil Rehabilitation Suit trustee.
He is closing in on the final settlement and right now he is "approving or disapproving" creditors' claims as stated in the documents submitted to the Tokyo District Court.
BTC/USD Price Analysis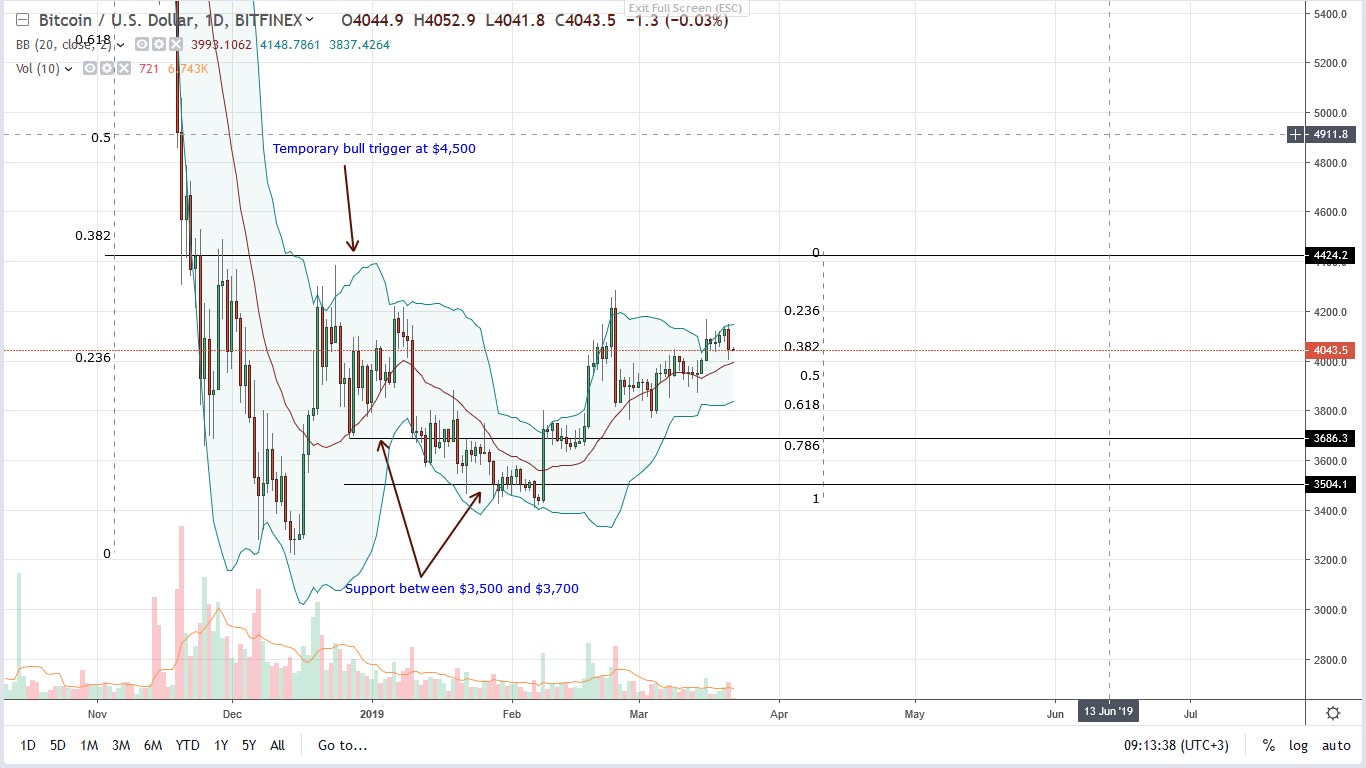 Despite our optimism and expectation of higher highs, we note that latest leg up was supported by low volumes hinting of "weak" hands. That means, at any time, Bitcoin prices would crumble. However, it was more than volumes. From a technical point of view, we can see details of a feeble up-thrust.
Note that, our anchor bar in all this is the conspicuous Feb 24 bear bar driven by above average volumes of 36k, a level yet to be retest one month later. Since prices were largely oscillating within this bar high low and failed to rally above $4,500—Dec 2018 highs and a resistance level of our interest, bears had an upper hand from an effort versus result perspective.
In that case, unless otherwise there is a risk-on situation and funds flow to Bitcoin pushing demand, it is likely that yesterday's sellers will press lower. As a result, it is likely that Bitcoin (BTC) prices will retest Mar 5 lows before trend resumes in the direction of set by bulls of Feb 8. If not and yesterday's losses are reversed as BTC close above $4,200, odds are high that prices will rally above $4,500 in a breakout trade as buyers aim at $6,000.
All Charts Courtesy of TradingView—BitFinex
Disclaimer: Views and opinions expressed are those of the author and aren't investment advice. Trading of any form involves risk and so do your due diligence before making a trading decision.