Latest Bitcoin [BTC] News
Venezuela is in a crisis. Citizens are in dire need and the situation is made worse by power cuts. By Monday, BBC reports that as many as 17 people had died as the country plunged into the fifth night of frustrating darkness. And in the country where the native currency, the Bolivar, represents what it is, that is paper, despair and worthlessness, the best immune alternative as a medium of exchange and store of value is crypto.
Cryptocurrencies, as we know, is digital and powered by users spread across the world with no down time. It is a perfect place to hedge and store value but as it gains traction, disruption of the underlying, the internet means isolation and lack of use.
That is exactly what happened as an economic crisis morphed into a humanitarian crisis; it soon became clear that there was a disruption as more than 80 percent of Venezuelans had no access to the internet. Perhaps it was a deliberate attempt by the Maduro government to wrestle back control but it was vivid that an alternative way of sending funds had to be innovated.
Already, it was recently demonstrated that Bitcoin can be sent via radio waves and though it is not tenable as it is in proof of concept stage, eventual roll out will make Bitcoin–and indeed every crypto asset decentralized, global and trustless as it was meant to be.
BTC/USD Price Analysis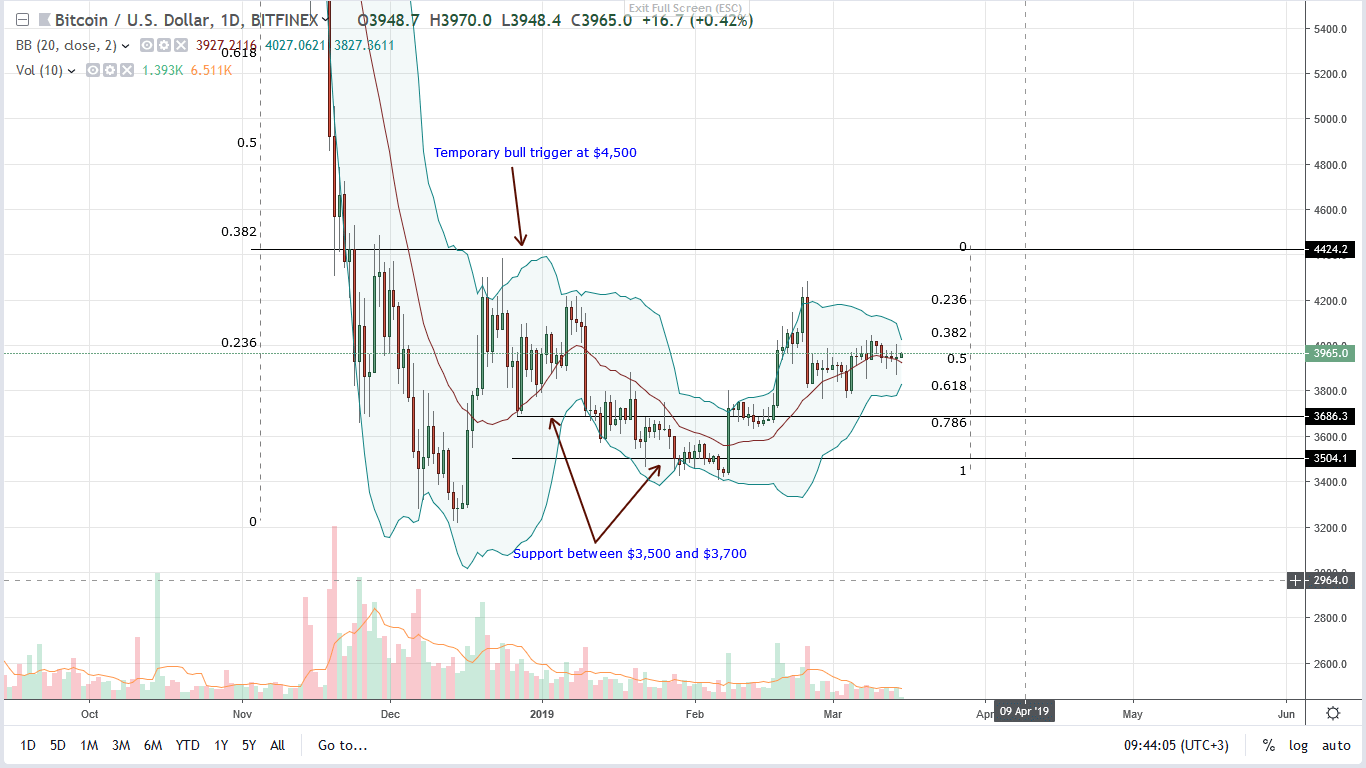 Currently, Bitcoin (BTC) is trading within tight ranges but encouragingly bullish. Strong enough to soak bear pressure over the last few days; bulls are maintaining prices above $3,500 meaning our previous BTC/USD stands are valid.
As it is, we are net bullish and founding our rather over-ambitious outlook is Mar 4-5 double bar bull reversal pattern off the breakout level at $3,800. The fact that bears couldn't reverse gains of Feb 18 place bulls at the upper hand and as prices consolidate within Mar 5 high low, it is likely that buy momentum will help drive Bitcoin prices above $4,000 catalyzing participation.
Ideally, that will increase odds of BTC bulls retesting the $4,500 mark as risk-off traders profit while conservative traders initiate longs aware that the bear breakout pattern of mid-November has been invalidated as the retest phase help drive prices back to $6,000.
However, for satisfactory price confirmation, rallies above $4,000 and $4,500 should be at the back of above average volumes–over 7.6k and those of Feb 18—37k, effectively reversing dips of Feb 24 where volumes were recorded at 36k.
Only that will cement our outlook. On the reverse side, if instead a dip prints out and prices slip below $3,500, then this bullish outlook will be nullified. In that case, Bitcoin (BTC) will likely slide to $1,800, crashing bullish prospects.
All Charts Courtesy of TradingView—BitFinex
Disclaimer: Views and opinions expressed are those of the author and aren't investment advice. Trading of any form involves risk and so do your due diligence before making a trading decision.