With Bitcoin at the forefront, the past week witnessed a continuous influx of funds into digital asset investment products, reaching a total of $293 million.
This notable increase solidified a seven-week streak of positive flows, surpassing the $1 billion mark in cumulative inflows during this period.
Indeed, this performance stands out as the third-highest annual total of inflows recorded to date, demonstrating the growing involvement of investors in the digital asset space.
The consistent growth of Assets under Management (AuM) is a direct consequence of these inflows and the recent surge in prices.
In the last week alone, AuM experienced a 9.6% increase, and since the beginning of the year, the figure has surged by 99%. Currently, assets under management stand at $44.3 billion, marking the highest level since the critical fund events of May 2022.
Bitcoin and its ETPs Leading the Way
A notable phenomenon is the active participation of investors in Bitcoin Exchange Traded Products (ETPs), accounting for as much as 19.5% of total Bitcoin trading volumes on reliable exchanges.
This significant proportion suggests that ETP investors are playing a more prominent role in the ongoing bullish trend compared to previous periods, such as 2020 and 2021.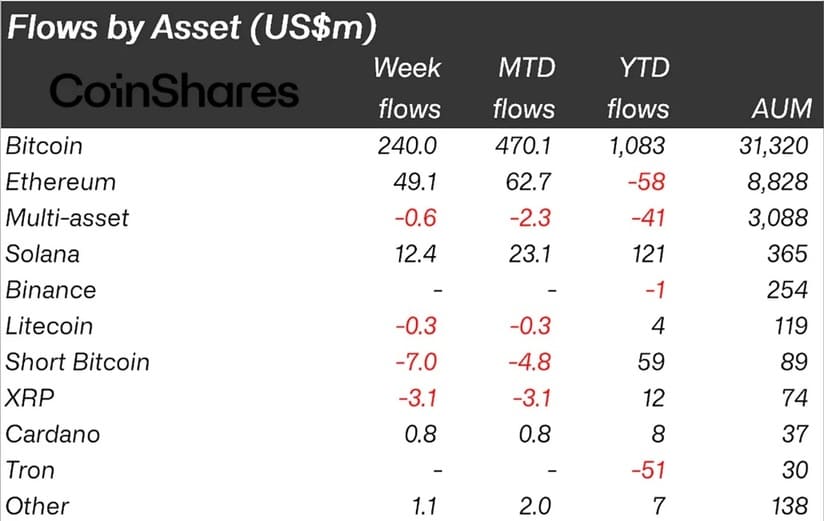 Bitcoin, as the primary player in this scenario, experienced substantial inflows, totaling $240 million during the last week.
These figures bring the cumulative inflows for the year to a considerable $1.08 billion. Simultaneously, short positions in Bitcoin recorded outflows of $7 million, indicating a persistent positive sentiment among investors.
On the altcoin front, Ethereum witnessed its most substantial inflows since August 2022, amounting to $49 million in the last week.
This positive shift in sentiment is likely linked to the recent request for a spot-based ETF listing in the United States.
Other digital assets, such as Solana, also enjoyed additional inflows, totaling $12 million.

Furthermore, blockchain equity ETFs experienced a resurgence, attracting inflows of $14 million, the highest figure since July 2022.
This increase brings the cumulative flows for the year to a positive position of $11 million, highlighting growing investor confidence in products related to blockchain technology.
Collectively, these developments signal a phase with a clear optimistic trend in the digital asset market, with investors demonstrating active interest and increased confidence in various cryptocurrencies and associated products.