The prices of Bitcoin (BTC) are volatile currently, and trading volumes are relatively thin when writing on July 7. From the daily chart, the uptrend remains, but whether buyers will continue rejecting lower lows remain to be seen.
So far, the immediate support is within the $29.8k and $30k support zone. Conversely, the buy trigger is at $31.3k.
Buyers will remain in control unless prices break out below the support zone. On the flipside, there will be more strength in the short-term, regardless of the shake-off of July 6 which saw BTC drop in the NY session.
Traders Bullish, but Trading Volumes Are Suppressed
The rejection of BTC prices in the sessions before yesterday was notable. Even so, there are hints of weakness, and the coin can crash if today's close is below the $30k and $29.8k support levels. This development is amid news that trading volumes, that is, participation in Bitcoin, are falling.
Trackers note that Bitcoin trading volume levels are at 2020 lows, a concern when Binance and Coinbase are under regulatory scrutiny in the United States. Traders are keeping tabs, and whether this trend shall continue remains to be seen.
However, there is confidence in how Bitcoin traders are setting up. There are more Bitcoin calls than puts across major crypto derivatives platforms, especially Deribit and CME. Trackers show that Bitcoin Options trading volumes are near October 2021 highs, with more traders expecting a possible expansion to $35k.
Bitcoin (BTC) Price Analysis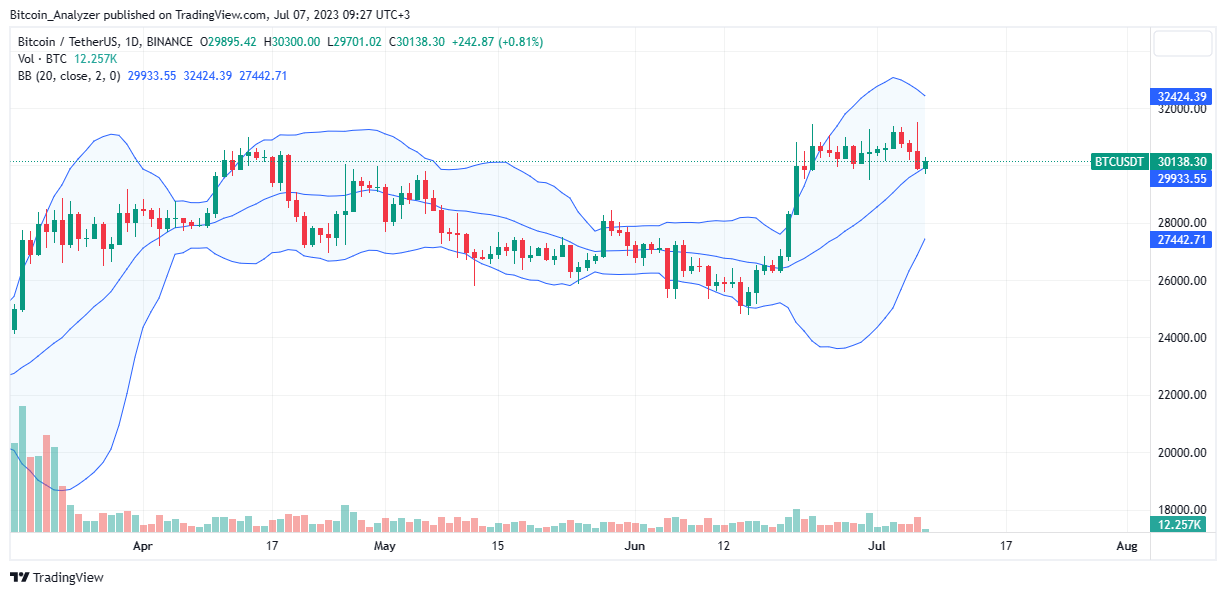 As aforementioned, BTC is in a broad trade range, despite the cool-off on July 6.
The uptrend remains, and BTC is in a consolidation with clear caps at $29.8k and $31.3k. For now, any contraction below last week's low may trigger a sell-off, aligning price action with the bear bar of July 6. Notice that the July 6 bar had high trading volumes, suggesting participation across the board.
A breakout may see BTC slump to retest $28.3k, an opportunity for traders to ride the emerging trend.
This bearish preview will be null if there is a welcomed recovery today, reversing yesterday's losses and rejuvenating buyers targeting $31.3k in the coming days.
Technical charts courtesy of Trading View.
Disclaimer: The opinions expressed do not constitute investment advice. If you wish to make a purchase or investment we recommend that you always conduct your research.
---
If you found this article interesting, here you can find more Bitcoin News.