Bitcoin (BTC) threatens to wane below $20K mark as the global crypto market suffered its worst crash in recent memory. Over $300 billion decimated from the crypto market over a period of 7 days. Ethereum (ETH) endured major distress as the token dipped below $1,100. Let us delve deeper to see what the future holds for the crypto market?
A carnage has dawned upon the crypto market with the global crypto market cap nosediving below $1 trillion for the first time since the start of 2021. According to CoinMarketCap, the total crypto market cap shrank over 2.40 per cent in the last 24 hours to $950.32 billion. Recently, leading cryptocurrency lending platform, Celsius Network, paused transfers and withdrawals between accounts citing "extreme market conditions". However, all is not bad as some altcoins recovered some lost grounds.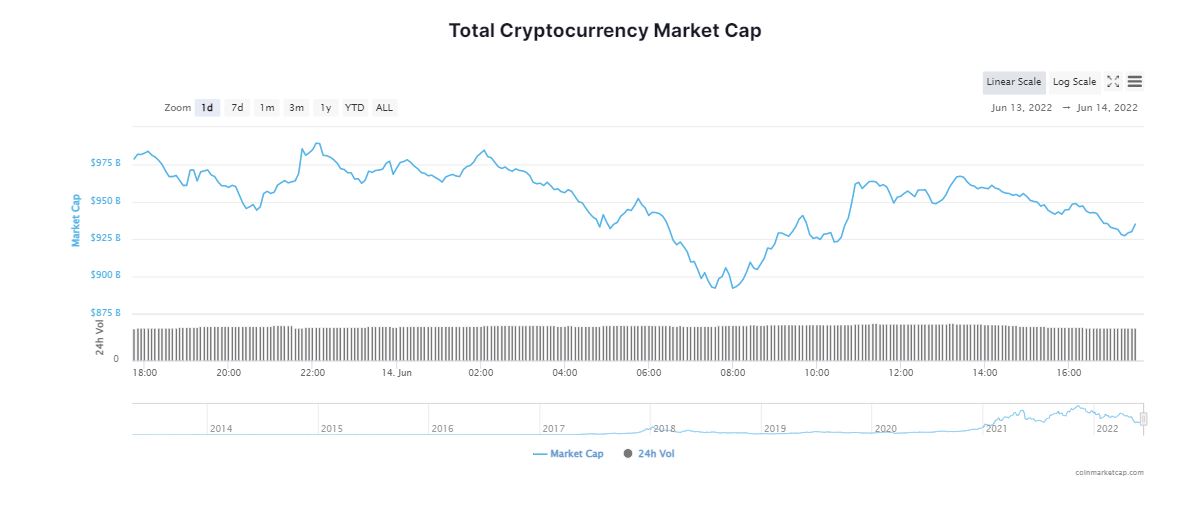 Will Bitcoin Drop Below $20K?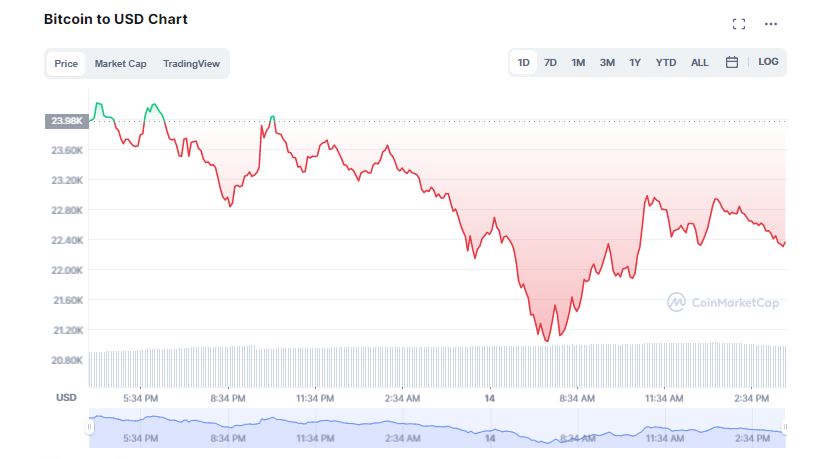 On June 14, Bitcoin (BTC) plunged to a 18 month low hovering just above $21K. The world's largest cryptocurrency witnessed a massive price loss as investors bailed out of risky assets in anticipation of sharp rises in interest rates to tackle inflation. Bitcoin's dominance decreased 2.01 per cent over the day to land at 45.12 per cent. Amid the bloodbath, cryptocurrency futures trading platform, Coinglass, revealed that BTC traders lost more than 30,780 BTC worth $667.49 million between June 13th and June 14th.
In the thick of the meltdown, Bitcoin's monthly relative strength index (RSI) dropped to its lowest point ever. The number of addresses in profit declined to under 50 per cent.  The bellwether token took a heavy knock from Celsius's decision to pause withdrawals and transfers. The losses accelerated as major exchange Binance temporarily suspended BTC withdrawals but advised customers to use other networks.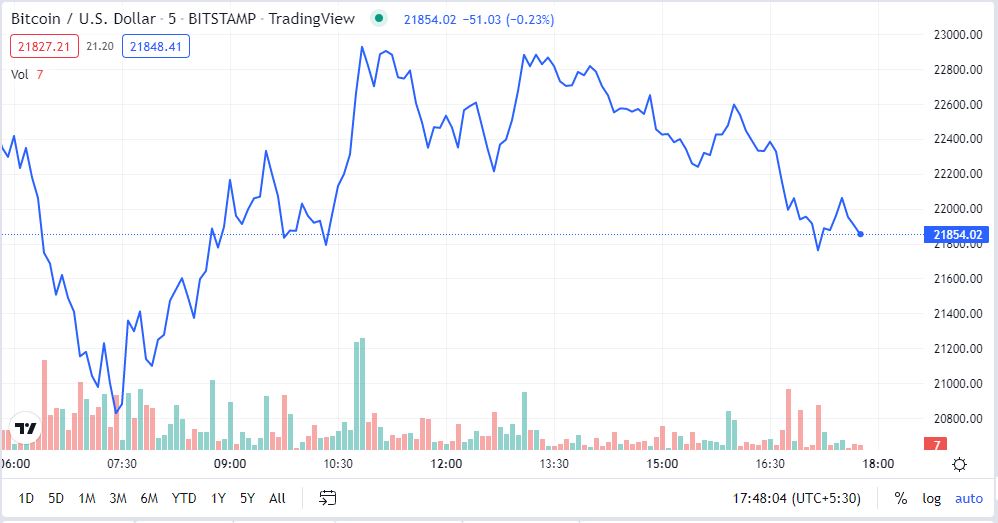 Despite the tumbling market conditions, some experts continue to remain beamish on Bitcoin (BTC). Khaleelulla Baig, CEO at Singapore based crypto platform Koinbasket, expressed that although BTC may breach $20K, it will provide investors with a good opportunity to buy Bitcoin at a discount. He added,
"There are chances that BTC may further fall up to $20,000. Nevertheless, at current prices, it's a great entry opportunity for long-term investors. They may look at entering in 3-5 tranches over the next 2 quarters."
Cryptocurrency Will Play a Key Role in the Future
Stanley Druckenmiller, leading Amering investor and Bitcoin (BTC) advocate, said that he would choose BTC rather than invest in gold. He predicted that the crypto industry is still in its nascent phase, and it has the potential to play a key role in the future monetary world. He stated,
"Crypto is a movie that is about to be played out and one that I don't want to bet on conviction, but I will be very surprised if blockchain isn't a real force in our economy, say five years from now, ten years from now."
How is the Market Condition for Ethereum?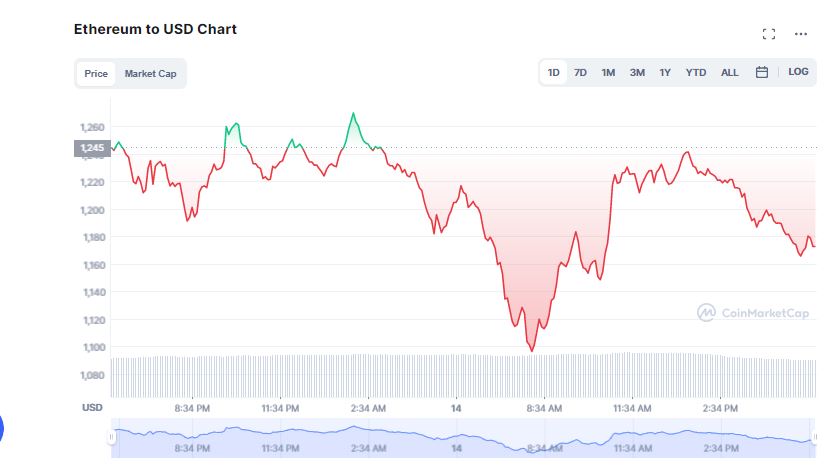 Ethereum (ETH) continues to be on of the biggest loser tanking almost 30 per cent in the past seven days. The second largest digital token shed over 0.95 per cent in the past 24 hours to currently stand at $1,215. ETH has lost roughly 75 per cent of its value since November.
On June 13, Ethereum (ETH), spiralled down to as low as $950 on decentralized crypto exchange, Uniswap. The collapse was about 20 per cent lower than its spot rate across other exchanges. Veteran trader, Peter Brandt, indicated that Ethereum prices could fall toward $650 in the coming weeks.
ETH $ETHUSD has met its first downside target. As a swing trader my practice is to take profits at target levels. I have no desire to catch highs or lows, but am satisfied catching chunks in the middle pic.twitter.com/L4VWspbJdy

— Peter Brandt (@PeterLBrandt) June 13, 2022
Crypto Companies Slash Jobs
This morning we announced that after taking significant time to plan and consider, we are reducing our headcount by roughly 20%. This is not a decision we take lightly and is one that brings us great sadness.

— Zac Prince (@BlockFiZac) June 13, 2022
In the midst of the finacial rout, several crypto companies planned to reduce headcount. Among them, crypto exchange, Crypto.com and lending platform, BlockFi, decide to axe more than 400 jobs. Crypto.com CEO, Kris Marszalek, claimed that the company will cut almost 5 per cent of its workforce, or about 260 employees.
The market downturn has prompted other major companies including Winklevoss twins-led exchange, Gemini and Middle Eastern crypto-exchange, Rain Financial, to slash dozens of jobs. Marszalek tweeted,
"Our approach is to stay focused on executing against our roadmap and optimizing for profitability as we do so … That means making difficult and necessary decisions to ensure continued and sustainable growth for the long term by making targeted reductions of approximately 260, or 5%, of our corporate workforce."
That means making difficult and necessary decisions to ensure continued and sustainable growth for the long term by making targeted reductions of approximately 260 or 5% of our corporate workforce.

— Kris | Crypto.com (@kris) June 11, 2022
Ressurection of Altcoins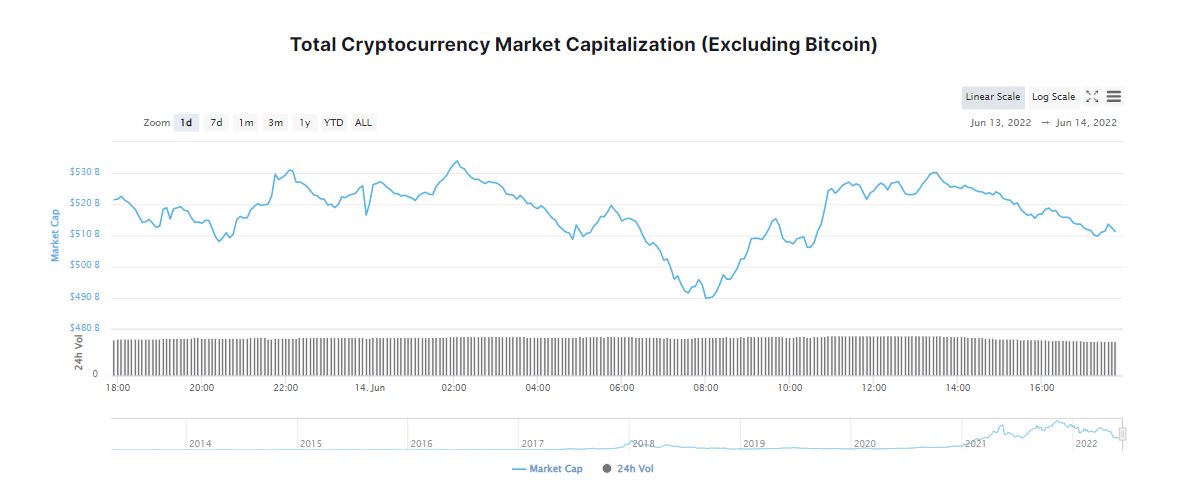 Despite the turbulent condition, many altcoins have recorded a better position on a daily scale. In the last 24 hours, Cardano (ADA), Solana (SOL) and Polkadot have recoverd much of their lost ground, ascending 11.98, 10.67 and 11.66 per cent, respectively.
In the same time frame, Avalanche (AVAX) surged over 12 per cent to trade at $16.66. Popular memcoins, Dogecoin (DOGE) and Shiba Inu (SHIB) is up around 3.28 per cent and 9.13 per cent, corelatively. 
Crypto is Here to Stay
Charles Tan, Chief Marketing Officer, Atato, a licensed MPC crypto custodian wallet, believes that althoung the market is in crisis, cryptocurrencies are here to stay as they have proven their mettle time and again, despite numerous crackdowns, bans and tighter regulations over the last decade. Tan remarked,
"The current market conditions call for caution and investors should execute their investment strategy depending on their risk appetite. The rising pricing is a matter of concern for the financial markets and respite will come with inflation cooling down to an acceptable level."