In the wake of a dwindling crypto market, Celsius Network, a decentralized finance (DeFi) platform and one of the largest crypto lenders, announced, to pause all transfers and withdrawals between accounts.
Amid a broad market sell off due to rising inflation, major cryptocurrencies spriralled down to dizzying lows. Bitcoin (BTC), plunged to its lowest level since Decembber 2020, trading below $25k. Ethereum (ETH) took a sharp hit tumbling over 16 per cent in the last 24 hours. Apart for BTC and ETH, major altcoins fell head over heels to scale new lows this year. The global cryptocurrency market cap tanked by a whopping 10.90 per cent over the last 24 hours to $987.32 billion. 

What Triggerd Celsius To Halt Transactins?
.@CelsiusNetwork is pausing all withdrawals, Swap, and transfers between accounts. Acting in the interest of our community is our top priority. Our operations continue and we will continue to share information with the community. More here: https://t.co/CvjORUICs2

— Celsius (@CelsiusNetwork) June 13, 2022
Leading cryptocurrency lending platform, Celsius Network Ltd., declared halting all withdrawals, Swap, and transfers between accounts due to "extreme market conditions". According to the official blog post, going further, this move will aim to stabilize liquidity and operations. The Celsius team has activated a clause in its 'Terms of Use',  that will allow the company to tighten its risk management framework.
As per the blog post, Celsius will be blocking transaction on its platform in order to "protect and preserve assets" to meet the company's obligations to its customers. However, customers will continue to collect rewards during the pause even during the halt. The platform wrote,
"Our ultimate objective is stabilizing liquidity and restoring withdrawals, Swap, and transfers between accounts as quickly as possible. There is a lot of work ahead as we consider various options, this process will take time, and there may be delays."
A Brief Primer On Celsius

Soon after Celsius cut off all customer withdrawals and swaps, the company's native token CEL, tanked 70 per cent in one hour from a prior high of $0.49 earlier on Sunday down to $0.19. The digital token fell witnessed a 92 per cent decrease, from April 8th, when CEL was worth $3. The token was worth nearly $7, a year ago.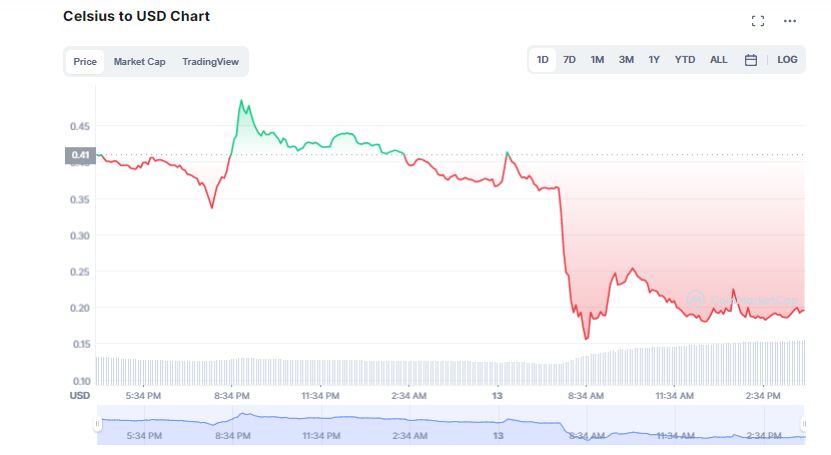 Celsius Network, which raised $750 million in funding late last year, is a significant player in crypto lending. It offers interest-bearing products to customers who deposit their cryptocurrencies with the company, and lends out crypto currencies to earn a return.
The crypto lending platform works in much the same way an ordinary bank does, except in cryptocurrency. It collects deposits and then loans them out. However, unlike a bank, Celsius doesn't have 'FDIC government insurance', that protects people in case of a bank failure.