For five years, Bitcoin Co. Ltd operating under BX.in.th braced the uncertainty of the cryptocurrency sector in Thailand and beat all in becoming the most popular crypto exchange. However, as per the announcement on the exchange's website BX.in.th, Bitcoin Co. Ltd is closing its doors in Thailand.
Without giving reasons to their clientele base, BX.in.th had a short but detailed announcement, which urged its customers to withdraw their cash before the deadline set. Per contents of its publication, by September 30th, 2019, all trading services on BX.in.th will come to an end. However, before 30th of this month, from September 6th deposit services won't be available. On the other hand, users have until November 1st, 2019, to withdraw their funds.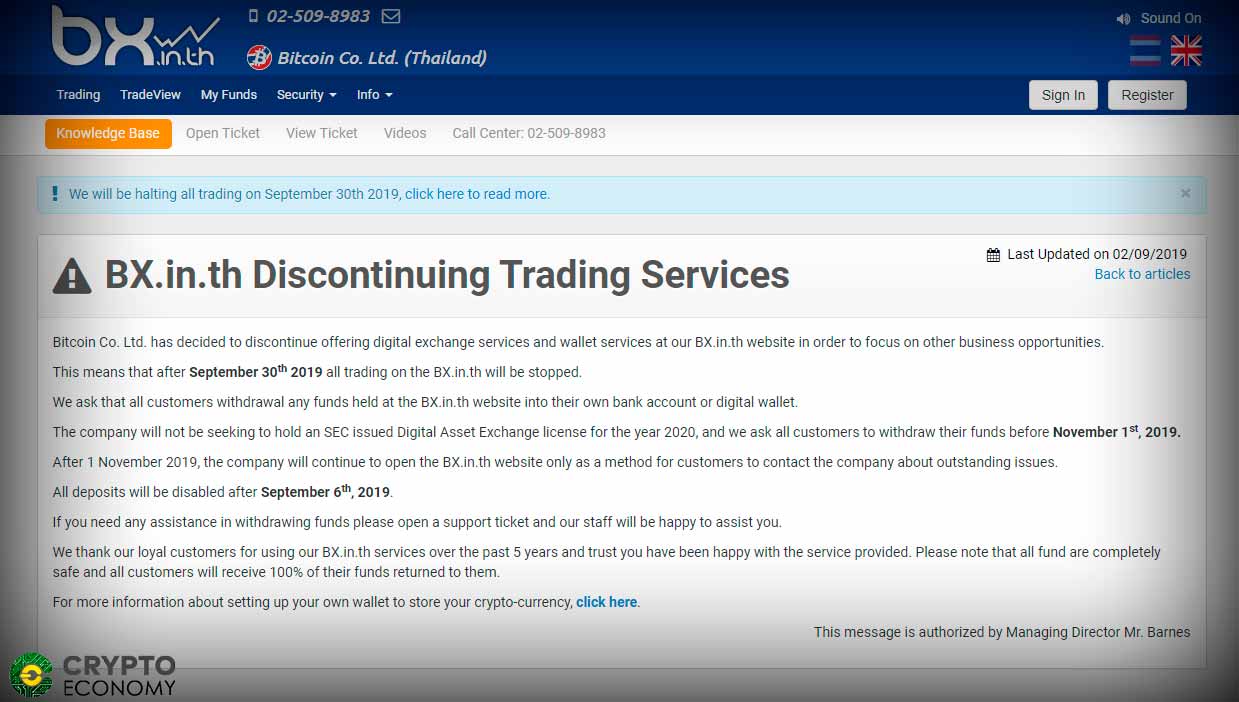 Site Will Remain Open
While everything will come to an end on November, the website will not be pulled down. It will remain as the mainline of communication between Bitcoin Co. Ltd and its customers. Through the site, any customer with a problem will be able to reach out to Bitcoin Co. Ltd for assistance whether it is issues with withdrawing funds or getting answers to any other questions.
Bitcoin Co. Ltd concluded its announcement by thanking all customers who supported them in the five years they have been in operation. They also assured all customers that their funds are safe and they will have enough time to withdraw all their holdings. With that, Bitcoin Co. Ltd closed its chapter in the trading sector but that is by no means the end of Bitcoin Co. Ltd.
Per the publication, it seems the closure of Bitcoin Co. Ltd is meant to open new doors and give the firm a chance to venture into other businesses. However, some experts point out the entry of Huobi Global to the island as the main reason that led to the closure of Bitcoin Co. Ltd. However, for an exchange whose 24-hour trading volume amounts to $10 million, it is unlikely that competition is the reason they are closing down abruptly.
Apart from being the most popular crypto exchange, Bitcoin Co. Ltd also had its legal permits in order. It had a Thai SEC issued Digital Asset license and operated under Thailand rules and regulations.