Bitcoin Cash (BCH), a spin-off from the largest digital asset Bitcoin (BTC), and Bitcoin Satoshi Vision (Bitcoin SV), a hard fork of the BCH blockchain continue to soar at an exponential rate that started over the past week. Let us dive in a bit deeper to understand the factors behind the recent price rally.
Why is Bitcoin Cash Rising?
The crypto market is on the rise after a damp run with BCH and BSV being among the top gainers in both the daily and weekly charts. According to CoinMarketCap, Bitcoin Cash (BCH) is up more than 30% in the last 24 hours to trade at $297.09. Over the past seven days, the digital token has jumped more than a staggering 107%, outperforming Bitcoin (BTC) as well as the top ten cryptocurrencies.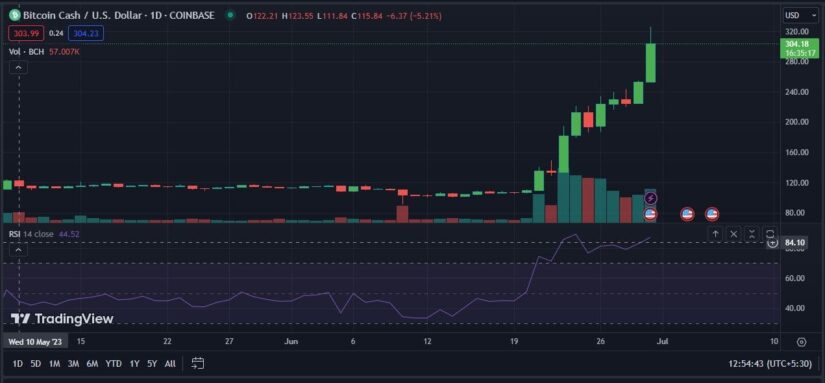 Bitcoin Cash (BCH), a cryptocurrency that was created as a result of a 2017 Bitcoin hard fork, has been on a roll since the start of June jumping more than a whopping 90%. The primary reason that has triggered the upsurge is the digital token being chosen for EDX Markets, a new crypto exchange backed by major Wall Street players Charles Schwab, Citadel Securities, and Fidelity Digital Assets.
It seems the market has viewed this exclusive listing as a vote of confidence in BCH, especially in light of the United States Securities and Exchange Commission's (SEC) increased clampdown on crypto-focused firms as well as digital assets. An institutional-only exchange, EDX Markets, will provide trading in four cryptocurrencies: Bitcoin (BTC, Ethereum (ETH), Litecoin (LTC), and Bitcoin Cash (BCH).
📈 With the assistance of #EDXMarkets, launched on June 20th, #BitcoinCash has been the biggest beneficiary with a massive +79% price gain in 4 days. Notably, $BCH has seen a 3-year high in social discussion rates, & volume has easily eclipsed 2023 highs. https://t.co/6fz4RL28tH pic.twitter.com/MNn59zRy8T

— Santiment (@santimentfeed) June 24, 2023
According to experts, these four assets are widely regarded as digital commodities, making them relatively safe from the US SEC's ongoing crackdown on crypto. In a statement, Jeff Feng, Sei Labs co-founder, said,
"These specific cryptocurrencies are generally perceived as commodities by regulatory bodies, which significantly mitigates potential legal challenges."
Another potential trigger for the Bitcoin cash price might be its recent upgrade. In May, Bitcoin Cash saw a network hard fork that strengthened the network's security and privacy while introducing plans for CashTokens, a feature that aids in building dApps. Interestingly, since the Bitcoin network congestion in May, BCH has seen its holder base significantly rise to about 22 million. 
Furthermore, Bitcoin Cash has recorded a sharp uptick in daily traded volume that stood at around $2 billion, up more than 80 percent in the past 24 hours. The rise in traded volume in a rising market is a clear indication of higher demand that tends to be fuel for the bullish outlook.
Binance will support the Bitcoin Cash (BCH) network upgrade at 2023-05-15 12:00 (UTC). This upgrade mainly adds the CashTokens issuance token mechanism similar to ERC20, and also adds P2SH32, which expands the P2SH address from 20 to 32 for better security.…

— Wu Blockchain (@WuBlockchain) May 14, 2023
BSV Awakens Following a Subdued Trade
In the wake of the sudden BCH upswing, its top hard fork Bitcoin SV (BSV) also recorded a significant increase in key metrics. Bitcoin SV (BSV) also managed a decent uptick, rising 14.58% in the past 24 hours to trade at $41.63. BSV pumped over 36% in the past week after a brief rally in May, when investors flocked to Bitcoin (BTC) alternatives amid rising Bitcoin network congestion along with a sharp increase in transaction fees.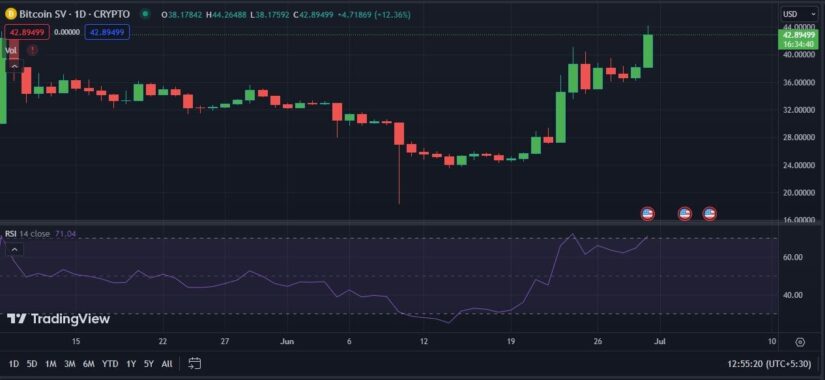 On May 8, a major congestion happened in Bitcoin (BTC) blockchain, causing transaction delays and costs to surge. Analysts anticipate the force behind this recent boom could be the emergence of China back into the cryptocurrency space. China has a history of opposing cryptocurrencies despite the fact that it was once the bedrock of most crypto activities including Bitcoin mining.
After enforcing a strict regulatory stance on digital assets, the country recently modified its perspective on cryptocurrency. Beijing recently released a whitepaper named "Web3 Innovation and Development White Paper (2023)" that emphasized the importance of Web3 technology for the advancement of the internet.
CCTV (China Central Television) just broadcasted crypto. It's a big deal. The Chinese speaking communities are buzzing. Historically, coverages like these led to bull runs.

Not saying past predicts the future. And not financial advice.https://t.co/2wcArnPI93

— CZ 🔶 Binance (@cz_binance) May 24, 2023
Will the Price Surge Continue?
These factors have largely affected the BCH and BSV recent bull run. It is likely that everything is still surrounded by speculations going by what has been happening. However, whether digital coins will continue to rise in the long run will still depend on macroeconomic factors along with the regulatory policies regarding digital assets around the world.
Responding to the surge,  Benjamin Stani, director of business development and sales at crypto trading platform Matrixport, explained that there was no fundamental upgrade on Bitcoin forks to lead to long-term growth, citing,
"I would say it's mostly sentiment related, both are not tokens that are widely used and are generally considered coins from the past cycle. The narrative I'm hearing is that Bitcoin forks obviously should get the same treatment as Bitcoin from the Securities and Exchange Commission, i.e. be considered commodities."