Bitcoin (BTC) marched past $23K mark as the top cryptocurrencies traded in green. The recent rally could be attributed to BTC whales accumulating and driving up the token price.
The crypto market seems to be enjoying a much required respite after last year's bloodbath. Since the onset of the New Year, digital asset prices along with the crypto sub ecosystem such as decentralized finance (DeFI) and non-fungible tokens (NFT) have also noted an uptick. According to CoinMarketCap, the global crypto market cap increased 1.41% in the last 24 hours to $1.06 trillion. The total crypto market volume over the last 24 hours rose 7.12% to $56.09 billion. 
Bitcoin Keeps Climbing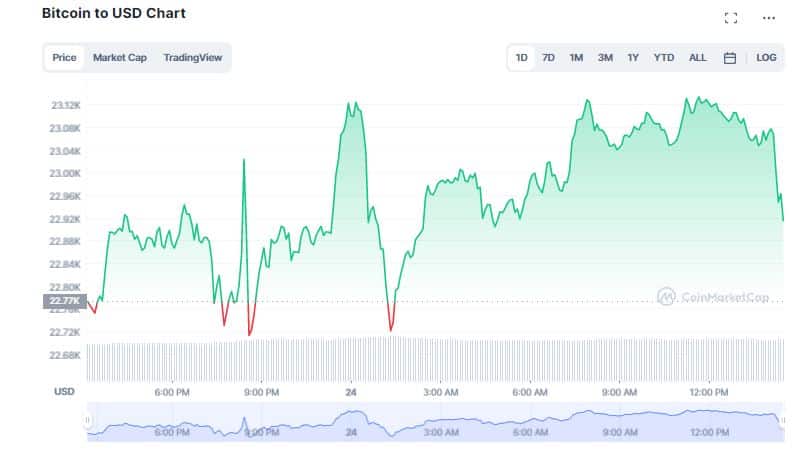 Bitcoin (BTC) gained 1.41% in the past 24 hours to trade at $ $23,065. The flagship token is up more than 8% over the last seven days after moving sideways on Monday climbing to a four-month high above $22,000. BTC soared more than 40% in 2023 following a downturn in 2022 as macroeconomic factors along with catastrophic events such as the collapse of Terra ecosystem and FTX, battered the crypto industry. Bitcoin's dominance shot up 0.06% over the day to 42%.
Experts attributed the recent price surge to Bitcoin (BTC) whales accumulating and increasing tthe token price. It seems the support now lies at $22,900, while the resistance holds at $23,375. Meanwhile, as per data from CoinShares, short-bitcoin investment products saw inflows of $25.5 million, the largest amount since last July, when $51 million went into those products in one week. In a statement, Edul Patel, CEO at crypto platform Mudrex, said,
"Bitcoin hovered above the US$23,000 level in the past 24 hours as bullish sentiment remained high in markets."
Altcoins Recuperate from Unexpected Lows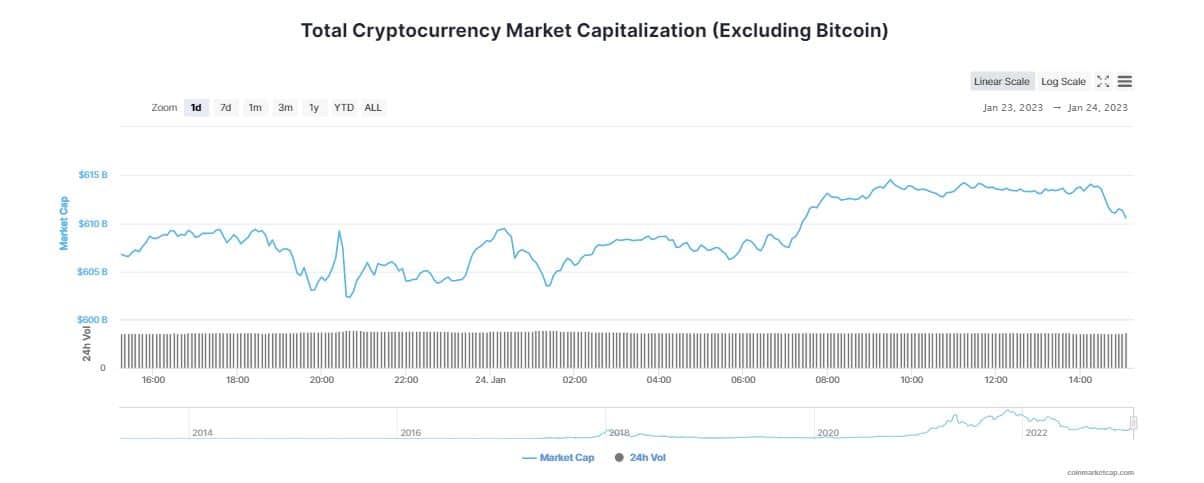 Ethereum (ETH) slipped marginally over the past 24 hours to hover at $1,631. However, Ether continues to maintain a weekly rally of more than 4.02% as Ethereum's Shanghai hard fork inches closer. Market experts stated that ETH prices are currently below this threshold but the resurgence of a bullish momentum over the past weekend could lead to further surges in the coming days. Patel added,
"Ethereum has also seen consolidating above the US$1,600 level. The next target for ETH bulls might likely be the US$1,700 level."
On the other hand, top altcoins have traded in green in the last 24 hours. Solana (SOL) gained 1.36% to trade at $24.70 while Cardano (ADA) upped 1.24% to $0.38. At the same time, Polygon (MATIC), Polkadot (DOT) and Litecoin (LTC) rose in the range between 2.21% and 4.72%. Memecoins such as Dogecoin (DOGE) and Shiba Inu (SHIB) popped up marginally 0.81% and 0.40% in the last 24 hours, respectively.