The fifth bullish cycle of Bitcoin could be very close, driven by a growing interest from institutional investors who see the cryptocurrency as a valuable addition to their asset portfolios
Throughout Bitcoin's history, each bullish cycle has been marked by unique stories and contexts, and this time is no exception.
This new Bitcoin bull market cycle began on June 22, 2023, when it reached a new one-year high. Historically, when this signal has been triggered, Bitcoin has delivered average returns of +310%.
Based on this signal, it is estimated that Bitcoin could reach $125,000 by December 2024. For many, the ideal time to enter this market was between October 2022 when the price of Bitcoin was trading at just $17,000, and the start of this bullish cycle.
Bitcoin: Historical Cycles
Each previous bullish cycle of Bitcoin has had its own story. The first, in 2011, revolved around the adoption of Bitcoin as a new payment mechanism.
The second cycle was driven by the interest of Chinese investors who saw Bitcoin as an alternative to the local currency.
The third cycle, marked by the Initial Coin Offering (ICO) frenzy, provided a new way to establish and fund companies.
Finally, the fourth cycle was triggered by the craze for non-fungible tokens (NFTs).
However, what distinguishes this fifth bullish cycle is the increasing participation of financial institutions. Bitcoin has captured the attention of institutions as an investment that resembles traditional assets like gold and Treasury bonds.
The reason behind this growing institutional interest lies in concerns about the debt-to-Gross Domestic Product (GDP) ratio of the United States, which some consider unsustainable.
This scenario has led many institutions to consider Bitcoin as a means to diversify their investment portfolios and protect themselves against inflation.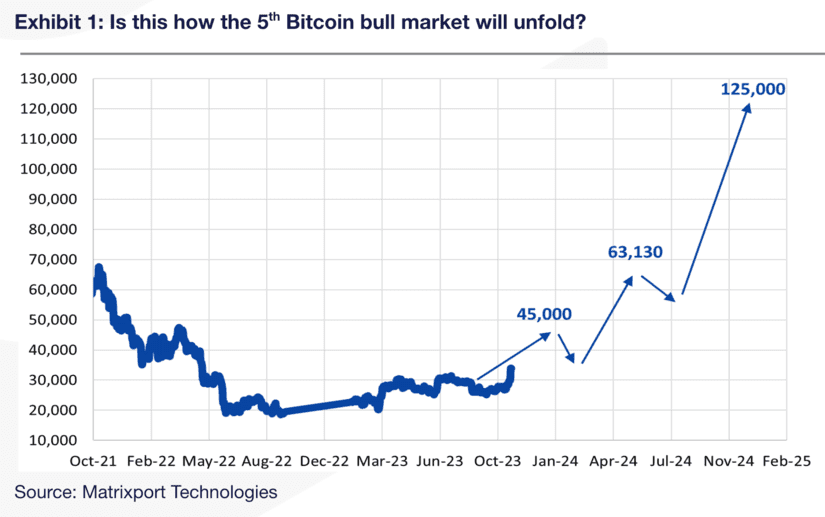 Matrixport predicts that the price of Bitcoin could reach $45,000 by December 2023 and January 2024. Although a possible decline is expected in February 2024, a further surge to around $63,130 is forecasted in the second quarter of 2024.
These projections are supported by the upcoming Bitcoin halving event, which historically has driven an increase in its price.
The involvement of institutional players has been gaining increasing relevance. Major financial firms such as BlackRock and Grayscale have submitted applications for Bitcoin-backed ETFs, although the SEC has yet to approve any of them.
As institutional investors continue to enter the market, interest and confidence are growing. The 16% increase in Bitcoin's price over the past week serves as evidence of this trend.