The world's largest cryptocurrency, Bitcoin (BTC) is back up after a meltdown following the fallout of crypto-bank Silvergate Capital Corp that led to a major market wide sell-off. However, Ethereum (ETH) along with most of the digital assets are still dealing with the aftermath, trading in red.
Bitcoin Sparks up Hope
According to CoinMarketCap, Bitcon (BTC) is up 0.09% in the last 24 hours to trade at $22,405. The flagship crypto has witnessed a slight rally even as the broader crypto market shivered. The surge comes after BTC took a dive to a two-week low, last week owing to Silvergate's risk-based decision to discontinue the Silvergate Exchange Network (SEN) admitting that it may struggle to remain solvent due to significant losses, sending its stock price spiraling down nearly 56% in intraday trading.
Furthermore, the BTC price rally can also be credited to China after the country revealed a modest economic growth target of 5% in 2023. On Thursday, March 9, new inflation rates will come out of China. It is likely that if the inflation data is lower than expected and warrants a looser monetary policy from China's central bank, it could mean a boost for Bitcoin (BTC). In a statement, Edul Patel, Co-founder and CEO at crypto platform, Mudrex said,
"Over the weekend, most cryptocurrencies remained in red as market participants attempted to digest the latest news over Silvergate. However, traders and investors anticipate positive economic data from China, expected to be released this week, which might help them return to the market."
Altcoins Struggle as Market Woes Continue
Meanwhile, the global cryptocurrency market cap was trading lower at around $1.02 trillion, falling 0.43% in the last 24 hours. The total crypto market volume over the last 24 hours decreased 0.73% to $30.01 billion.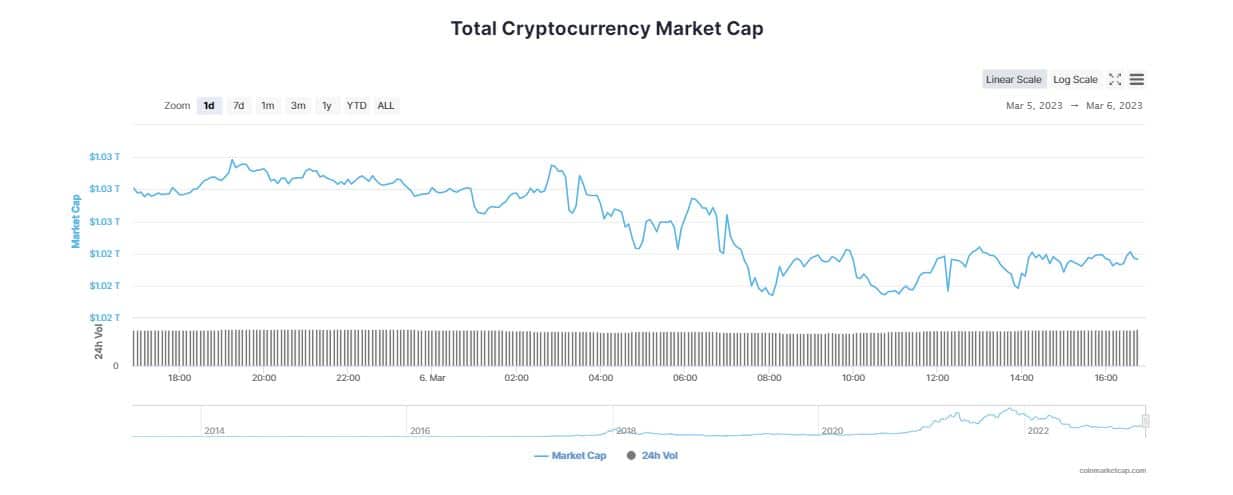 At the same time, Ethereum (ETH), is down almost 0.26% over the past day, trading at $1,565. The second largest cryptocurrency tanked more than 4% in the past seven days as macroeconomic uncertainty prevails and the central banks still have hawkish commentary on inflation.
Other top crypto tokens were also trading lower. Solana declined by 2.52% in the last 24 hours to trade at $20.72. XRP, Litecoin (LTC), Cardano (ADA) and Poplygon (MATIC) were also trading with cuts in the range between 1% to 3%. Popular memecoins inculding Dogecoin (DOGE) and Shiba Inu (SHIB)  dropped 2.03% and 1.32%, respectively. Shivam Thakral, CEO at BuyUcoin explained,
"The crypto market is still recovering from the Silvergate fiasco. However, If the Silvergate fallout doesn't result in a broader contagion, then we may see a gradual recovery in digital assets across the board. The good thing is that the overall crypto market cap is still holding above the $1 trillion mark."