Bitcoin (BTC) plunges below $37K dropping the most since January 2022 as the market rout deepens amidst concerns of a recession. Ethereum (ETH) along with major altcoins spiral down as investors turned risk-averse amid fears of aggressive FED rate hikes to tame inflation.
The global cryptocurrency market witnessed a major collapse declining 6.86 per cent in just 24 hours to $1.67 trillion. However, The total crypto market volume over the last 24 hours increased by 15.21 per cent to $115.75 billion. The total volume in decentralized finance (DeFi) is currently at $11.50 billion, 9.93 per cent of the total crypto market 24-hour volume.

What Happened To Bitcoin?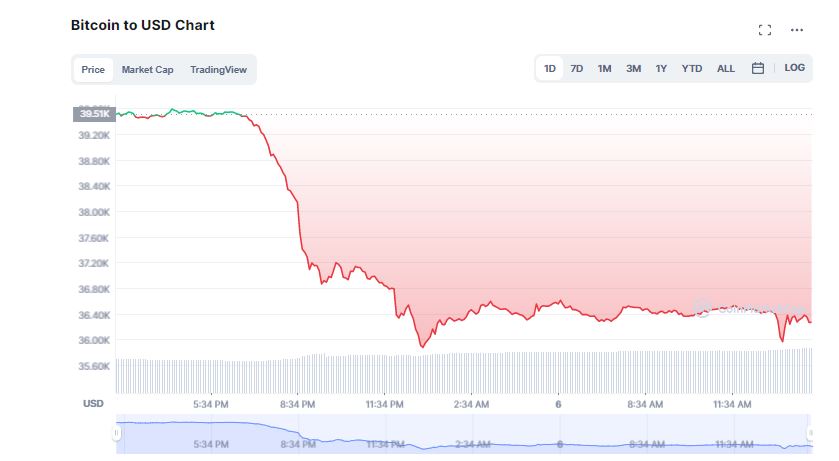 After a day long relief rally on Thursday, Bitcoin (BTC) dropped over 8 per cent in the last 24 hours to currently trade at $36,229. After starting the year at $46,700, the flagship token has seesawed up and down while rarely getting back above that mark.
Bitcoin's tendency to move in-sync with assets such as US tech stocks makes the drop less of a surprise after a tough week for American markets. Edul Patel, CEO and Co-founder of California based cryptocurrency company, Mudrex said,
"BTC's support now lies between US$32,000 to US$30,000. In the past 24 hours, BTC's selling price rose a bit. We may see a similar downward trend in the coming few days."
Is The Big Tech Sell Off Affecting Crypto Market?
According to a Bloomberg report, the crypto crash comes while big tech companies including Amazon, Ebay and Tesla noted a "big tech selloff". The S&P 500 which happens to be the biggest stock benchmark in the world was down 3.56 per cent along with NASDAQ 100 dose dived by 5.06 per cent, performing the worst since September 2020. The report stated,
"Taking a look, a deeper dive, into the tech sector and the NASDAQ 100, we can see it was truly a bloodbath today. Some of those heavily weighted megacap technology shares like Amazon, for instance, down about 5%– 7.5% on the day."
Ether (ETH), the coin linked to the Ethereum blockchain and the second largest cryptocurrency, also plunged more than 7 per cent over the past 24 hours to $2,728. Meanwhile, Dogecoin (DOGE) price today was trading about 4.26 per cent lower at $0.12 whereas Shiba Inu (SHIB) also fell over 5.86 per cent to $0.000020.
The performance of major altcoins also declined as Solana (SOL), Polkadot (DOT), Cardano (ADA), Uniswap (UNI), Terra (LUNA), XRP, Avalanche (AVAX), prices were trading with cuts in the range of 5-16% over the last 24 hours.