Crypto exchange behemoth, Binance, has just rolled out its first index product, the "Top 10 Equal-Weighted Index", that will track the performance of the top 10 cryptocurrencies by market capitalization.
The Top 10 Equal-Weighted Index is the first segment in its Binance CoinMarketCap (CMC) Index Series. The index product will be available to investors from November 2022 that will monitor and evaluate the performance of the crypto market. The indexing benchmark will rely on pricing data from cryptocurrency data tracking site, CoinMarketCap.
The Index Will Monitor the Top 10 Cryptos
According to the official press release, the Equal-Weighted Index will track the top 10 cryptocurrencies by market capitalization relative to the base fiat currency, the US dollar. The index will be rebalanced on a monthly basis and will be available to investors starting in November 2022 through Binance's "Auto-Invest service".
As per the announcement, Auto-Invest feature will enable users to automate cryptocurrency purchases on a regular basis using BUSD or USDT balance. It will further rely on a "dollar-cost averaging (DCA)" strategy. Binance also suggested that users can expect to see more indices to be launched in the future. They may also enable a feature that will integrate the indices into various Binance products.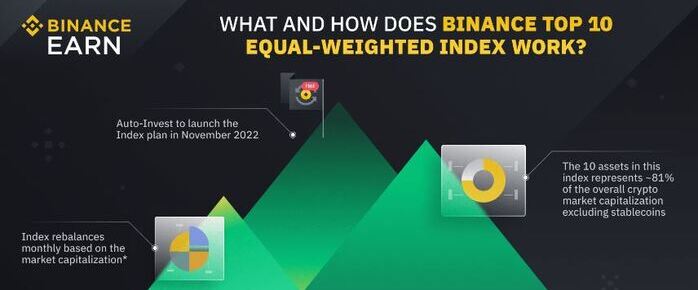 Despite weaking prices, Binance has been revamping its efforts to strengthen its foothold in the crypto space. Recently, Binance Pool, a mining subsidiary of Binance, launched a $500 million lending project to support the crypto mining industry. As part of the offering, Binance will offer collateral in the form of mining hardware or cryptocurrencies. The world's largest crypto exchange has continued its expansion strategy even in the bear market.
Binance Continues Expanding its Service Offerings
Kia Ora, New Zealand! 🇳🇿

We're pleased to announce that #Binance has successfully registered as a Financial Service Provider with the New Zealand Ministry of Business, Innovation and Employment, and has officially launched Binance New Zealand. pic.twitter.com/xCyBmRVb2x

— Binance (@binance) September 29, 2022
In September, the company registered with New Zealand's Ministry of Business, Innovation and Employment and opened local offices in the country. Earlier, in the same month, Binance received a license for its Minimum Viable Product (MVP) from Dubai's Virtual Asset Regulatory Authority (VARA) as a result of its provisional license issuance in March 2022. In October, the exchange opened up two offices in Brazil, doubling the size of its local team.
The world's largest cryptocurrency exchange has been the center of both acclaim and frequent controversy, as it faces concerns from authorities on whether it can be used to transfer illicit funds. On October 7, Binance was exploited to the tune of about $100 billion worth of Binance Coin. Following which the company temporarily suspended transactions and the transfer of funds.